Does Costco, Target or Walmart Offer the Best Dividend Stocks?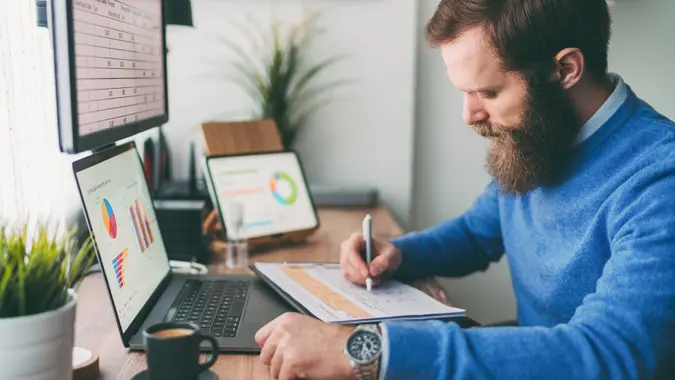 martin-dm / iStock.com
When it comes to big-box retail stocks, they don't get much bigger than Costco, Target and Walmart. The three have a combined market capitalization of about $720 billion, according to Yahoo Finance, with Walmart alone accounting for more than half of that. All three lure consumers with discount prices and investors with regular dividends. The main difference is that Costco is a membership club, while Walmart and Target are traditional retailers.
Deciding which stock is "best" depends on numerous factors, ranging from how much money you have to invest to what kind of payoff you're looking for — and when.
Costco, Target and Walmart are all considered blue chip stocks because they are large, established companies and industry leaders with a consistent history of growth and profitability. None is necessarily a high flyer on Wall Street, but all are comparatively safe investments that typically offer decent returns over the long term.
Another thing they have in common is that their stock prices aren't cheap — at least for investors with limited funds. Costco shares traded near $554 as of July 20, making it a very pricey investment. Walmart and Target were much less expensive at $155 and $133, respectively — but those prices still aren't "cheap" for many investors.
In terms of recent performance, Walmart's stock has fared the best over the last year. Its share price rose about 17% during the past 12 months, according to Yahoo Finance. In contrast, Costco shares have climbed about 4.5% over the same time frame, while Target shares have declined roughly 16%.
If you put a premium on the size of dividends companies pay, then Target gets the nod. It pays a quarterly dividend of $1.10 per share and boasts an annual dividend yield of 3.3%, according to the TipRanks website.
Costco pays a dividend of $1.02 per share and has an annual dividend yield of 0.74%. Walmart pays a dividend of $0.57 per share, with an annual dividend yield of 1.48%.
In a recent video posted on YouTube, Motley Fool contributor Parkev Tatevosian gave Target the edge over Costco because of Target's much cheaper stock price. At the same time, Tatevosian noted that Costco pays a special dividend from time to time that can boost its overall dividend.
He also said Costco is a better merchant because it focuses on discount prices and lower margins that build customer loyalty vs. Target, which is more likely to offer higher-priced items to get better profit margins.
Like Costco, Walmart aims for narrow margins to attract more customers and generate customer loyalty and sales growth. Those two retailers have largely sidestepped some of the problems Target has faced in recent years.
As Tatevosian pointed out, Target overbought inventory during the COVID-19 pandemic and is still offering discounts to get that inventory off the shelves, which has hurt profit margins. He expects margins will eventually recover to the company's long-term trend line of about 6%.
An earlier Motley Fool blog also noted that Target got "blindsided" by inflation and a "shift in consumer behavior." The company's decision not to offset higher costs through price increases — a strategy Walmart has used — led to lower operating margins.
So which is the best dividend stock? Again, that depends on what you put a priority on.
If you're looking for the most affordable stock and highest dividend, then Target is probably the best fit. For performance over the past year, then it's Walmart. If you favor a combination of decent operating results, customer loyalty and special dividends — and have a lot of money to invest — then you might gravitate toward Costco.
More From GOBankingRates