DraftKings Stock (DKNG): Is It A Good Buy?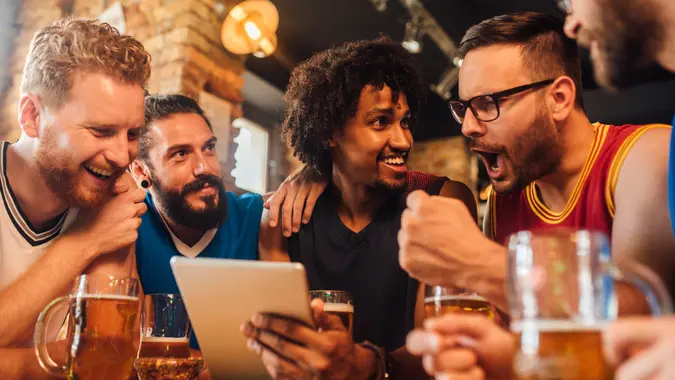 RgStudio / Getty Images
Boston-based DraftKings is a leader in the growing online fantasy sports and gambling business. Users join the company's website to gamble on professional sports, pit their skills against other members as fantasy team owners and play a large range of casino and online games. 
DraftKings also develops and licenses casino gaming and sports betting software to other online gambling sites.
Overview of DraftKings
DraftKings offers an expanding worldwide menu of sports and leagues to bet on. In addition to the major pro sports leagues, users can back players and teams, or draft fantasy squads in golf, tennis, NASCAR, Australian football, Euro league basketball and Esports.
Positive Trends Through 2021
Through 2021, DraftKings gained members and steadily lifted revenues. The future also looks solid — new partnerships with the NFL and NBA may vault DraftKings to global leadership in online sports betting. 
The state-by-state legalization of sports betting produces a steady drumbeat of positive announcements as DraftKings launches new mobile sportsbooks, with Louisiana clocking in as the 18th state to lift its online sports gambling ban in January 2022. 
Pros and Cons of DraftKings
DraftKings has been a publicly-traded company since April 2020. Although revenues over the past year have been rising, the company is still operating at a loss, making DraftKings stock a speculative bet for investors. 
Additionally, a general market rotation into value stocks over high-flying growth stocks has punished DraftKings shares over the second half of 2021 and early 2022. 
DraftKings stock peaked in March 2021 at $74.38 but ten months later hit a 52-week low of $17.41. The stock recovered in early February 2022, hitting $23.42 on Feb. 8 after a week-long streak of up days. 
Several advisors have put out buy recommendations on the stock and DraftKings has also earned a vote of confidence from Cathie Wood's renowned Ark Investments, which added to a big position in DKNG in January. 
Hindenburg Controversy
Naysayers have been dampening the enthusiasm. In mid-2021, Hindenburg Research, known for its negative spin on troubled companies, reported on links of a DraftKings business partner to illegal gambling and organized crime. As a short seller in the shares, however, Hindenburg has a vested interest in seeing them lose value. 
Anyone considering a stake in DraftKings should get familiar with the controversy and consider the legal and financial troubles it might bring. 
Rising Revenues, Missing Profits
The numbers also tell conflicting stories. DraftKings reported revenues rose 181 percent to $823 million through the first nine months of 2021. Over the same period, the company's bottom line showed a loss of $548 million. 
Total revenue for the U.S. sports betting industry is expected to reach $5.8 billion by 2023, and that's taking only the current roster of 18 legalized sports gambling states into consideration. With all 50 states legalizing, the addressable market could easily double from that figure.
Net loss for the 2021 third quarter came in at $1.35 a share, a bit worse than expected. The company is estimating a rise in revenues to a range of $1.7 to $1.9 billion for the fiscal year 2022, which would be an improvement of almost 50% over the prior year. 
Steep Market Valuation
On a valuation basis, however, DraftKings stock is not cheap. Book value stands at about $4.50, with the company sitting on $2.4 billion in cash and debt amounting to $1.3 billion. 
With the stock hitting $23 in February 2021, the price-to-sales ratio hovered around 8.35. That's a rich number, considering the broader market averages 1 to 2, which suggests there's quite a bit of optimism already factored into the shares. 
DraftKings has attracted big institutional investors, including major mutual fund families and the Disney Corporation. Although Disney is a passive investor, it could play an outsized role in DraftKings' future, as its ownership of ESPN could give rise to future tie-ins between the gambling site and the sports network. 
DraftKings: Buy? Sell? Hold?
There's no question that legal sports betting has room to grow in the United States and around the world. Once upon a time, it was only legal to gamble in Las Vegas and a few casinos scattered across the nation. 
The Internet is making legal restrictions on gambling obsolete, and the millions of players who've taken up fantasy sports from the comfort of their homes are primed and ready to put a little money down on their favorite sport. 
Barring any legal troubles or economic left turns, DraftKings will remain a major player in this growing industry. With luck, those who chose to take a chance on this stock may be handsomely rewarded.
This article was republished on April 26, 2022. Information is accurate as of Feb. 28, 2022.
Our in-house research team and on-site financial experts work together to create content that's accurate, impartial, and up to date. We fact-check every single statistic, quote and fact using trusted primary resources to make sure the information we provide is correct. You can learn more about GOBankingRates' processes and standards in our editorial policy.