GlobalFoundries Stock: Is It a Good Buy?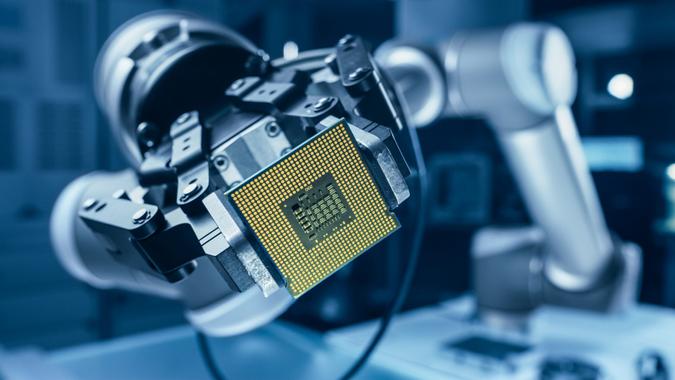 gorodenkoff / Getty Images/iStockphoto
Computers, mobile phones, large appliances, cars, security systems and cameras — a large variety of everyday products need semiconductor chips to operate. But there's not enough of these tiny devices to go around, and the global semiconductor shortage has boosted investor interest in GlobalFoundries.
Based in upstate New York, GlobalFoundries is the world's fourth-largest semiconductor company. The firm operates 14 manufacturing facilities in the United States, Singapore and Germany. 
That standing as an industry leader was largely unknown to investors until the company went public in the fall of 2021. An initial public offering in October brought the average GlobalFoundries stock price to $47, and optimism around the company and its business doubled that price over the next month. The share price as of April 27, 2022, is $51.64.
New Clients and Expanding Capacity
GlobalFoundries began in 2009 when Advanced Micro Devices spun off its manufacturing facilities into an independent company. Since then, AMD has signed a series of agreements with GlobalFoundries, which also has agreements with Qualcomm, MediaTek and more than 200 other customers to produce new chips. 
GlobalFoundries has announced plans to expand its manufacturing capacity in New York and Singapore. It has signed deals with BMW and Ford to boost production for an auto market that is going through a supply crisis due to a shortage of new chips and other pandemic-related issues. 
The new investment in capacity will take some time to come online. In the meantime, GlobalFoundries reports that the company's facilities are working at over 100% of their capacity and chip production is fully booked through 2023. 
Rising Revenues and Profits
Since the IPO, the earnings news on GlobalFoundries has been all good. For the fourth quarter of 2021, and just its second quarter of public reporting, the company announced continued strong demand for its products. Sales reached $1.85 billion, beating expectations. Net income came in at $43 million, a 760% rise over the previous quarter's $5 million. 
The company is also upbeat about prospects for 2022. Revenue and net earnings are expected to improve, while a new agreement with AMD will extend that key partnership through 2025. 
Nevertheless, GlobalFoundries shares were headed down with the rest of the stock market in early 2022. The stock reached $50 a share on February 23, dropping from $66.73 at the start of the year. 
Rewards and Risks for Shareholders
Mutual funds, hedge funds and other Wall Street players have bought into the demand-and-growth story told by GlobalFoundries. Recent reports have 95% of the stock held by institutions. High institutional ownership tends to stabilize more volatile stocks, such as those of semiconductor and other tech companies, as institutions are less likely to buy and sell their shares on short-term trends and daily news.
GlobalFoundries: Is It a Buy?
Individual traders and investors should approach GlobalFoundries stock with caution. Semiconductors are a cyclical industry, much like the automobiles and appliances that need them. 
With a long-term investment horizon, the positive supply-and-demand story around GlobalFoundries makes the shares a buy. But the stock is volatile, and the big capacity expansion that began in 2021 may mean producers will be dealing with rising inventories and an oversupply in a few years. 
Good To Know

GlobalFoundries specializes in "legacy chips," based on older technology for power controls, wireless connections and other basic functions of electronic devices. This sector is where semiconductor shortages are hitting the hardest. 
The stock market looks ahead, anticipating changes in trends and share value. At the first sign of flat or falling revenues in the semiconductor industry, shares that seemed to go exclusively in one direction may quickly switch gears and take the opposite course.
Our in-house research team and on-site financial experts work together to create content that's accurate, impartial, and up to date. We fact-check every single statistic, quote and fact using trusted primary resources to make sure the information we provide is correct. You can learn more about GOBankingRates' processes and standards in our editorial policy.