GameStop Stock Split: Is Now the Time To Buy?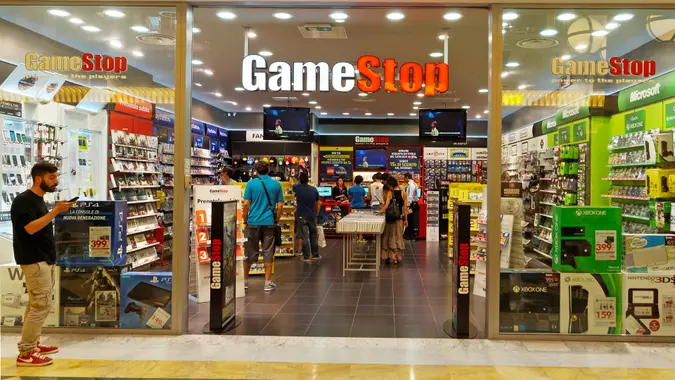 GameStop has undergone stock splits twice. The most recent GameStop stock split occurred on July 22nd, 2022. Because of this split, one GME share purchased prior to March 19th, 2007, now equals 8 GME shares.
Keep reading to learn all the details of the GME stock split and whether you should invest in the company now.
Why Did GameStop Stock Split?
While GameStop didn't specify a reason for splitting its shares, one compelling reason for the company to make this move is to make stocks appear more affordable. When a stock splits, the price of each share tends to drop depending on how the company structures the stock split.
Lower stock prices may attract new investors for GameStop to continue its recent influx of investor funds. In addition, lower stock prices can appear less risky for some investors since they can invest small amounts of money instead of risking the loss of a large investment.
GME Stock Split: What Is a 4-For-1 Stock Split?
A stock split is when a company increases the number of shares by splitting each share into multiple shares. For example, a four-for-one stock split would split each share into four shares.
Stock splits are an effective way for a company to lower the share price cost without decreasing the company's value. However, some companies may also opt to conduct a reverse stock split, where they would combine a specific number of shares into one share and effectively increase the price of shares.
The most popular ratio for stock splits is either two-for-one or three-for-one. However, GameStop opted for a four-for-one stock split, likely because the company wanted to reduce share prices even further.
As indicated by the GameStop stock split announcement, the four-for-one stock split would ensure that investors would receive three additional shares for each share they owned at market close on July 18, 2022. 
How Does a Stock Split Affect Investors?
Do stocks rise after a split? Do you lose money when a stock splits? Investors, especially newer ones, will inevitably have a lot of questions about how their investments will be affected by a stock split. The good news is that there generally isn't much of an effect on investors.
The value of a shareholder's investments would remain the same after a stock split since the stock price will split according to the same ratio as the shares. For example, if you own one share of a company worth $100, you would end up with four shares worth $25 each after a four-for-one stock split.
In addition, your taxes won't be affected other than a change in the tax basis of each share, which would also be divided at the same ratio as the shares.
Takeaway
GameStop's stock split may make the company appear more attractive to investors looking for more affordable buys. However, there is no more reason to invest in GameStop after the split than there was a reason to invest in the company before the split.
Some investors worry that stock splits can attract riskier investors or individuals who may not have much experience with investing. Therefore, to avoid causing volatility or making amateur investing mistakes, make sure that you are looking at the big picture of investing in meme stocks rather than making decisions based on the stock split alone.
The article above was refined via automated technology and then fine-tuned and verified for accuracy by a member of our editorial team.
Editorial Note: This content is not provided by any entity covered in this article. Any opinions, analyses, reviews, ratings or recommendations expressed in this article are those of the author alone and have not been reviewed, approved or otherwise endorsed by any entity named in this article.
Our in-house research team and on-site financial experts work together to create content that's accurate, impartial, and up to date. We fact-check every single statistic, quote and fact using trusted primary resources to make sure the information we provide is correct. You can learn more about GOBankingRates' processes and standards in our editorial policy.