How To Maximize GameStop Trade-In Value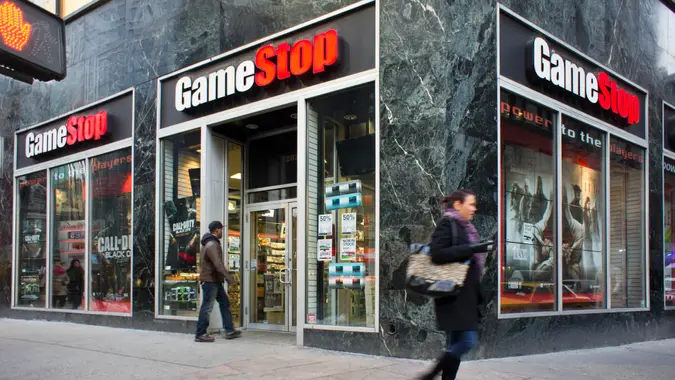 rblfmr / Shutterstock.com
GameStop has one of the best selection of physical games across all consoles and formats. Although the sale of game cartridges and discs has slowed, one feature of the GameStop experience still thrives: the trade-in. If you're done with a game, a console or a mobile phone, you can bring that used tech in for cash or store credit. But it's best to have a strategy and know some tips and tricks to get the most for your stuff.
1. Check Offers
The value of tech items varies with supply and demand, and a game or phone you intend to trade may be worth more or less next month than it's worth today. To check GameStop's trade-in values, here's the process:
Navigate to the GameStop website, and click on "Trade In" from the top left drop-down menu. 
This will bring you to the trade-in page and a list of products the store will accept for cash or store credit. Categories include iPhones, headsets, tablets, wearables, headsets, consoles, controllers and games. GameStop also breaks it down by brand, including Samsung, Apple, Xbox, PlayStation and Nintendo. "Most Wanted Items" are displayed here and usually include the latest consoles, controllers and iPhones. 
For each item listed, the site gives two sets of current offers, for regular and Pro customers. As of Dec. 19, 2022, an Xbox One X1TB console could get you up to $72 cash and $90 store credit for regular customers, and up to $79.20 cash or $99 store credit for members of the GameStop PowerUp Rewards program. 
Make Your Money Work for You
Keep in mind that it's not possible to make trade-ins online. GameStop only accepts trade-ins in a physical store. 
2. Ready Your Trade-In
Before bringing anything in for a trade, make sure it's in good condition. For games, ensure any rules or guides that came with the game are still in the box. GameStop wants trade-in games to be as close to new condition as possible, and they may reject a damaged or scratched disc outright. Consoles and phones should be fully functional. 
Keep these tips in mind before you make a trip to your local store:
Make sure you've got all the cords, power supplies and chargers that came with the equipment.
Charge the device fully before bringing it in.
Delete personal information on the device, and remove SIM or memory cards.
GameStop will test the equipment or the game, and clean and disinfect it before offering it for resale. 
3. Timing Is Everything
A useful way to maximize your offer is to bring it in during a promotion. From time to time, GameStop runs temporary deals and bumps up its offers on trade-ins. The promotion might apply to all trade-ins or just a select few, when the store wants certain games and equipment that are in high demand.  
A promotion that ran in December 2022, for example, offered a 50% bonus on trade-in games. The current promotion, if any, will appear on the GameStop website. 
4. Power-Up Your Trade-In
If you're into games and GameStop merch, consider a PowerUp Rewards membership. The free tier offers points that can be turned in for deals on games and gear, as well as a bonus on your birthday.  A Pro membership, costing $14.99 a year, offers much more. On trade-ins, for example, Pro members get an extra 10% in cash or in-store credit. At this rate, the subscription will pay for itself after just a few trade-ins or even one high-dollar trade-in. 
Make Your Money Work for You
5. Take the Store Credit
If you don't need the cash right away, GameStop can issue an in-store credit. This can be used for the purchase of any item in the store, and amounts to as much as 20% more than the cash amount. 
The credit is placed on a card that can then be used to purchase store items. The credit can also be applied to other stores' gift cards, including Shell, Burger King, Steam, Google Play and Applebees. GameStop will not place store credit on Amazon and Visa gift cards. 
Maximizing your trade-in value doesn't end there. Through various websites, gift cards can be sold for amounts slightly lower than their value. If you sell that card, instead of using it to buy something from the store, you may wind up with more cash than GameStop was offering for the trade-in.   
As of Dec. 19, 2022, GiftCash has the following offers:
| Card Issuer | Card Value | Cash Offer |
| --- | --- | --- |
| Shell | $100 | $85 |
| Instacart | $100 | $75 |
| Apple | $100 | $80 |
| GameStop | $100 | $70 |
Final Take
GameStop's offers for trade-ins will vary from one day to the next. The company claims that any offers quoted on its website are good for one business day, meaning your game or console could be worth more tomorrow or next week. It all depends on the demand for the product in the stores. 
If you're considering bringing your games and tech to GameStop, keep this in mind and return to the website for a few days to get a feel for how the offers change. Seasonal timing plays a part as well. You may do better with a trade-in around the holiday season when popular iPhones and game consoles are being snapped up for gifts. Also, watch tech news sites such as CNET for bulletins on product shortages and supply chain interruptions, as this can drive up values as well. 
FAQ
How do I get the best trade-in value at GameStop?

Some tips to help you get the best trade-in value at GameStop would be to keep your items in good shape, enroll in the PowerUp Rewards program and trade-in at the right time as tech products often fluctuate in price.

How do GameStop trades work?

When you are ready to trade your items at GameStop, the associate will analyze your items and offer you a quote. You can then decide if you would like to accept it and if you want cash or store credit.

Can you trade items in at GameStop for money?

Yes, you can trade items at GameStop for cash or store credit.

How much can I sell my Xbox One for?

As of Dec. 19, 2022, an Xbox One X1TB console trade-in at GameStop could get you up to $72 cash and $90 store credit for regular customers, and up to $79.20 cash or $99 store credit for members of the GameStop PowerUp Rewards program.
Elizabeth Constantineau contributed to the reporting for this article.
Data is accurate as of Dec. 19, 2022, and is subject to change.
Editorial Note: This content is not provided by any entity covered in this article. Any opinions, analyses, reviews, ratings or recommendations expressed in this article are those of the author alone and have not been reviewed, approved or otherwise endorsed by any entity named in this article.