The Best and Absolute Worst Gift Cards To Buy for the Holidays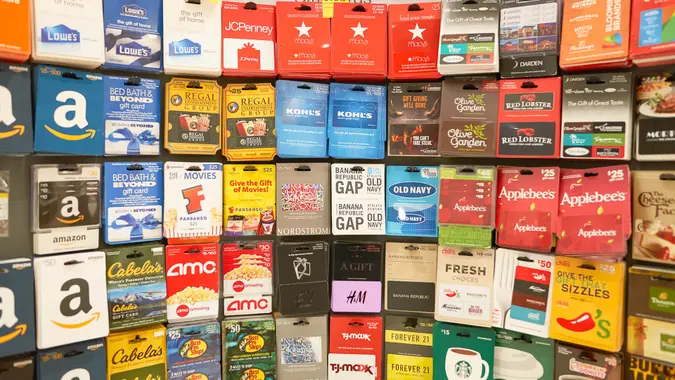 Sorbis / Shutterstock.com
What's the perfect gift for the holidays that every recipient is bound to be genuinely thankful for? If you don't know them too well, or if they're incredibly difficult to shop for, chances are the answer is: a gift card. 
Just like giving cash, giving a gift card is no longer considered poor holiday etiquette and you can rest assured that a last minute gift card purchase at a big-box retailer won't be frowned upon. 
"Gift cards have become an increasingly popular option for birthdays, Christmas, and other occasions," said Baruch Silvermann, personal finance expert and CEO of The Smart Investor. "Gone are the days when a gift card was considered lacking thought, as it actually shows that you want to provide a gift that someone wants and will use. They can also be a great option if you can't meet up with your loved ones to celebrate the occasion." 
But there is a catch. 
"All of these benefits can quickly be outweighed if you don't understand what the best and worst gift cards are," Silvermann said. 
Here's a look at some of the best — and worst — gift cards you can purchase this holiday season. 
We've Got You Covered: GOBankingRates' Smart Holiday Spending Guide
Prepare: Shipping, Wrapping & More Extras To Account For in Your Holiday Budget
Amazon
"One of the main issues with gift cards is if the person receiving them would struggle to use it," Silvermann said. "Many of us have experienced a situation where we have carried around a gift card and never seemed to find an occasion to use it. With more than 300 million active customers around the world and over 150 million Prime members, Amazon has to be a top pick as the best gift card."
Make Your Money Work for You
There's a good chance the person you're buying for already spends money on Amazon. And even if they're new customers, Silvermann said, they'll likely be impressed with the dazzling array of of products on offer.
Visa
"Visa gift cards are great because they give the person the most flexibility with what they decide to spend it on," said Carter Seuthe, CEO, Credit Summit. "Visa gift cards can be spent almost anywhere, so there are very little restrictions on what you can buy. People like to have choices, and these gift cards give them choices."
Starbucks
"Starbucks gift cards are always a great option," said Christen Costa, CEO, Gadget Review.  "You can get one for someone that is anywhere from $5 to $100, and they will use the entire thing. Caffeinated drinks are a necessity for most people, and Starbucks is a 'treat' for most people too, so giving someone a gift card allows them to get things they both need and want."
Make Your Money Work for You
Big Box Retailers Gift Cards In Bulk
"You can often find $100 worth of gift cards while saving around $20 or more off the face value of the gift cards, though some savings may be smaller depending on the retailer," said Julie Ramhold, consumer analyst at DealNews.com.
Gift Cards To Fancy (and Not So Fancy) Restaurants
"Gift cards to expensive restaurants usually aren't a great idea, especially if the amount of the card won't cover an entire meal (of at least two people)," Costa said. "While people enjoy good food, they won't enjoy feeling obligated to go to a fancy restaurant only to have to cover some of the cost of the meal with their own money."
Some restaurants may be more worth it, however:  "Bertucci's is offering $40 in bonus cards when you purchase $40 in gift cards, which is the only one-to-one BOGO offer we've seen this year," Ramhold said. "If you enjoy this restaurant or know someone who does, this is an incredible gift card deal worth grabbing."
Apple
"Apple gift cards are generally not a good choice," said Seuthe.  "Unless you're giving someone a gift card that contains enough funds to actually buy a product, the person receiving the gift card will still have to spend anywhere from a hundred to thousands of their own dollar in combination with the gift card to actually purchase anything. Chances are, the gift card will go unused and forgotten, and you will have wasted your money on it."
Make Your Money Work for You
Kmart and Sears
"Kmart is one of the worst gift card choices," said Silvermann. "Over the past 15 years, Kmart and its parent company, Sears, have closed over 3,500 stores. This trend of closing stores means that there is a chance that your friend's local store may not even exist any longer."
"Additionally, Kmart and Sears have a lower spend to upkeep their stores," Silvermann continued. "While the brick and mortar competition typically spends $8 per square foot updating, replacing and decorating, Sears only spends up to $2 per square foot. So, if a company is so reluctant to maintain their locations, do you really want to trust that they will honor a gift card?"
More From GOBankingRates
Make Your Money Work for You