McDonalds vs. Burger King Stock: Which Is Better?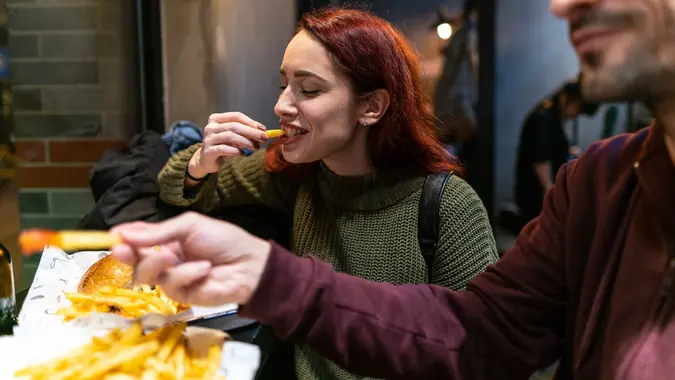 miodrag ignjatovic / iStock.com
The competition between McDonald's and Burger King is perhaps the most well-known fast food rivalry of all time. The feud between these chains extends far beyond prices and brand positioning. In fact, this beef — no pun intended — has permeated the stock market, where dozens of investors interested in fast food stock wonder which industry giant they should place their bets on. 
It begs the question: when it comes to McDonald's stock versus Burger King stock, which corporation is better — and do either make wise investments?
Is It Worth Investing in the Fast Food Industry Nowadays?
Many businesses in the restaurant industry struggled to bounce back from the lack of dine-in traffic caused by COVID-19 restrictions. Yet, quick-service and casual restaurants found an area of opportunity and innovation in uncertainty and managed to thrive where others perished.
Against all odds, the pandemic gave fast food restaurants a captive audience and, therefore, a steady source of revenue.
With the help of technology, restaurants like McDonald's and Burger King were able to facilitate the process of ordering and picking up meals while people were stuck at home. These actions didn't go unnoticed. In fact, they encouraged customers to indulge in their favorite comfort foods a tad more often than they normally would.
As a result, not only did the world's current situation help the industry stay afloat, but it caused higher demand and accelerated growth for fast food chains. The current market size of this sector, measured by revenue, is over $331 billion. Data suggests that this industry is projected to grow by 2.9% by the end of 2022.
With their value on the rise, McDonald's stock and Burger King stock are catching the eye of more and more investors globally.
Who Has the Biggest Market Share in Fast Food?
In the United States, there's no shortage of fast food options. However, the indisputable fast food champion has always been McDonald's. Many companies over the years have tried to replicate and improve the Golden Arches' business model, unsuccessfully. Nobody's ever even come close to stealing the all-American icon's crown.
McDonald's was founded over six decades ago, and although it's had its ups and downs, it's managed to adapt to an ever-changing industry. Today, McDonald's operates over 40,000 restaurants across the globe.
The Distance Between McDonald's and Burger King
Burger King is often mentioned in the same breath as McDonald's, as though the two are nearly equivalent. Yet, numerous other restaurants are playing "Follow the Leader" with McDonald's. Some of McDonald's closest competitors are:
Chick-fil-A
Taco Bell
Wendy's
The Home of the Whopper comes in sixth place. As of the beginning of the pandemic, Burger King held only 1.2% of the global fast food market share, according to Zippia. The company runs roughly 19,247 restaurants worldwide.
Burger King's parent company, Restaurant Brands International, understands its market and the challenge behind attempting to dethrone McDonald's in the U.S. That's why they tend to focus their efforts on growing the brand outside the country.
Is McDonald's Stock a Good Buy Right Now?
McDonald's stock (MCD) has maintained consistent market share wins this quarter. The company's sales have reached an increase of 12% this year. Russia's invasion of Ukraine earlier this year caused McDonald's to cut back their operations in both countries, slowing down profits somewhat. However, the fast food chain has shown impressive resilience and has managed to turn the tables around. 
The Golden Arches earned roughly $372 million in what management deemed rocky operating conditions. Although investors can expect some volatility, the increasing market value of McDonald's stock makes it a safe bet.
Is Burger King Stock a Good Buy Right Now?
The Restaurant Brands International (QSR) owned brand has exceeded its revenue expectations. Yet, at the beginning of the year, Burger King stock slipped significantly, showcasing the company's struggle to stay relevant. 
Burger King seems to be making a big effort to catch up with peers and climb up a few spots on the market share ladder. Earlier this year, they introduced a variety of new menu items to appeal to the millennial market.
Right now, there are several other fast food chains with a higher value than Burger King. Still, it might be worth it for investors to keep an eye on Burger King stock in case anything changes.
Which Should You Invest In?
Because Burger King is always open to listening to its audience and making some adjustments in its strategy, Burger King earns an "A" for effort.
However, since now is as good a time as any to buy McDonald's stock, the company remains the actual royal in this battle.
Editorial Note: This content is not provided by McDonald's or Burger King. Any opinions, analyses, reviews, ratings or recommendations expressed in this article are those of the author alone and have not been reviewed, approved or otherwise endorsed by McDonald's or Burger King.
Our in-house research team and on-site financial experts work together to create content that's accurate, impartial, and up to date. We fact-check every single statistic, quote and fact using trusted primary resources to make sure the information we provide is correct. You can learn more about GOBankingRates' processes and standards in our editorial policy.