How To Invest In Foreign and International Stocks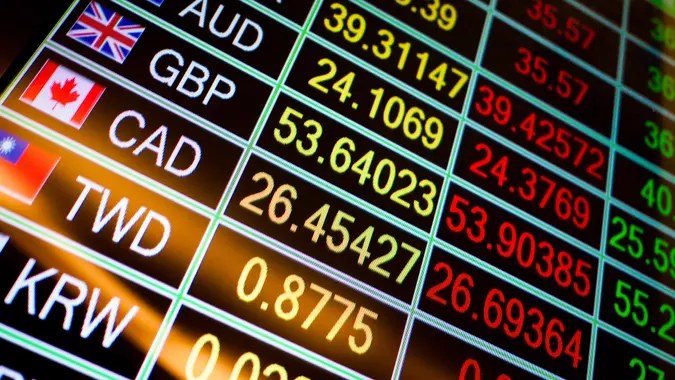 Bankoo / Shutterstock.com
The key to a balanced investment portfolio might be a cliché, but it still holds true: Don't put all your eggs in one basket. One way to diversify your portfolio is by investing a portion of your money in international stocks. Doing so helps you benefit from the growth of other global economies while minimizing the risk caused by economic bubbles, downturns and political changes in the United States.
According to the World Bank, the total value of stocks traded in the U.S. was about $23 trillion in 2019, the most recent year data are available. That was more than one-third of the world's total.
Investors that haven't looked at international stocks are missing out on potentially lucrative foreign stocks from around the world, including the following:
Alibaba Group: Global e-commerce giant headquartered in China
LyondellBasell: Dutch plastics and petrochemical company
American Movil: Mexican telecom company
Imperial Brands: British tobacco company
If you are interested in investing in foreign and international stocks, this guide will tell you what you need to know.
6 Ways To Invest In Foreign and International Stocks
You have several options when it comes to investing in foreign stocks. But before diving in, think about how you want to approach your international investments. Here are a few things to consider:
Consider The Following:

The amount of time and research you are willing to put in
Your investment goals, e.g. short-term profits vs. long-term growth
How much you want to spend
Once you have an idea of how you will invest in stocks, the next step is to learn about your options. Here are six ways you can buy foreign stocks:
1. American Depositary Receipts (ADRs)
American Deposit Receipts give U.S. investors exposure to non-U.S. stocks without having to deal in foreign stock markets. Many foreign companies — including well-known names like Nokia and Unilever — list their shares on U.S. exchanges through ADRs.
ADRs are a type of equity created for the sole purpose of making it easier for American investors to access foreign stocks. An ADR represents one or more shares of foreign stock held by banks in the company's home country. The ratio of foreign shares to one ADR varies from one company to the next, but each ADR for any single company will represent the same number of shares.
2 Global Depositary Receipts (GDRs)
ADRs and GDRs are the same concepts with one main difference — global depositary receipts are also offered outside of the U.S. in international markets such as Europe. ADRs and GDRs are usually traded in U.S. dollars, but GDRs might also be denominated in euros.
3. Direct Trading Through a Broker
The most straightforward way to invest in foreign stocks is by using a brokerage that gives you access to the exchange where the company is listed. You can open a global account with a participating U.S. brokerage, or set up a brokerage account in the country where you want to trade.
This method is best for investors with higher risk tolerance as well as experience researching and trading global equities. Brokers such as Charles Schwab let investors trade global stocks in foreign currencies for many leading international markets. Just keep in mind that trading in international stock markets requires knowledge of foreign exchange rates and special tax implications.
4. Global and International Mutual Funds
This is a good option if you prefer to rely on the expertise of professional fund managers to make investment decisions – especially if you want a highly diversified portfolio but don't have a lot of money to invest. Global mutual funds are like any other mutual fund, except that they hold international stocks. Here are the four main types of international funds.
4 Types of International Funds:
International mutual funds might have higher costs than U.S. funds due to foreign exchange rates and taxes. Still, as an investor, you get the security of knowing that an experienced group of professional fund managers is actively managing your investment.
5. Exchange Traded Funds (ETFs)
ETFs have similar benefits to mutual funds. Both invest in a diversified portfolio of stocks and bonds. But unlike mutual funds, ETFs trade on a stock exchange and can be bought and sold throughout the day as prices fluctuate.
International ETFs have lower expenses because they're passively managed, meaning they track a country's index. They offer opportunities to follow the growth of other economies and international emerging markets.
Among the best ETFs to buy for long-term growth are the iShares MSCI EAFE ETF, which owns large- and mid-cap stocks from developed nations spanning Europe, Australia, Asia and the Far East; and the iShares Core MSCI Emerging Markets ETF, which has more than half of its assets invested in China and Taiwan, but also invests in more speculative markets like Indonesia, Brazil and Saudi Arabia.
6. Multinational Corporations (MNCs)
Multinational corporations are essentially large companies that operate all over the world, though many are headquartered in the U.S. Investing in MNCs is a way to dip your feet into international growth, but it should not be the primary way to diversify your investment portfolio overseas.
MNCs such as Coca-Cola and Ford Motor might operate worldwide, but they're still essentially U.S. investments. The bulk of your international allocation should go toward the other five foreign investment options listed above.
What Are the Benefits of Investing In International Stocks?
Most stock performances tend to be cyclical, no matter where a company operates. Diversifying your portfolio by adding a portion of international stocks can help offset volatility and contribute to higher returns. If one nation or region hits a rough patch, your investments in other, better-performing regions will help balance things out.
According to Fidelity's guide to diversification, the percentage of foreign stocks you should own depends on your investment goals. Here's the percentage you might allocate to foreign investments as part of your overall portfolio, based on investing style:
Conservative: 6%
Balanced: 15%
Growth: 21%
Aggressive growth: 25%
An aggressive growth portfolio will put a much higher percentage of money into foreign investments than a conservative one, which reflects the greater risk of investing internationally.
It's also important to diversify within your foreign allocation. For example, if you aim for a balanced portfolio, don't invest the entire 15% allocated for foreign investments in a single country. To spread out your risk, aim for a mix of emerging and developed markets as well as small, medium and large-cap companies.
What Are the Risks of Investing in International Stocks?
The most obvious risk of investing in foreign and international stocks is that you're putting your money in companies that aren't beholden to the same rules as those in the U.S., which means they might not be as strictly regulated in terms of communicating with investors. That's true even with a foreign company that has been approved by the U.S. Securities and Exchange Commission to list ADRs on U.S. exchanges.
Before investing in international stocks, think about how much risk you're comfortable with. Emerging markets might offer faster growth than developed markets, for example, but they also tend to be more volatile. If you like to keep risk to a minimum, you should probably focus on developed economies.
Here are some of the risks you should be aware of before trading foreign stocks:
Changes in Foreign Currency
Stocks fluctuate in value, which can be nerve wracking enough. International stocks add another layer of uncertainty because foreign currencies can increase or reduce your investment without warning. You might also be subject to foreign tax structures on any dividend payouts.
Political Events
Unless you're a full-time trader, you might not keep up with potentially disruptive political trends in foreign countries. Consequently, you might be caught unaware when a political event negatively impacts stocks in certain regions.
Unregistered Investment Advisers
If you work with a foreign broker not registered with the SEC, you might not get the same protections as with a registered U.S. broker. It's always a good idea to make sure a foreign broker is registered with the SEC.
Should You Buy International or Foreign Stocks?
Foreign markets provide diversification and opportunities you simply can't get by putting all of your money into stocks based in the U.S. You can increase your chance of earning big profits by investing internationally, especially with stocks in high-growth emerging markets. You also can pick up many international stocks at much cheaper prices than U.S. stocks.
But you need to be aware of the risks. Business and economic growth in foreign markets is not always as reliable as growth in the U.S., and the rules governing businesses are different. It's not always as easy to get useful information on foreign stocks because they get less coverage from U.S. analysts and media outlets.
The right mix of investments requires research and commitment. Investing in foreign stocks can enhance your portfolio, but the way you do so should be based on your own financial needs and investing philosophy. If you are unsure how to proceed with international stocks, consult with a financial advisor.
Vance Cariaga contributed to the reporting for this article.
Our in-house research team and on-site financial experts work together to create content that's accurate, impartial, and up to date. We fact-check every single statistic, quote and fact using trusted primary resources to make sure the information we provide is correct. You can learn more about GOBankingRates' processes and standards in our editorial policy.