Lucid Motors Stock (LCID): Is This Tesla Competitor a Good Buy After Initial Deliveries?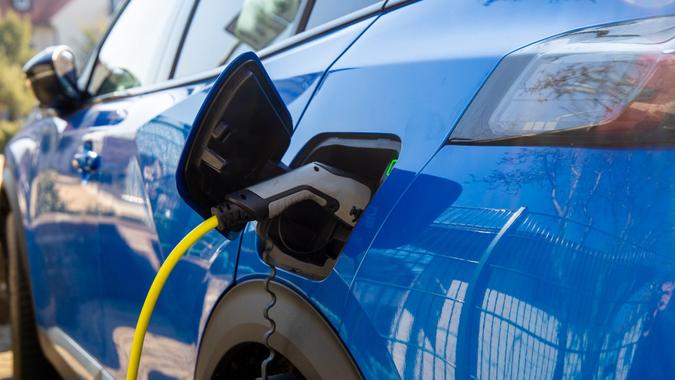 U. J. Alexander / iStock.com
Electric vehicles may be the wave of the future, but EV stocks are waving right now — and startup EV maker Lucid is rivaling Tesla as one of the market's hottest automotive companies.
But as investors have learned, sometimes to their financial regret, popularity doesn't equal value. In automotive and other trendy sectors, what goes up like a SpaceX rocket can come right back down like a rock.
Which future lies ahead for Lucid, gravity-defying orbit or crash landing? The company is delivering vehicles, but will it ever fulfill the high hopes already reflected in the stock price? Here's an overview of Lucid Motors Stock (LCID) and what to expect in the future.
First Deliveries Inspire Stock Explosion
The rapid climb of Lucid Motors stock in early November 2021 followed the first deliveries of the Lucid Air, Dream Edition — a $170,000 luxury electric-powered sedan — at the company's headquarters in Newark, California.
The first owners were treated to a hearty breakfast before their vehicles were unveiled from under black car covers with individual owners' names emblazoned on roof placards. The company then offered an inaugural Dream Rally through California's towering redwood forests and along the scenic Pacific coast.
In the meantime, production of the $77,000 Air Pure was moving ahead at the company's Arizona factory, with first deliveries scheduled sometime in 2022. Lucid has also announced the Air Touring and the Air Grand Touring at higher price points. All vehicles will qualify buyers for a $7,500 federal tax credit on EV purchases.
High Efficiency and Range
Led by former Tesla engineer Peter Rawlinson, the Lucid Group aims to capture the high-end EV market with splashy boutique sales centers, known as Lucid Studios. They're located in thriving auto markets, such as New York, California and Florida, where interest in renewables and EVs is already high.
On technical details, the company has earned high marks. The Environmental Protection Agency rates the Air Dream at a range of 520 miles on a single charge. This is the longest range of any commercially available electric vehicle. The company also claims a battery efficiency of 4.6 miles per kWh — the highest in the industry — for the Grand Touring model.
Good To Know

Reaching ambitious production goals would boost Lucid's revenues. But this is a capital-intensive business. Issuing additional stock to raise money would result in dilution of the shares, which has a negative impact on stock prices.
SPAC Funding Success
Churchill Capital raised more than $4 billion through a special purpose acquisition company to get Lucid Group off the ground. An initial public offering in October 2021 raised an additional $75 million for the company. Lucid claims to have sufficient capital to keep factories operating through 2022 and meet the production goals of 20,000 cars in 2022 and 50,000 vehicles in 2023.
Based on hopes for the future, investors in Lucid have endowed the company with a market capitalization that rivals that of the Ford Motor Company. Total revenue for Lucid came in at $4.6 million for 2019 and $4 million for 2020 as the company accepted paid reservations for its vehicles. Net losses reached $277.4 million and $719.4 million in the same years, respectively.
Production Problems Ahead?
Like any auto startup, Lucid Motors will continue to lose money until it can get more vehicles into showrooms and sell to a broader public market. Until then, plenty of speed bumps are looming on the road to profitability.
A worldwide shortage of semiconductor chips needed for vehicle electronics means the company may have to delay or slow production. Labor costs are rising for Lucid and all other manufacturing businesses. Supply chain disruptions may cause a shortage of vital basic materials such as steel, aluminum and rubber.
To Buy or Not to Buy
Electric vehicles hold promise as the cornerstone of the auto business in the not-too-distant future. But CEO Rawlinson doesn't see Lucid as a Tesla competitor. Instead, he names his main competitors as Mercedes, Audi and BMW — established luxury brands that already have their own EV vehicles rolling off the production lines.
Lucid may play an important role, but the market for luxury goods of any kind — especially cars — is by definition limited. Also, the Lucid Motors stock price rising more than 300% in less than a year shows that a lot of optimism is already well baked into the stock.
Investors now putting their money into the company may be buying high. They'll need high-risk tolerance to stick it out as Lucid deals with competition in the sector, production challenges and uncertainty in the broader economy.
This article was republished on April 26, 2022. Information is accurate as of March 11, 2022.
Our in-house research team and on-site financial experts work together to create content that's accurate, impartial, and up to date. We fact-check every single statistic, quote and fact using trusted primary resources to make sure the information we provide is correct. You can learn more about GOBankingRates' processes and standards in our editorial policy.