10 Top Stocks To Buy for 2023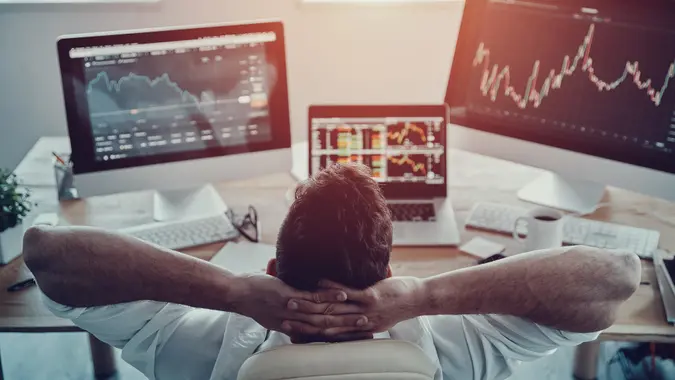 g-stockstudio / Getty Images/iStockphoto
With a possible recession still looming, investors are wondering which stocks to place their bets on. The analyst community expects volatility to continue in the near term due to lingering inflation and increasing interest rates. Needless to say, it's important to keep a close eye on the market and make your own judgments.
Investment opportunities can come from many different sectors, and you should remain vigilant to find the best investment options for you and avoid expensive mistakes. If you're looking to buy stock in 2023, here's what you need to know.
Top 10 Stocks To Consider in 2023
The top stocks to invest in for 2023 are spread across varied sectors, including technology, industrials and materials. Here's a quick list of the top stocks to buy this year:  
Stocks With Growth Potential
When companies have a strong leadership team, strong sales, a large audience and a good growth market, they offer solid long- and short-term opportunities for investors. Here are some to consider investing in as 2023 continues.
1. ServiceNow Inc. (NOW)
California-based ServiceNow operates a cloud-based platform called Now that helps enterprises digitize and optimize their processes and workflows. The company boasts roughly 7,700 customers, and about 85% of Fortune 500 companies use its services.
Last quarter, ServiceNow exceeded its guidance for growth and profitability, reporting a 25% year-over-year increase in subscriptions and a 23% growth in total revenues. In fact, total revenues have grown in each of the last nine quarters, and profits are up nearly 23% compared to a year prior.
Analysts polled by Yahoo Finance rate NOW a "strong buy." Zacks rates it a "hold" but gives it a style score of "A" for growth.
2. Nvidia (NVDA)
Chipmaker Nvidia has performed well in 2023, nearly doubling its total revenue from the quarter ended Jan. 31 to the quarter ended July 31. Earnings grew from $0.57 to $2.50 over the same period, and shares are up 221% year to date.
Analysts expect the run to continue. Those polled by Yahoo Finance rate it a "strong buy" with 35% upside. Zacks also rates it a "strong buy," which correlates with an expected 24.17% annualized return over the next few months.
High-Performing Stocks
To measure stock performance, analysts and investors should take into account the stock's potential and ability to increase its shareholders' wealth during an estimated period. Here are some of the best-performing stocks to keep an eye on.
3. Micron Technology Inc. (MU)
Micron stock took a hit last year, but it's making up for it this year with 39.73% gains since the beginning of the year. The company's performance outlook is good in the long term.
Thirty-one analysts following the stock have a consensus rating of "buy."
Stephen "Sarge" Guilfoyle, Real Money columnist for TheStreet, believes that "demand for what Micron does will outpace supply and/or capacity for some time." As for Micron's financials, Guilfoyle noted that the "balance sheet is as clean as a whistle and gets high marks on the Sarge test." That's why some analysts say Micron is oversold and poised for serious gains.
4. Meta Platforms Inc. (META)
While Meta's investment in the metaverse hasn't paid off yet, a push to position itself at the forefront of artificial intelligence is coming on the heels of major cost-cutting measures, including the elimination of 21,000 employees.
After roughly 15 months of steady declines, Meta stock turned around at the beginning of the year, and as of Oct. 12, it's up 170.26% year to date. Analysts rate the stock a "strong buy," and Zacks gives it an "A" for growth.
5. Berkshire Hathaway Inc. (BRK-A)
It might seem counterintuitive that the world's most expensive stock could be considered a good value, but consider this: Berkshire Hathaway is a holding company for businesses representing dozens of brands in industries as diverse as insurance, freight rail transportation, utilities, furniture, confections, batteries and recreational vehicles, to name a few, and it's helmed by one of the world's most successful value investors.
Diversified earnings and excellent management bode well for patient investors. Plus, Berkshire Hathaway is flush with cash it can use to gobble up growth stocks and buy back shares.
Berkshire Hathaway shares are up almost 12% since the beginning of the year. Of course, most will still have to buy a fractional share of the stock, which closed at $528,820 on Oct. 11, or pick up budget-priced Class B shares of Berkshire Hathaway for about $348.
Value Stocks
When considering a stock, value investors tend to choose those trading for less than what they're worth. The strategy includes measuring fundamental business metrics against the stock price with the hopes the price will rise alongside the company's worth. Here are some of the best value stocks for 2023.
6. Herc Holdings Inc. (HRI)
Herc Holdings is a Florida-based equipment supplier that rents out aerial equipment; air compressors; compaction, earthmoving and material handling equipment; trucks and trailers; and lighting equipment. It also provides equipment maintenance, repair, training and labor, among other services.
Analysts rate the stock a "buy" with an average price target of $167.11, which is a slight downgrade since last month. Zacks rates it a "buy" and gives it an "A" for value. The stock closed at $114 on Oct. 11.
7. Qualcomm Inc. (QCOM)
Qualcomm is a major player in the wireless industry and a leader in the 5G and chipset market. While not without competition nipping at its heels, Qualcomm is a blue-chip stock with a 10-year history of increasing dividends, currently yielding 2.88%, and analysts say it's undervalued right now.
Despite beating Wall Street analysts' earnings forecasts, QCOM's price took a hit with its Q3 2023 earnings release on Aug. 2 because fourth-quarter guidance fell short of expectations, CNBC reported. At play is falling demand for smartphones at a time when the industry at large is carrying excess inventory. The result is that Qualcomm is firmly in the value category with a P/E ratio of 14.52.
At $110.98 as of Oct. 11, QCOM is a good deal compared to its average 12-month target price of $136.11.
8. Travel + Leisure Co. (TNL)
Formerly known as Wyndham Destinations, Travel + Leisure is a hospitality products and services company that operates vacation ownership and travel and membership segments in the U.S. and internationally. The company has benefited from the return to travel, with vacation ownership making an especially strong showing.
In its full-year earnings report for 2022, Travel + Leisure noted that sales volume per guest attending timeshare/vacation club tours was up a record 44% compared to 2019. This was the highest increase in the company's history. "Our fourth quarter and full year results demonstrate our ability to capitalize on the strong leisure travel market and deliver great vacations for our owners and members while maximizing return of capital to our shareholders," Michael D. Brown, president and CEO of Travel + Leisure Co., said in a statement. The company has performed well in 2023, with gains in earnings and revenue in the second quarter.
Analysts rate the stock a "buy" and set an average price target of $50.50. Shares closed at $34.81 on Oct. 11. TNL pays a 5.14% dividend and has a low 7.62 P/E ratio.
9. Marathon Oil Corp. (MRO)
Shares of MRO struggled in the first half of 2023, which isn't surprising considering the uncertainty that exists around the short-term energy outlook, according to the U.S. Energy Information Administration.
Analysts are a little more cautious than they've been over the last few months, with several of the 27 who watch the stock shifting their recommendation from "buy" or "strong buy" to "hold." But the consensus still recommends MRO as a "buy" with strong upside — 24% as of Oct. 11.
10. Devon Energy Corp. (DVN)
This company's stock has performed well due to its capital return for shareholders, its outstanding financial performance and geopolitical conditions that sent energy stocks soaring last year.
In June 2022, Devon announced that it had entered into an agreement to purchase leasehold interest and other assets of RimRock Oil and Gas. The acquisition was expected to increase Devon's Williston Basin production by an average of 20,000 barrels of oil per day and add over 100 undrilled inventory locations, according to a press release.
Devon's stock is down year to date and over the past year. However, of 32 analysts who watch the stock, 23 rate it a "buy" or "strong buy" and nine recommend holding. Devon pays a hefty 7.38% dividend yield and has a low 6.38 P/E ratio.
Final Take
The stock market is in constant evolution, and those looking to invest need to pay close attention to its frequent ups and downs. When looking to invest in new stocks and diversify your portfolio, do your research and evaluate what's best for you in the long run.
The guide above is meant to give you some insight into some of the best options in the stock market nowadays. Be aware that these conditions may vary over time.
Good To Know

Experts recommend investing in stocks over bonds if your goal is growth and you have a strong appetite for risk. Although stocks are more volatile than bonds, historically, they have produced larger long-term gains. If investing in individual stocks is too risky for you, consider a mutual fund that invests in a basket of growth stocks.
FAQ
Here are the answers to some of the most frequently asked questions about investing in stocks in 2023.
How do you pick stocks?

When picking stocks, the main goal is often to find good value. If you're looking to diversify your portfolio, look for trends in earnings, company strength, debt-to-equity ratios and dividend yield.

What are the best industries to invest in right now?

Some of the best industries to put your money on nowadays are:

Cloud computing
Green energy
Virtual reality
Sustainable industries
Transport
Cybersecurity
Pharma and healthcare
Biotechnology

How do I buy stocks?

You can buy stock through an online stockbroker, a full-service broker or directly from the company. While you don't need a broker to buy stock, having a middleman could give you more options and simplify your life when investing.
John Csiszar and Daniela Rivera-Herrera contributed to the reporting for this article.
Data was compiled on Oct. 12, 2023, and is subject to change. Information on analyst ratings was sourced from Yahoo Finance.
The article above was refined via automated technology and then fine-tuned and verified for accuracy by a member of our editorial team.
Our in-house research team and on-site financial experts work together to create content that's accurate, impartial, and up to date. We fact-check every single statistic, quote and fact using trusted primary resources to make sure the information we provide is correct. You can learn more about GOBankingRates' processes and standards in our editorial policy.