Upcoming Stock Splits for September 2022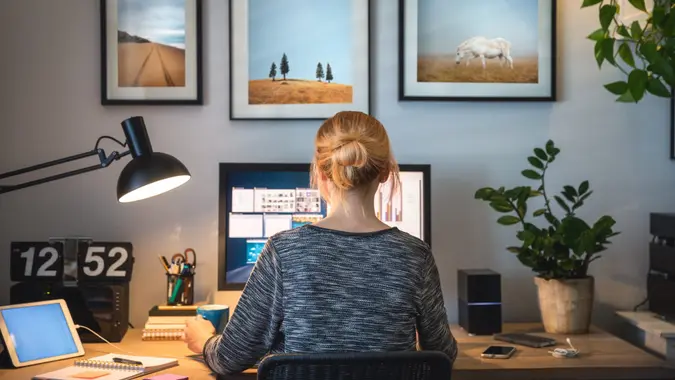 borchee / iStock.com
Although stock splits do not fundamentally change the value of a company or the value of stocks owned by shareholders, they can work to entice new investors to purchase stocks in the company. This is particularly beneficial for large companies and tech giants, such as Amazon, Tesla, Apple, AliExpress, Samsung and Microsoft because they are already established names and businesses.
Read: Looking To Diversify In A Bear Market? Consider These 6 Alternative Investments
Stock splits are typically announced two to three months before the enactment date, although some can happen within the same month as the announcement or even the same day. The following are some upcoming stock splits for investors to consider.
Upcoming Stock Splits in 2022 at a Glance
| Company | Ratio | Execution Date |
| --- | --- | --- |
| Naturally Splendid Enterprises Ltd | 1:15 | 09/22/2022 |
| CW Petroleum Corp | 1:20 | 09/23/2022 |
| Annaly Capital Management, Inc. | 1:4 | 09/26/2022 |
| Midatech Pharma PLC | 1:5 | 09/26/2022 |
| Commercial International Bank (Egypt) ADR | 1.504:1 | 09/29/2022 |
| Nintendo Co. Ltd ADR | 1:10 | 10/03/2022 |
| BlackRock Income Trust, Inc. | 1:3 | 10/18/2022 |
What Is a Stock Split?
A stock split occurs when a company divides its existing shares into smaller, less valuable pieces. The whole value of the shares together remains the same, but there are simply more shares available. 
Stock splits can be beneficial for existing shareholders in a company as they automatically receive a higher number of stocks without purchasing more shares of stock in the company. The ratio of shares that the investor receives is expressed in terms of the split ratio. For example, if a company announces a 1:10 stock split and an investor owns 100 shares, that investor will have a total of 1,000 shares of stock at the conclusion of the split. Following the split, each share is valued at one tenth the original share value before the split.
A reverse stock split is the opposite — rather than larger value stocks being split into smaller value ones, smaller value ones are merged into larger value stocks. For example, a reverse stock split of 5:1 could mean that four stocks valued at one dollar each would merge into one stock worth four dollars in total. 
What Are Some Upcoming Stock Splits in 2022?
While most stock splits of 2022 have already occurred, it's definitely not too late to invest in stocks that will have upcoming splits this year and next. The following are some of 2022's most anticipated stock splits. 
Tesla
Tesla's 2022 stock split has already passed. On Aug. 25, 2022, Tesla implemented its 1:3 stock split. Tesla is one of the fastest-growing tech giants in the world, so this split was significant both for the company and for its shareholders. In the case of Tesla and its shareholders, each share they own became three shares equaling the value of the initial first share.
Nintendo
Nintendo, a decades-old gaming company, is set to split each of its stocks at the beginning of October 2022 with a 1:10 split. Comparatively speaking, this may seem like a large split, but it's up to each company how many shares they split each stock into. This could be a potential reward for them sticking by the company through its ups and downs. The continued development of the Nintendo Switch's game offering list is predicted to continue to bolster Nintendo's value as a company.
Palo Alto Networks, Inc.
With the rise of cryptocurrencies and the Metaverse as well as other virtual and augmented reality technologies, the need for cybersecurity cannot be overstated. Palo Alto split its stock from one share into three in September 2022. The projected earnings growth for Palo Alto shares sits at 66% at its last earnings report, which may be a good sign for both current shareholders as well as future investors.
Final Take 
While stock splits can provide new investors with lower entry points when purchasing a company's stock for the first time, it's important for investors to remember that splits do not change the underlying value of the stock. Similarly, a reverse stock split does not increase the value of the company overall because the number of shares of stock on the market is reduced. Stock splits also oftentimes come with dividend adjustments, so investors should check for any changes in their estimated earnings after a split announcement.
Stock Split FAQ
Here are several commonly asked questions about upcoming stock splits.
Which share will split in 2022?

Alphabet (Google), Tesla, GameStop and Amazon have all split stocks in 2022. In September and October of 2022, AMC Entertainment, Annaly Capital Management, Syros Pharmaceuticals and BlackRock Income Trust will perform stock splits.

What date will Tesla's stock split in 2022?

Tesla split its stock on August 25, the same day as the company made the announcement.
Information is accurate as of Sept. 27, 2022.
Editorial Note: This content is not provided by any entity covered in this article. Any opinions, analyses, reviews, ratings or recommendations expressed in this article are those of the author alone and have not been reviewed, approved or otherwise endorsed by any entity named in this article.
Our in-house research team and on-site financial experts work together to create content that's accurate, impartial, and up to date. We fact-check every single statistic, quote and fact using trusted primary resources to make sure the information we provide is correct. You can learn more about GOBankingRates' processes and standards in our editorial policy.