Amazon Stock Prices: Is It a Buy Right Now?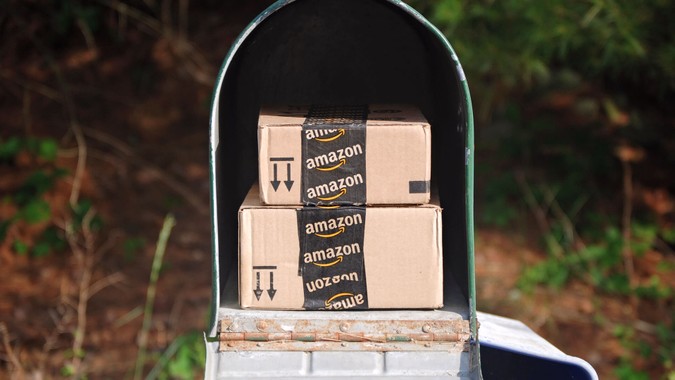 Julie Clopper / Shutterstock.com
Amazon stock trades on the Nasdaq under the symbol AMZN. As of October 19, the company's market cap was $1,607,069,382,958. Here's how Amazon's value compares to other blue chip stocks:
Microsoft (MSFT): $

1,626,591,321,849

Walmart (WMT): $

405,736,745,663

Home Depot (HD): $

306,585,294,942

Pfizer: Pfizer (PFE): $

210,133,409,902
Amazon Stock Buy Rating
Amazon's IPO price in 1997 was $18 per share. The stock closed at $23.50 and has consistently risen since then.
On March 2 — before the pandemic had fully taken hold — the stock closed at $1,953.95. Two months later, on May 1, it closed at $2,286.04. On Sept. 1 the stock closed at $3,499.12.
Currently, the Amazon stock buy price is $2,743.50. This is a 71% increase over the stock's pre-pandemic price.
Here are other helpful details about the company's revenues and quarterly earnings.
Amazon Quarterly Earnings
Quarter
Estimated Earnings Per Share
Reported Earnings Per Share
Quarter 3, 2019
$4.46
4.23
Quarter 4, 2019
$3.98
$6.47
Quarter 1, 2020
$6.36
5.01
Quarter 2, 2020
$1.74
$10.30
Other metrics to consider include the earnings surprise, annual growth, and earnings before interest, taxes, depreciation and amortization performance. Here's the data for the second quarter of 2020:
Surprise: 491.95%
Annual Growth: $88.91 billion
Percentage Change: 40.23% increase
EBITDA Performance: $11.59 billion (39.89% increase)
Sponsors of
Amazon is considered a strong buy by many analysts.
Is It Worth It To Buy One Share of Amazon?
The online retail market was already growing before the current pandemic. At the end of 2019, the online market was valued at more than $4 trillion and expected to increase at a rate of 9.4% through 2027.
Some of the most dramatic shifts in consumer spending habits took place online. Instead of shopping in brick and mortar stores, customers have been able to order everything from prescriptions to groceries online and have them delivered to their homes.
Amazon Market Share
The online market space has become increasingly competitive as retailers scramble to both save their companies and meet customer needs. Saturation is a concern. Major retailers like Walmart and Target are directly competing with Amazon for online sales, but Amazon's market share is moving toward 40%.
To keep up with demand and continue meeting customer expectations, Amazon is hiring more workers. The company announced that it's recruiting more than 100,000 employees in its operations department.
Other Ventures
Amazon continues to expand its services. It now offers grocery delivery to select locations. Amazon also offers grocery services to individuals who rely on the Supplemental Nutrition Assistance Program. In June, the company bought Zoox as part of its plan to begin using driverless cars.
Amazon Grocery Delivery

Amazon's capacity increased more than 160% during the year. In the second quarter, online grocery sales spiked to three times the previous amount due to the COVID-19 pandemic. The company also expanded online grocery services to consumers who use SNAP benefits.
Amazon Web Services launched a cloud computing platform in 2014. In the second quarter of 2020, AWS accounted for 12% of Amazon's total revenue and brought in nearly $11 billion.
Amazon Fundamentals Analysis
Amazon's growth has been consistent over the last 10 years. The COVID-19 pandemic accelerated its growth during the second quarter of 2020. Revenue increased by 40.23% during the quarter, surpassing industry growth of 33.87%.
Operating cash flow reached $51.2 billion by the end of the second quarter, a 42% increase over the previous year. Free cash flow increased to $31.9 billion.
Amazon Stock Analysis
Amazon stock continues to be a buy, according to several analysts. CNN Business reported 42 out of 48 analysts recommend Amazon stock as "buy now," a trend that's consistent among several sources. By comparison, only 12 out of 35 analysts recommend buying eBay stock. Alibaba has a similar recommendation to that of Amazon, with 52 out of 57 analysts recommending the stock as a buy.
Sponsors of
How To Buy Amazon Stock — Step-by-Step
The process of buying Amazon stock is similar to buying other stock. Here's how:
1. Decide Where To Buy Amazon Stock
You can buy Amazon stock through an online brokerage. The company also has a direct stock purchase plan through Computershare.
If you prefer investing through a mutual fund, several own Amazon shares. Here are a few examples:
Vanguard Total Stock Market Index Fund (VTSAX)
John Hancock U.S. Global Leaders Growth Fund (USGLX)
Invesco QQQ (QQQ)
2. Evaluate Amazon and the Stock's Performance
Here are a few metrics to know before you buy Amazon stock.
Stock Symbol: AMZN
Current Price: $2,743.50
52-Week High: $3,552.25
52-Week Low: $1,626.03
3. Determine How Many Shares You Want To Buy
The number of shares you buy will be determined by how much money you want to spend on the stock. With stock prices hovering around $3,000 per share, you will need several thousand dollars to purchase individual stocks.
Divide the amount of money you plan to invest by the current stock price to determine how many shares you can buy. For example, if you have $5,000 to invest, you'll be able to buy one share at the closing price of $2,743.50.
4. Decide Your Order Type and Place Your Order
When you're ready to buy Amazon stock, you'll have to place an order with the broker. A market order is an order to buy or sell stock immediately. You're guaranteed to buy or sell the stock, but you may not get the price you want.
A limit order is an order to buy or sell a stock at a specific price. With this type of order, you have more control over the price of the stock. You are not guaranteed a purchase date.
Is Amazon Stock a Buy Right Now?
According to analysts, Amazon stock is one of the best stocks to buy right now. Online shopping is still in demand due to the COVID-19 pandemic. Consumer behavior is not expected to shift drastically after the pandemic has ended. Meanwhile, Amazon continues to grow and expand its operations.
That said, there are reasons some may think twice before purchasing Amazon stock. The company is facing increasing competition from other companies. Also, overvaluation is a concern for some analysts.
Our in-house research team and on-site financial experts work together to create content that's accurate, impartial, and up to date. We fact-check every single statistic, quote and fact using trusted primary resources to make sure the information we provide is correct. You can learn more about GOBankingRates' processes and standards in our editorial policy.