11 Expensive Items People Leave in Ride Shares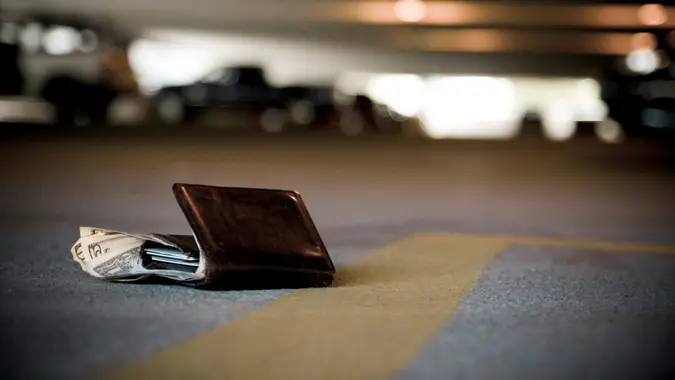 Pawel Gaul / Getty Images/iStockphoto
If you haven't frantically checked your pockets to make sure you have your phone, wallet, or other valuables before exiting an Uber, you're doing it wrong. Because people leave their things behind in Ubers often — and some of these items are expensive. 
In its 2022 Uber Lost & Found Index, Uber shared passengers' most frequently forgotten items. Let's explore the 10 most forgotten items and take a stab at how much they cost. 
Phone 
Phones (tied with cameras) are the no. 1 most left item in an Uber. If you use the latest iPhone model, the iPhone 14 Pro Max, you could be leaving behind at least $1,100 — before taxes and fees.
Camera 
Tied with phones for the No.1 most forgotten item are cameras. If you left behind a disposable camera, you're probably not too worried about the financial hit — but cameras can be very expensive. A Leica for instance can set you back $18,000 — and that's a preowned one.
Wallet 
There's no way to calculate the value of a lost wallet, but anyone who has gone through it before will know it's a terrible hassle, and more often than not someone has taken the cash out of it (at the very least) before returning it (if they return it). This is the third most commonly left behind item in an Uber. 
Make Your Money Work Better for You
Keys 
Like a wallet, it's hard to pin down the value of keys, which are the fourth most commonly forgotten item in an Uber. But if you get locked out of your house, a locksmith could cost you up to $800. 
Backpack/Purse 
Backpacks and purses are the fifth most forgotten item in an Uber and this item could be the most expensive of them all because they likely contain all sorts of valuables — including wallets, phones, keys, cameras and other items on this list. But we all know that a purse itself can cost a fortune. One used Hermès Birkin bag fetches $32,900 at Sotheby's — and that's on the cheap side. 
Headphones/Speakers 
Leaving behind a cheap pair of earbuds (like the kind you get on an airplane) isn't a big deal, but headphones — the sixth most commonly left behind item, tied with speakers — can cost an arm and a leg (and two ears). On Amazon, a pair of Focal – Utopia 2020 Open-Back Headphones fetches $4,399. 
Speakers can get seriously pricey, too — even when they're small/portable. A THICK Portable Portable Audio Bluetooth Speaker retails for nearly $3,000 on Amazon.
Glasses 
Some of us need them to actually see; others need them just to block out the sun. But whatever their purpose, glasses — the seventh most left behind item — aren't cheap. A new pair of Raybans will set you back at least $100 or so, but that's nothing compared to losing a pair of $1,625 Chanel specs.
Clothing 
Clothing is the seventh most left behind item in an Uber. The cost of this loss is impossible to pin down, but it makes one rethink wearing their favorite Oscar de la Renta cashmere coat for a night out on the town. 
Make Your Money Work Better for You
Vape 
The most modern of vices — the vape — is the eighth most left behind item in an Uber. A vape pen can be as cheap as a few bucks, but you can find high-end options in the hundreds of dollars range.
Jewelry 
Jewelry is the ninth most commonly left behind item in an Uber and this one could really hurt — especially if you're shopping at say, Neiman Marcus, where you can easily spend $69,000 on a mere broach. 
ID 
And finally, the tenth most commonly left behind item: ID. This one isn't so much costly as it is crucial. If you're using Uber to go to an airport, as many do, forgetting your ID could be a disaster to which no expense on this list can compare.  
More From GOBankingRates