How To Score Free Slurpees on 7/11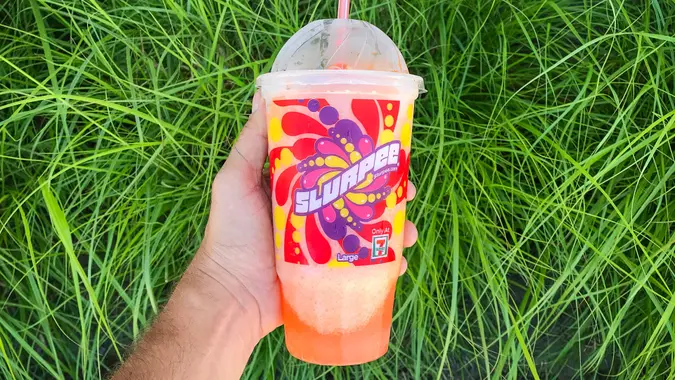 ©GOBankingRates
July 11 holds a special meaning for fans of the Slurpee. The frozen beverage is synonymous with 7-Eleven, the convenience store chain that started selling them back in 1966. In years past, July 11 (also known as 7/11), was known as the day where anyone could walk into a 7-Eleven and claim a free small Slurpee to celebrate. However, the deal used to be limited to the hours of 11 a.m. through 7 p.m.
Find Out: 7 Secret Money Traps at Walmart
Learn: 10 Reasons You Should Claim Social Security Early
However, Free Slurpee Day has looked a bit different in recent years and will continue to this year as the chain celebrates its 95th birthday. To start, rather than limiting the window to a few hours on July 11, 7-Eleven is giving out a coupon for a free small Slurpee that can be redeemed any time during an 11-day window, starting on July 1 and ending on July 11.
Make Your Money Work Better for You
Slurpee Availability
Another big change is where you can score these free Slurpees this year. While previous years limited the celebration to 7-Eleven locations, they won't be the only place to score one this year. Both Stripes and Speedway stores, owned and operated by 7-Eleven, will be honoring the event as well. 
"We're thrilled to be celebrating Slurpee Day for the first time across all of our banners so we can spread the Slurpee drink birthday love even further," said Marissa Jarratt, Executive Vice President and Chief Marketing Officer at 7-Eleven.
Like last year, anyone looking for a free Slurpee will have to be a 7Rewards Loyalty member, though any Speedy Rewards members will be eligible this year as well. Signing up is easy, and can be done by downloading the official 7-Eleven or Speedy apps, or visiting 7Rewards.com or SpeedyRewards.com. Once registered, a free Slurpee coupon will automatically appear in the user's wallet, which can be redeemed at participating during the first 11 days in July.
Along with the ice-cold beverage, savings at all three stores will be extended to include $1 hot dogs, taquitos, mini tacos, and more during that same window of time. For anyone looking for a Slurpee alternative, iced coffee will also be $1.
Make Your Money Work Better for You
Take Our Poll: Do You Have a Side Gig or Other Hustle?
New Flavors for Slurpee Month
To add to the festivities, new Slurpee flavors will also be revealed, including Mango Lemonade, as well as a mystery flavor dubbed "What the Fanta." The orange-colored option encourages customers to try and decipher what, exactly, the flavor is. (Hint: it's not orange.)
These two new flavors will be available alongside the classics like Blue Raspberry, Pina Colada, and Coca-Cola, which became the first Slurpee flavor to make it all the way to outer space last summer. 
7-Eleven Delivery Deals
The savings aren't limited to in-store purchases, either. On July 11, the free Slurpee can be redeemed via the 7Now delivery option. The two apps will allow anyone to purchase an unlimited amount of small Slurpees for only $1 throughout the promotional period, either in-store or via the 7Now delivery option. 
Those new to the app can also use it to score a free pizza on their first delivery via special code 'PIZZA' anytime before August 2. Anyone looking to cash in on this deal without leaving their house can find out how to do so by going to 7Now.com. 
Make Your Money Work Better for You
As always, have a safe and happy Slurpee Day!
More From GOBankingRates
Make Your Money Work Better for You