What To Expect on Black Friday With the Current Supply Chain Issues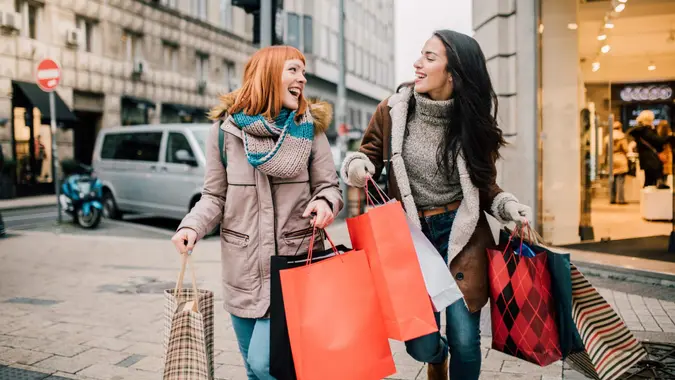 RgStudio / Getty Images
Although major retailers have been launching big sales since early October, there's a whole lot of doom and gloom surrounding expectations for the holiday shopping season in general and Black Friday specifically. Some of the pessimism is warranted, but America's top retailers are clearly gearing up for what they hope will be a blockbuster shopping holiday on the Friday after Thanksgiving. Here's what you need to know. 
Read: The 14 Best Holiday Deals From Costco's Early Black Friday Coupon Book
See: Is It Smart To Wait For Black Friday This Year?
Don't Expect to Be Blown Away by Rock-Bottom Sale Prices
Julie Ramhold, consumer analyst with DealNews.com, said that discounts have been weaker so far in the season and that she expects the trend to hold through Black Friday.
"There are a number of reasons for this," Ramhold said. "But regardless of what's causing it, the result is the same. Discounts this year — thus far, anyway — just aren't as exceptional as what we've seen in the past. Granted, this isn't the case for all discounts. There have definitely been notable ones worth shopping, but overall, we're not seeing the same quality of discounts we might see in a 'normal' year."
Make Your Money Work Better for You
There's another dynamic at play, too. Even if discounts were the same as in years past, prices, in general, are higher thanks to inflation.
"When prices are higher, that means they have farther to fall to hit those sweet-spot savings," Ramhold said. "With the economic crises experienced by both consumers and companies in 2020, they're less likely to be feeling generous enough to drop prices to encourage shoppers to spend money in 2021."
Shipping Will Take Longer and Cost More Across the Board
You've probably read about inflation, supply chain backlogs, and shortages — and at the heart of it all is an economy-wide slowdown in shipping.
"Shipping delays are plaguing retailers in every industry, compounded by things like the USPS slowing its target delivery window by 30% and increasing prices through December 26," said Ramhold. "Retailers who want to try to avoid those issues may opt for another major carrier like UPS or FedEx, but it's putting a strain on their systems, too. And as this is a peak shipping time anyway, prices will likely be increased across the board." 
Make Your Money Work Better for You
Those shipping woes lead directly to higher prices and smaller discounts. 
"Major retailers have had to take steps like chartering their own ships this year to ensure they have items on the shelves for Black Friday shoppers, but that's a pricey solution to the global shipping problem," Ramhold said. "Because they're having to spend more to get the items to the U.S. in the first place, they won't be able to discount items as deeply as they might if they had relied on traditional shipping methods." 
In-Demand Products Will Be Harder To Find
The same forces that are driving the country's shipping woes are also making it harder to keep shelves and fulfillment centers stocked with inventory. 
"Supply chain disruptions have ensured we don't have a large supply of products, to begin with, and those that are on shelves may sell out quickly if they're in high demand," said Ramhold. "Considering shipping delays may impact restocking, there's a chance that once the items sell out, they might not be back for a significant amount of time." 
Make Your Money Work Better for You
Black Friday Is Now Just the Biggest of Many Big Sale Events
Many of the national chains have already hosted major early-season sales, which diminishes the significance of Black Friday as a once-a-year event. 
"With everything spread out over the course of a whole month — and more — the Black Friday hype will be tempered this year," Ramhold said. "With so many different events to shop, and starting as early as they did, the sense of urgency isn't the same."
A Few Black Friday Tips, Strategies and Alternatives
Instead of re-treading your shopping strategy from Black Fridays past, build a new plan from the ground up for this extraordinary year with the following tips. 
Shop early:

"Shopping earlier means potentially receiving your items earlier, before the shipping crush really starts," Ramhold said. "And shopping early also means you can avoid online shopping entirely in some cases. Opt for in-store shopping early and you can avoid the crowds but still get your items in plenty of time for the holidays." 

Shop local:

"Another way to avoid Black Friday madness altogether is to shop local," Ramhold said. "Sure, some of your favorite indie shops might have their own Black Friday sales, but they'll be smaller in scale typically than a huge big-box store and will also see fewer crowds the day of. Note, though, that indie businesses may opt to spend Black Friday with family, so be prepared for the potential for them to be closed Thanksgiving through Black Friday weekend — it's just one more reason to shop early."

Plan for shipping delays:

"If you're shopping online, count on shipping delays this year," Ramhold said. "Because of that, it may not be worth shelling out extra cash for something like expedited shipping as there's no guarantee the items will arrive when you need them. Additionally, as you're shopping and planning for the holidays, factor those shipping delays into your planning and have a backup plan in place in case items don't arrive in time."

Go digital:

"Consider purchasing gift cards or subscriptions for gifts this year," said Ramhold. "Digital items aren't affected by shipping delays or supply chain disruptions, so consider giving gift cards this year. If that seems too impersonal to you, then gifting a membership to a subscription is also a solid move. Give your friends and family a year's worth of Hulu, Netflix, HBO Max, Kindle Unlimited, or even a subscription box like FabFitFun. You won't have to worry about your recipient not using the items, and they'll last longer than the holiday season, as well."
In the end, Black Friday will be different this year, but it won't be a dud. People are shopping and sellers are slashing prices.
"We're already seeing weaker discounts in many categories, but we're also still waiting on some major ad drops," Ramhold said. "The potential for unbeatable deals is still there, but it's best to temper your expectations ahead of time."
More From GOBankingRates
Make Your Money Work Better for You