How Much Is BlackRock Worth?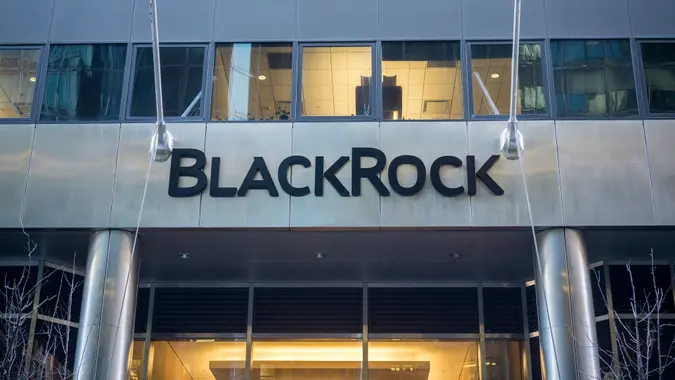 rblfmr / Shutterstock.com
BlackRock manages more money than any other investment firm, with more than $10 trillion in assets under management as of Dec. 31, 2021. The vast sum of money it controls means what happens to BlackRock can have ripple effects in the global market. Take a look at the BlackRock stock and market performance numbers to see what you should know before you start investing.
About BlackRock
Headquarters
New York
Year Founded
1988
CEO Larry Fink's Base Salary
$1.5M
What BlackRock Is Worth
Share Price, 52-Week Range
$670.28-$973.16
2021 Revenue
$19.374B
2021 Profit
$5.901B
GOBankingRates' Evaluation of BlackRock's Net Worth
$69.15B
Information on 52-week range is accurate as of Feb. 7, 2022.
BlackRock's Market Cap: $123.914B
Market capitalization is determined by the total dollar value of a company's outstanding shares, which helps investors determine the relative size of a company. BlackRock's market cap fluctuates with its share price, which ranged from a low of $670.28 to a high of $973.16 over the last year. Although some prospective investors might not feel comfortable putting their money in a company with a big market cap range, they should keep in mind the sheer amount of money flowing in and out of BlackRock.
As of Feb. 7, the company's share price is $816.92, giving BlackRock a current market cap of $123.914 billion.
BlackRock's Net Worth: $69.15B
Market caps offer one view of what the market values a company at, but that value is also susceptible to change due to external market forces and investors fighting over the value of shares. In an effort to bypass market volatility, the GOBankingRates Evaluation calculates a company's net worth based on recent annual reports of income and profit, while also taking into consideration its assets and liabilities.
BlackRock is worth just over $69 billion, based on its full-year revenue and profits from 2019 through 2021 and assets and liabilities from 2020, the most recent year for which that data is available.
Make Your Money Work Better for You
BlackRock's Focus Extends to Social Responsibility
BlackRock funds, particularly its exchange-traded funds, are powerful investments. The company's iShares ETF platform was a significant growth driver in 2021, according to BlackRock chairman and CEO Laurence Fink. BlackRock's low-cost ETFs are part of a business strategy to remain competitive against rivals such as Vanguard while meeting its commitment to sustainability.
BlackRock is also extending its strategy beyond asset management to helping companies identify long-term growth opportunities as well as articulate and pursue their purpose. In his 2021 letter to shareholders, Fink addressed both the economy and the American social structure, acknowledging that the pandemic had coincided with protests against racial injustice to reveal and exacerbate systemic inequities, political alienation and a retirement crisis. However, he also commended stakeholders for their response to the crises of the previous year while also confronting climate risk — which he equated with investment risk in his 2020 letter.
"I believe that the pandemic has presented such an existential crisis — such a stark reminder of our fragility — that it has driven us to confront the global threat of climate change more forcefully and to consider how, like the pandemic, it will alter our lives," Fink wrote. "No issue ranks higher than climate change on our clients' lists of priorities."
Fink noted that the transition to a net-zero economy presents "a historic investment opportunity." BlackRock has over 200 mutual funds and exchange-traded funds focusing on sustainability on its Dedicated Sustainable Investing platform, according to the company's most recently published sustainability disclosure.
BlackRock's CEO and Holdings
Larry Fink is the chairman and CEO of BlackRock Inc. He helped co-found BlackRock in 1988 with seven other partners. Fink's strong leadership since BlackRock's inception has been acknowledged many times: He was named one of the world's greatest leaders by Fortune in 2018 and regularly appears on Barron's list of best CEOs. Institutional Investor named Fink Institutional Investor of the Year in 2020.
Make Your Money Work Better for You
BlackRock has holdings in many big-name companies and some of the world's biggest banks. Its 10 largest holdings include:
BlackRock Heading Into 2022
Although revenue missed estimates at the end of last year, BlackRock finished 2021 with quarterly earnings that exceeded analysts' projections, according to Investing.com. Shares were down 5% from the beginning of the year and over 10% year over year when the earnings were announced on Jan. 14. However, BlackRock announced that it would increase quarterly cash dividends by 18%, to $4.88 per share, payable on March 23.
Sean Dennison contributed to the reporting for this article.
Data was compiled between Jan. 17 and Jan. 19, 2022, unless otherwise noted, and is subject to change.
Methodology: The GOBankingRates Evaluation assesses a company's net worth based on the company's total assets, total liabilities, and revenue and net income from the last three years. Base value is established by subtracting total liabilities from total assets from the company's last full fiscal year. Income value is established by taking the average of the revenue from the last three full fiscal years, plus 10 times the average of the net profits from the last three full fiscal years, and then calculating the average of those two figures. The final GOBankingRates Evaluation number is the sum of the base value and the income value.
Our in-house research team and on-site financial experts work together to create content that's accurate, impartial, and up to date. We fact-check every single statistic, quote and fact using trusted primary resources to make sure the information we provide is correct. You can learn more about GOBankingRates' processes and standards in our editorial policy.