How Much Is BlackRock Worth?
Learn about the world's largest asset manager.
BlackRock manages more money than any other investment firm, according to its website. The company bases this distinction on the fact that it commands more than $6 trillion in assets under management as of December 2017, but its breadth is also acknowledged by others in the business world. The vast sum of money it controls means what happens to BlackRock can have ripple effects in the global market. Take a look at the BlackRock stock and market performance numbers to see what you should know before you start investing.
Click here to learn about advantages and disadvantages of managed funds.
What BlackRock Is Worth
BlackRock Share Price, 52-Week Range
$408.62-$594.52
BlackRock Market Cap, 52-Week Range
$65.4B-$95.2B
2017 Revenue
$12.5B
2017 Profit
$5B
GOBankingRates' Evaluation of
BlackRock Net Worth
$57.3B
All information on 52-week range accurate as of June 25, 2018.
About BlackRock
Headquarters
New York
Year Founded
1988
CEO Larry Fink Net Worth
$340M
BlackRock Market Cap Range: $65.4B-$95.2B
Market capitalization is determined by the total dollar value of a company's outstanding shares, which helps investors determine the relative size of a company. BlackRock's market cap range — with a 52-week high of $95.2 billion and a low of $65.4 billion — reflects how the market as a whole values the company, and investor differences mean the value is in contention. Although some prospective investors might not feel comfortable putting their money in a company with big market cap range, they should also note the sheer amount of money flowing in and out of BlackRock versus the approximately $30 billion difference.
Learn About: ETF vs. Mutual Fund — How to Choose Your Investments
BlackRock Net Worth: $57.3B
Market caps offer one view of what the market values a company at, but that value is also susceptible to change due to external market forces and investors fighting over the value of shares. In an effort to bypass market volatility, the GOBankingRates Evaluation calculates a company's net worth based on recent annual reports of income and profit, while also taking into consideration its assets and liabilities.
Based on BlackRock's revenue and profits from the last three years, BlackRock is worth just over $57 billion.
BlackRock's Focus Extends to Social Responsibility
BlackRock funds, particularly its exchange-traded funds (ETFs), are powerful investments. As of March 2018, 44 percent of all flows, or directed investments, have gone to low-cost BlackRock ETFs through four of its iShares options. Its low-cost ETFs are part of a business strategy to remain competitive against rivals such as Vanguard.
Related: 8 ETF Investing Strategies to Boost Your Portfolio
BlackRock is also extending its strategy beyond asset management to helping companies identify long-term growth opportunities as well as articulate and pursue their purpose. In January 2018, BlackRock CEO Larry Fink wrote in his annual letter to CEOs that companies that want to prosper over time need to deliver more than financial performance because "society is demanding that companies, both public and private, serve a social purpose."
In late 2017, the company also made moves to compel companies to report climate change risks associated with their business operations, reported Bloomberg.
Keep Reading: Dirty Secrets and Mistakes of the Wealthiest Investors
BlackRock's CEO and Holdings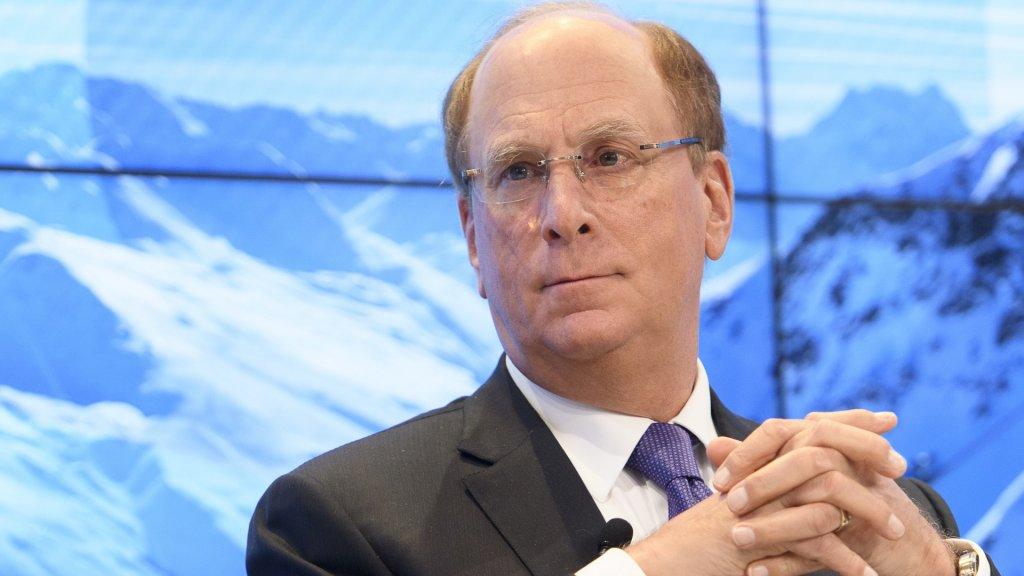 Larry Fink is the chairman and CEO of BlackRock Inc. He helped co-found BlackRock in 1988 with seven other partners. Fink's strong leadership since BlackRock's inception has been acknowledged several times: He was named one of the world's greatest leaders by Fortune in 2018, CEO of the Decade by Financial News in 2011, and one of the world's best CEOs by Barron's for 11 consecutive years.
Are You a Fellow Alumnus? Where Larry Fink and 50 Other CEOs Went to College
BlackRock has holdings in several big-name companies and some of the world's biggest banks, including:
AT &T
Chevron
ExxonMobil
General Electric
Johnson & Johnson
JPMorgan Chase
Microsoft
Pfizer
More on Business
Methodology: The GOBankingRates Evaluation assesses a company's net worth based on the company's total assets, total liabilities, and revenue and net income from the last three years. Base value is established by subtracting total liabilities from total assets from the company's last full fiscal year. Income value is established by taking the average of the revenue from the last three full fiscal years, plus 10 times the average of the net profits from the last three full fiscal years, and then calculating the average of those two figures. The final GOBankingRates Evaluation number is the sum of the base value and the income value.