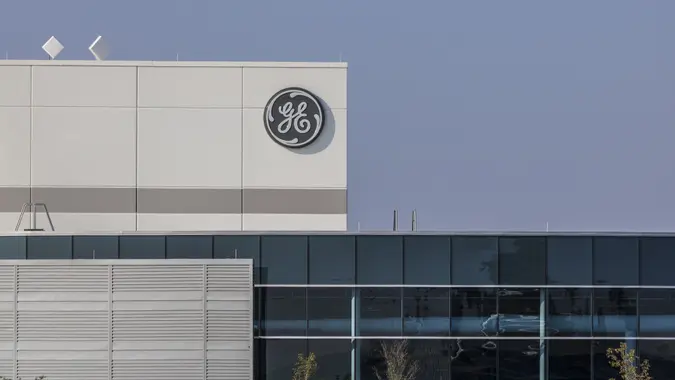 jetcityimage / iStock.com
Energy conglomerate General Electric (NYSE: GE) has shaken things up a bit in recent years, such as when it suddenly removed CEO John Flannery from his position on Oct. 1, 2018.
The change sent GE stock surging more than 13%, putting the company on track for its biggest single-day gain since March 2009, according to MarketWatch — a welcome sight after years of profit loss and competition from renewable resources.
The next couple of years saw an overall downward trend, when two years of negative profits dragged down the stock, but things began looking up. By late 2020, GE was outperforming the S&P 500 Index and had strong institutional support, Investor's Business Daily reported, perhaps because of the 1-for-8 reverse stock split the company implemented in late July 2021, which pushed share prices up.
In November 2021, GE announced it would split into three separate companies: GE Aerospace, GE HealthCare and GE Vernova. Shares rose 2%, to $116.17 — the 52-week high price as of July 28 — on the news.
The stock has faltered since then, struggling to break $100 and currently sitting below $80. Is this a buying opportunity, or do shares have further to fall before GE regains its footing?
Here are some numbers to help you figure out whether you should put your faith in one of the largest industrial companies in the U.S.
| GE Company Snapshot | |
| --- | --- |
| Headquarters | Boston |
| Year Founded | 1890 |
| CEO Larry Culp's Total Compensation | $22.7 million in 2021 |
| How Much Is GE Worth? | |
| --- | --- |
| Share Price, 52-Week Range | $59.93-$116.17 |
| 2021 Revenue | $74.196 billion |
| 2021 Profit | $4.608 billion |
| GOBankingRates' Evaluation of GE's Net Worth | $71.524 billion |
Make Your Money Work Better for You
GE's Market Cap: $78.49B
Market capitalization is determined by the total dollar value of a company's outstanding shares, which helps investors determine the relative size of a company.
GE's closing share price on July 27 was $71.58, giving the company a market capitalization of $78.49 billion. GE's market cap reflects how the market as a whole values the company.
GE's Net Worth: $71.524B
Although market cap can give you a sense of how much the market values a company, you should keep in mind that it's based entirely on market sentiment — essentially reflecting the frequently changing opinions of investors.
The GOBankingRates Evaluation, on the other hand, calculates a company's net worth based on measurable figures like assets and revenue. It's a more conservative valuation than the market value, taking into account full-year profits and revenue from the last three years, as well as the company's assets and debts.
Based on GE's revenue and profits from the last three years, the company is worth over $71.524 billion.
GE's CEO: Larry Culp
GE installed Larry Culp as its new CEO after Flannery's ouster. Having previously served as industrial manufacturing company Danaher's CEO, Culp was the first outsider to helm GE in its more than 120 years of operation.
Culp, 59, was tasked with accelerating the company's plan to streamline, which Flannery was criticized for handling too slowly, reported Bloomberg. Culp is credited with successfully expanding Danaher, a global science and technology company, over the course of 14 years. Over 90% of the transactions Culp handled during that time were company takeovers, according to Bloomberg.
Culp's Compensation
GE shareholders rejected a pay plan for Culp that would have earned him as much as $230 million in 2020 while lowering his performance metrics, CFO Magazine reported.
Make Your Money Work Better for You
His $73 million compensation package for 2020, which included just $650,000 in salary after a voluntary 74% reduction in light of the company's poor performance at the beginning of the pandemic, was one of the highest among CEOs of publicly traded companies.
The stock awards that made up the bulk of his compensation grew from $15.5 million in 2019 to over $72 million in 2020. However, a reduction in his stock awards in 2021 reduced his take by 69%, to $22.7 million, Reuters reported.
How GE Is Faring in 2022
GE released its second-quarter 2022 earnings report on July 26. Cash flow improved, profits were up and revenue increased 2%, driven by strong aerospace performance as the aviation industry recovers from the pandemic. GE Aerospace was up 47% compared to last year, according to a press release.
GE HealthCare saw a 1% decrease in orders — not unexpected considering a strong uptick in 2021 resulting from the pandemic. However, revenue increased 1%, spurred by growth in imaging, ultrasound and Healthcare Systems Services but hampered by ongoing supply chain issues.
The energy unit also struggled. Renewable energy, which will be part of the GE Vernova business, was hard hit by supply chain challenges, inflation and reduced U.S. volume resulting from the expiration of the production tax credit for onshore wind equipment. GE expects these challenges to continue through the end of the year.
Power — also to be included in the GE Vernova portfolio — saw a 16% decrease in orders and 2% decrease in revenue. However, GE expects Power to be profitable this year and see low-single-digit revenue growth for the year.
Make Your Money Work Better for You
Looking ahead, Culp said, "We are improving delivery, price, and cost performance via lean and decentralization. Notwithstanding this progress, much is still uncertain about the external pressures companies are facing at this moment. We continue to trend toward the low end of our 2022 outlook on all metrics except cash, which is lower due to timing of working capital and Renewable Energy-related orders."
GE reported progress on several fronts:
Flight: Delta Air Lines and Qatar Airways will power their 737-10 aircraft with GE's CFM-International LEAP-1B engines. Also, the company completed the world's first test of a megawatt-class multi-kilovolt hybrid electric propulsion system at altitudes that simulated commercial flight.
Healthcare: GE launched an AI-powered ultrasound system called Voluson Expert 22.
Energy: GE secured an order for combined cycle power plants in Vietnam. It also launched an energy resource management system designed to secure the electric grid and introduced a new wind turbine platform.
Should You Invest In GE Stock?
Although things are improving for GE, the company still has a ways to go before it completely restores the faith of its investors. The third-quarter 2022 earnings report will help if it shows momentum in GE's return to profitability. In the meantime, most analysts are recommending to either buy or hold on to GE stock, so perhaps the optimism is contagious.
Sean Dennison contributed to the reporting for this article.
Methodology: The GOBankingRates Evaluation assesses a company's net worth based on the company's total assets, total liabilities, and revenue and net income from the last three years. Base value is established by subtracting total liabilities from total assets from the company's last full fiscal year. Income value is established by taking the average of the revenue from the last three full fiscal years, plus 10 times the average of the net profits from the last three full fiscal years, and then calculating the average of those two figures. The final GOBankingRates Evaluation number is the sum of the base value and the income value.
Make Your Money Work Better for You
Data is accurate as of July 28, 2022, and subject to change.
Our in-house research team and on-site financial experts work together to create content that's accurate, impartial, and up to date. We fact-check every single statistic, quote and fact using trusted primary resources to make sure the information we provide is correct. You can learn more about GOBankingRates' processes and standards in our editorial policy.