How Much It Costs To Own a Planet Fitness Franchise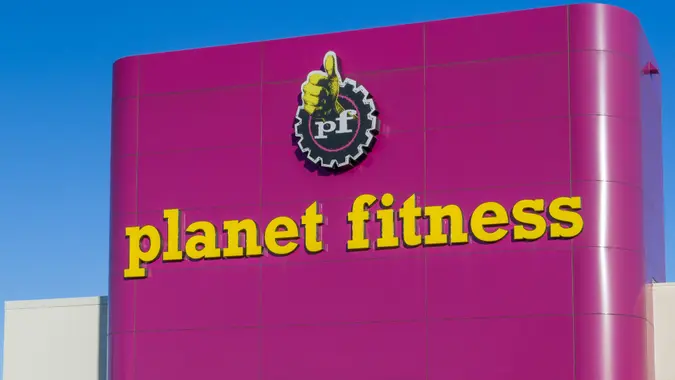 Ken Wolter / Shutterstock.com
Planet Fitness is not currently seeking new franchisees for its ongoing U.S. expansion, but ambitious entrepreneurs will want to be ready when the fitness club chain that rose to fame as the "judgment-free zone" opens up the books once again. 
Find Out: Stimulus Updates To Know for Spring 2022
See: 22 Side Gigs That Can Make You Richer Than a Full-Time Job
More than a decade after it launched in 1992, Planet Fitness was opening its fifth location when it began franchising in 2003. Today, it boasts more than 2,000 locations and 15 million members across all 50 states, Canada, Latin America and Australia. 
The company estimates that 80% of the population of the U.S. and Canada don't have gym memberships — and Planet Fitness is on a mission to sign up every single one of them. 
If you're interested in cashing in as a franchisee once the company starts accepting applications again, you'll have to be ready to spend money to make money. 
Make Your Money Work Better for You
Is My Net Worth Buff Enough for Planet Fitness? 
Although Planet Fitness is not currently seeking new franchisees, FranchiseHelp has hard numbers on the type of people that the company will be looking for when that changes. If you'd like to have a location of your own, you must have a net worth of at least $3 million to be considered. At least half of that — $1.5 million — must be liquid capital.
POLL: Do You Think People Should Invest in Crypto?
How Much Will I Have To Invest To Get Started? 
The initial franchise fee for Planet Fitness is $20,000, according to Franchise Direct — numbers that FranchiseHelp backs up — but the start-up costs hardly stop there.
Site selection costs alone will run you between $1,000-$10,000 — chump change, compared to the rest. Then there are leasehold improvement costs, which can cost anywhere between $575,000 and $1.94 million. 
Then, of course, there's the fitness equipment, which will set you back anywhere between $43,000 and $953,000, as well as non-fitness equipment, which will cost between $61,000 and $721,000. 
Make Your Money Work Better for You
Among the other big start-up costs are: 
Presale and grand opening marketing: $40,000-$60,000
Exterior signs: $11,000-$36,000
Computer systems: $6,000-$20,000
Insurance: $5,000-$25,000
Real estate lease deposits: Up to $87,000
Professional fees: Up to $25,000
There's also a vague, but expensive category labeled "additional funds — six months." One of the costliest fees on the menu, it can go as high as $598,000.
In total, a prospective Planet Fitness franchisee can expect to spend between $936,600 to $4,558,500 on initial investment costs. 
What About Ongoing Costs?
Part of the Planet Fitness business model is to keep a steady stream of income coming in from its franchisees. If you buy into the brand, you'll have to prepare to pay a royalty fee in the form of 7% of your club's total gross monthly and annual membership fees. You'll also have to pay 18% interest. Re-equip costs will run you $431,000 to $953,000 and remodel costs will be somewhere between $70,000 to $800,000. 
Since your location will benefit from all those ads you see for Planet Fitness, you'll have to pay 2% toward the company's national advertising fund and up to 7% for special marketing programs.
That's quite a chunk of change, but the tradeoff is your own little slice of one of the biggest and fastest-growing fitness brands in the country and the world. 
More From GOBankingRates
Make Your Money Work Better for You