These Industries Are Investing in Drive-Thru Services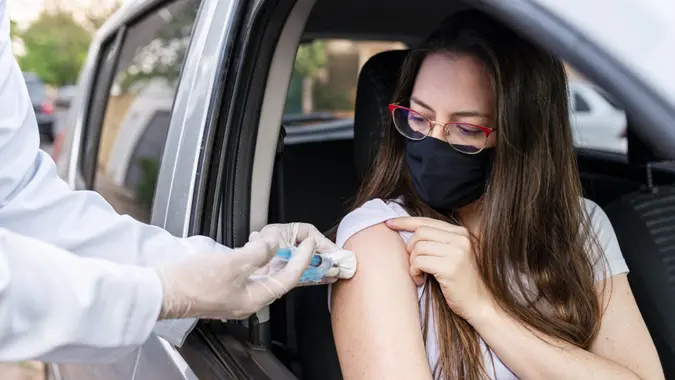 Studio CJ / Getty Images
The coronavirus pandemic has pushed industries to adapt and innovate in a number of ways since the virus began shutting life down as we know it in early 2020. As people sought ways to avoid interacting with others for fear of contracting the virus and yet still needed to access essential services such as COVID-19 testing, medications, vaccines and more, the drive-through service has become a popular option. The industries that have benefited most from offering drive-through services are healthcare, food service and even entertainment.
COVID-19's Financial Impact After 1 Year: See All Our Coverage
Drive-Through Testing
Before a COVID-19 vaccine rolled out in 2020, a key way of controlling the spread was to get as many people tested for the virus as often as possible. Since then, numerous states have invested in drive-through testing for its many advantages, including the ability to remain socially distanced, keeping infected people out of hospitals and clinics, and promoting efficiency. A 2020 study in the Journal of Multidisciplinary Healthcare found that drive-through testing was 30% faster than the in-person method. As long as the virus is here to stay, it's likely that health systems will continue to invest in drive-through testing.
Make Your Money Work Better for You
Read More: IBM and Moderna Say Their New COVID-19 Passport Is Your Ticket to Normal Life – But Some See Troubles in Privacy Paradise
Drive-Through Vaccinations
After drive-through testing, drive-through vaccination only made sense once the vaccines began to roll out. According to a study in INFORMS journal, it's also one of the most efficient ways to administer the high number of vaccines needed to reach herd immunity. The researchers posit that in a stadium-style parking lot, with five tents, it's possible to vaccinate 1,000 people per hour or 10,000 vaccinations per day, per site. The researchers also discovered that people appreciated the convenience of drive-through clinics and also perceived them as safer. With scientists predicting that coronavirus will be around for many years to come, drive-through vaccination centers are likely to stick around, and possibly not just for COVID-19 vaccines.
What Do You Think About COVID-19 Digital Passports? Take Our Poll
Drive-Through Pharmacies
Back in 1991, Walgreens was the first big brand to open a drive-through pharmacy. After that, other companies followed suit. However, the pandemic has encouraged more pharmacies to increase drive-through hours and invest in new drive-through sites, such as CVS, which opened 1,800 new sites alone (with a goal of 4,000) just for COVID-19 testing and vaccines, in addition to medication dispensing. According to a 2021 Research in Social Administration and Pharmacy study, pharmacists play "a vital role in dealing, preparedness, prevention, protection, promoting access to medicines and to improve health outcomes during this crisis." They say that drive-through pharmacies improve access to medicine and preventative measures in the pandemic.
Make Your Money Work Better for You
FTC Report: COVID-Related Fraud Has Cost Americans More Than $380 Million
Drive-Through Restaurants
Most of us associate drive-through restaurants with fast food only. And it's true that the well-known chains like McDonald's, Taco Bell and In-n-Out Burger have benefited from an existing drive-through option during the pandemic. However, according to Restaurant Dive, 38% of franchisees surveyed by TD Bank's 2020 Restaurant Franchise Pulse added drive-through capacities, and other non-fast-food chains are considering doing the same.
Related: How Our Businesses Will Continue To Move Forward Post-Pandemic
Drive-Through Entertainment
In a bid to adapt to shelter-in-place orders, drive-in (not through) movies have made a resurgence during the pandemic, allowing people to watch a movie safely from their own vehicle. While there are only some 325 drive-in locations around the country, the industry may be motivated to bring back this nostalgic form of entertainment in greater numbers.
Make Your Money Work Better for You
More From GOBankingRates
Last updated: March 29, 2021
Make Your Money Work Better for You