Is Costco's Employee-Assisted Self-Checkout Driving Away Customers?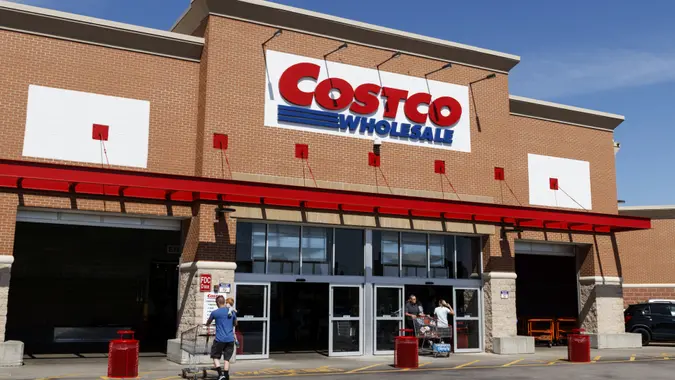 jetcityimage / Getty Images
People fall into two camps regarding self-checkout at wholesale clubs, big box retailers and grocery stores. They either love it because they don't have to awkwardly interact with cashiers, or they hate it because they don't want to do the job of the cashier.
Costco now seems to be merging the worst elements of self-checkout with "employee-assisted" self-checkout to help crack down on shared memberships and theft, while also enabling lines to move more quickly. But it may not be working out as planned.
Costco's least expensive membership plan allows members to bring one additional household member to shop with them at the store. Employees are supposed to check the photo on your membership card at the store's entrance and cashiers will also verify your membership at checkout.
But savvy customers have been borrowing a friend's card — with or without the friend present — and using self-checkout to circumvent the membership rules.
As a result, Costco is asking customers at self-checkout to show their membership card to employees when they ask. Some reddit users reported that Costco employees were "aggressively" checking for membership cards from self-checkout customers.
Eat This, Not That! solicited a comment from Costco management regarding the enforcement of the membership policy, with a spokesperson explaining: "Costco is able to keep our prices as low as possible because our membership fees help offset our operational expenses, making our membership fee and structure important to us. Costco's membership policy has not changed. We have always asked for membership cards at our registers at time of checkout."
Make Your Money Work Better for You
Some customers see the purpose of enforcing the membership policy. Reddit user xlfoolishlx wrote, "Costco's whole business model is based on membership income. That's why they are able to provide the highest quality goods at the lowest possible price. Anyone who pays for a membership should be happy that their membership is verified and not allowing people to slide through the cracks."
Employees do assist with self-checkout, but — perhaps unsurprisingly — many shoppers prefer to check out for themselves if they opt for self-checkout. "I do self-checkout to interact with the staff less, but I end up interacting with them more and more awkwardly," one reddit user wrote.
Another redditor stated, "At my local Costco, they have employees man the self-checkout stations… so it's not actually self-checkout. Very weird."
Another chimed in: "Why does Costco treat their members worse than Sam's when it comes to self-checkout? If you don't trust your customers, don't give them self-checkout as an option."
It's not just customers who are annoyed. One self-identified Costco employee posted the following to the thread: "The whole process is extremely frustrating for us too."
Sales figures are not yet publicly available to see if the crackdown on memberships and new self-checkout processes have hurt revenue for the wholesale club. However, it may not be surprising if customers started voting against these new policies with their wallets.
Make Your Money Work Better for You
"If we didn't have the executive card for Costco with the intent to purchase a regular membership with the rebate check next year, I doubt we'd have a membership at all. They're quickly falling out of my preferred places to shop," user SnarkyAnxiety commented in one thread.
More From GOBankingRates