Here's How Ford, Tesla and These Other Major Car Brands Fared During a Very Tumultuous Year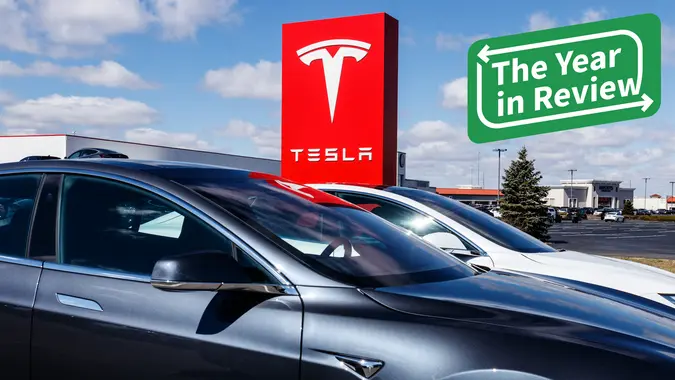 Throughout 2021, an industry-wide chip shortage forced automakers to ration their short supplies of these critical components in favor of their best-selling and most profitable vehicles. Despite their efforts, according to Forbes, U.S. auto sales fell hard in the third quarter — and not from lack of demand. 
As the chip shortage slowed production of some makes and models to a crawl, and rising inflation sent the price of vehicles skyward, frustrated buyers had to make difficult compromises. Some had to switch from new to used, move down to lower trims, settle for less desirable models or colors, or simply pay more. 
All of that has taken an axe to brand loyalty and put countless new customers up for grabs. Here's how some of the top automakers fared in this most unusual year.
Find Out: 30 Biggest Do's and Don'ts When Buying a Car
Read: 25 Tips and Tricks for Buying a Car Online
Ford
When chip supplies got really tight, automakers steered the lion's share to their top performers. In most cases, that meant large SUVs and full-size trucks, like America's best-selling vehicle for more than 40-years, the Ford F-150. 
Make Your Money Work Better for You
The Ford F-Series is still No. 1, according to Forbes, but its lead dwindled by 8.4% on the year as the Ram Pickup and Chevy Silverado gained ground.
All the drama made for an exciting race that was neck-and-neck all year. 
The Ram 1500 and Silverado actually outsold the F-Series in Q2, according to Kelley Blue Book (KBB), but the king regained its crown in the third quarter. The trio is battling not only for quarterly sales, but for the future. The long-awaited and highly impressive fully electric F-150 Lightning debuts in 2022. It will be followed closely by an EV Ram 1500 and an electric Silverado.
Despite a 6.2% drop in sales over last year, Ford holds a market share of 11.2% and sold more vehicles in 2020 than every automaker except Toyota. Its Q3 results were strong enough for the company to revise its full-year guidance upward and year-to-date, Ford stock is up an extraordinary 130%.
Honda
Honda boasts two of the 10 best-selling vehicles of 2021, according to Forbes — the No. 5 CR-V and the No. 8 Civic. Add in the No. 16 Accord, and that's three Hondas in the top 20. Honda was the No. 4 best-selling brand in the industry in CYTD 2021. Its sales were up a full 20% on the year, from 885,066 at this time in 2020 to 1,052,485 today. Comparatively, No. 3 Chevy saw its sales drop by 5.1% and No. 2 Ford suffered a 6.2% drop. Honda now commands a full 9% of the market.
Make Your Money Work Better for You
Unlike Ford, however, Honda shareholders were not rewarded — the company's stock is just shy of breaking even on the year. Shares peaked above $33 in mid-August but had fallen sharply by the end of the month — and the slide continues today. 
Japan's No. 2 automaker, Honda was hit hard by the chip shortage, not to mention soaring production costs thanks to the rising price of steel and other critical materials. It was forced to cut its profit outlook twice between August and early November, according to Reuters, with its most recent revision scaling back estimates by 15%.
Toyota
With a commanding 13.8% market share, Toyota sold more vehicles than any other brand in the world in 2021, according to Forbes. Sales were up an impressive 28.6%, from 1,270,139 in 2020 to 1,619,078 one year later. The nameplate littered up the year's top 10 best-seller list, with the Rav4 coming in at No. 4, the Camry taking the No. 6 spot, the Highlander coming in at No. 9, and the Tacoma rounding out the top 10. When you count the Corolla, which just missed the list, Toyota claimed five of the top 11 spots.
Make Your Money Work Better for You
Toyota stock is up more than 16% year to date, adding about $25 per share since January 1. The company showed incredible resilience amid the pandemic right out of the gate in 2021. Its first-quarter results wowed investors with a 73% increase in sales for a profit of $8.2 billion.
Tesla
In a lot of ways, 2021 was the year of Tesla. The company's stock is up 50% year to date, with the price of a single share breaking the $1,000 mark in the days leading up to Halloween. In the closing days of 2020, Tesla's $631 billion market cap meant the company was worth more than the next six most valuable automakers combined, according to TheDrive. In October 2021, Fortune reported that Tesla had breached $1 trillion in market cap, representing growth of more than 40% since January.
Tesla sold 62% more cars in 2021 than it did in 2020. Only a few luxury brands like Bentley and Genesis had higher percentage increases, according to Forbes, which reports that Tesla "outsells virtually every premium brand, including Audi, Acura, Cadillac, Volvo, Lincoln, Land Rover, Porsche, Infiniti, Alfa Romeo, Jaguar and eight other premiums with sales under 1,000 a month."
In fact, the only three premiums that outsold Elon Musk and Co. were Lexus, Mercedes-Benz, and BMW, by not by much — and seemingly, not for long.
More From GOBankingRates
Make Your Money Work Better for You