Meet Some of the Most Successful Women Entrepreneurs and Business Leaders of Today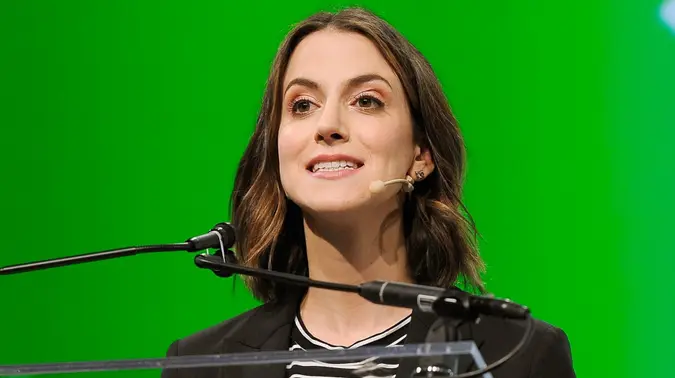 Steve Jennings / Getty Images for TechCrunch
Since 1987, Women's History Month has been celebrated in March — giving Americans time to reflect on those women who have made notable contributions to U.S. history, culture and society.
Women who are honored during the month include Harriet Tubman, who helped countless slaves escape to freedom; Rosa Parks, an American civil rights activist who refused to give up her bus seat to a white man; Eleanor Roosevelt, former first lady and advocate for women's and civil rights; Sandra Day O'Connor, the first female justice of the Supreme Court; Jackie Joyner Kersee, winner of six Olympic medals; Emily Dickinson, one of the greatest American poets; and Elizabeth Blackwell, the first woman physician in the U.S. 
Read: 20 Richest Women in America Right Now
As a nod to Women's History month, GOBankingRates searched online news and feature stories to find 10 of the best examples of female entrepreneurs and leaders today. These women, like women of the past, deserve to be held up for their contributions to U.S. society and culture. Many of the women featured here are responsible for addressing concerns that are extremely relevant right now, such as preventing the spread of COVID-19, making needed products more affordable, embracing diversity in the workplace and supporting prospective and new mothers.
See: Top 10 Female CEOs To Watch
Raylene Yung
In March 2020, Raylene Yung was contacted to head up some COVID-19 response efforts alongside three former U.S. deputy chief technology officers. Her background as a tech veteran who had helped teams and systems scale in chaotic environments made her perfect for the job. 
Make Your Money Work Better for You
"We realized there was a real need, at the minimum, to connect government teams, at all levels, to share information and get help to where it was critically needed," Yung stated in her self-written piece on Medium. As such, U.S. Digital Response was born, with Yung as its co-founder and CEO.
USDR is nonpartisan, fast and free, according to its founders, and it has already completed more than 100 projects across 31 states and territories that include matching hospital staffing shortages with qualified workers, helping the homebound get meals and helping county websites handle increased traffic.
See: Here's How Much Men vs. Women Earn at Every Age
Mandela Schumacher-Hodge Dixon
Mandela Schumacher-Hodge Dixon worked as a portfolio services director at Kapor Capital, and what she discovered inspired her to take action. "Because they [Kapor Capital] invest in such a diverse group of founders, I was able to see differences. It was like a petri dish: I was able to see how white male founders act; how Asian founders act; how Black female founders act. I got to see their experiences and started noticing gaps-behavior gaps, network gaps, knowledge gaps," she said. "I felt like I was positioned to help fix that."
In 2017, she launched Founder Gym, which trains underrepresented founders on how to raise capital to scale their tech startups via six-week online cohorts.
Perhaps most interested is that Schumacher-Hodge Dixon never planned to be in the tech industry. "In fact, I have zero background in business, finance or technology, and didn't know a soul in Silicon Valley before moving here," she said in a February 2019 interview with The Startup Grind Team.
For someone who had no experience in tech, Schumacher Hodge-Dixon has done quite well. According to Entrepreneur's 2020 October/November issue, Founder Gym was poised to lock in $1 million in revenue last year and had trained 600 entrepreneurs — 70% of whom were Black — who had collectively raised more than $57 million.
Make Your Money Work Better for You
Find Out: The S&P 500's Top 10 Companies for Women
Brynn Putnam
Former professional dancer and Harvard graduate Brynn Putnam first founded Refine Method, a boutique fitness studio with three locations in New York City, in 2010. Putnam is still the owner and CEO of Refine today, but in 2016, she began the process of adding another fitness business to her resume: Mirror. Her unique invention came on the heels of becoming a new mother who needed a convenient way to exercise from home without having to trek to the gym.
Mirror is outfitted with a camera and offers a Wi-Fi-powered portal to instructor-led exercise classes offering live feedback when you want to work out. The unit doubles as a full-length mirror when not in use.
In July 2020, Putnam scored big when she sold Mirror to Lululemon for a cool $500 million. However, she still remains the company's CEO.
More: Inside the Gender Money Gap Made Worse by COVID-19
Lisa Lewin
Harvard graduate Lisa Lewin's path to CEO of General Assembly — an educational training, staffing and career transition company — is one spanning more than two decades.
Lewin began her career as a research consultant and data product manager for Fortune 500 companies and pivoted into education. For most of the past two decades, she's been focused on education, with one notable accomplishment being her leadership of the digital transformation of two of the world's biggest educational companies, Pearson and McGraw-Hill.
Today, Lewin continues her leadership role by serving as CEO of General Assembly: "I am responsible for the strategic direction of the business, building on the company's ten-year track record of practitioner-taught, outcomes-focused education, with 40 markets in 10 countries, 80,000 alumni and 400 corporate clients worldwide," Lewin stated in her LinkedIn profile. 
Read: What 2020 Meant for Women in the Workforce
Allison Robinson
Allison Robinson is the founder of The Mom Project, a platform that champions women who want to stay active in the workforce after becoming mothers. "The Mom Project is changing the way women work and redefining career structures by providing women with real work opportunities that are in balance with their personal goals," Robinson stated in her LinkedIn profile. "This evolution will keep more talented, professionally accomplished women in the workforce."
The platform, which is comprised of a network of 300,000 professionals and 2,000 world-class companies, is designed to connect female workers with flexible work opportunities, like four-day workweeks, when they come back from maternity leave. Opportunities like these will help mothers have a career on their own terms.
See: A 'Staggering' 2.6 Million Women Have Left the Workforce Since the Pandemic Started
Cashmere Nicole
Cashmere Nicole, founder and CEO of vegan-friendly cosmetics brand Beauty Bakerie, is a true role model of determination. Being a single mom at 16 didn't keep her from achieving great things. She finished school and got a nursing license. Then at 27, she bought the domain name for her now thriving beauty business.
After that, Nicole went on to fight breast cancer and win — all the while keeping her eye on her business goals. And her perseverance has paid off. Today, Beauty Bakerie's products are sold in 1,000 Ulta stores worldwide.
Not only is Nicole an accomplished businesswoman, but she also heads an executive team that's 75% Black, which sets an example for other companies to tap into Black talent. She also has impacted the lives of orphaned children worldwide through her 501(c)3, Sugar Homes.
"I've always felt a sense of duty to use my platform to inform, to encourage and educate, to uplift, unite and inspire others to see the value in being sweet; being a person that looks beyond the surface for the things that truly make a difference in the world," Nicole stated on her company website.
Lisa Falzone
Unfortunately, in today's world, gun-toting maniacs who invade public spaces are a real concern, and Lisa Falzone's goal is focused on building technology to make people safer. Falzone is the co-founder and CEO of Athena Security — a company that created an AI system, which is able to detect (with 99% accuracy) when someone is carrying a firearm. Clients for the system include schools, churches and companies across the globe.
In the age of pandemic, Falzone and her co-founder are still focused on finding additional ways to keeping people safe — this time by protecting the public's health. Athena created a piece of tech that relies on thermal-scanning capabilities to identify people with higher-than-normal body temperatures, which is an indicator of COVID-19.
More: How Gender Equality Is Beneficial for the Economy
Christina Mace-Turner
Christina Mace-Turner, founder and CEO of Mab & Stoke, launched her herbal tablet business as a way to make taking herbal medicines convenient. You can choose tabs that are focused on a single form of support or custom Mab Tabs, which are created just for you based on your wellness goals, such as mental clarity, stress relief, skin health, energy or sleep support. The company then compiles six to 10 herbs into each dissolvable tab and sends you a 28-day supply.
The tabs retail for more than $60 for a month's supply, but once the pandemic hit, founder Mace-Turner decided the price was unaffordable for some. To help people who were struggling financially afford the herbal concoctions, she implemented a "Subscribe & Pay What You Can" program. The program offers three pricing levels: 10% off, 30% off and 80% off, so everyone can benefit from these natural wellness products.
Read: Walgreens Names Ex-Starbucks COO as CEO, Only Black Woman Leading a Fortune 500 Company
Nicole Shanahan
In 2018, after being told by doctors it was unlikely she could get pregnant, intellectual property attorney Nicole Shanahan did some research. She discovered that scientists don't have a concrete answer as to why it's more difficult for a woman to get pregnant once she reaches her 30s.
Shanahan's discovery led her and her husband to found the Center for Female Reproductive Longevity and Equality — the first research facility of its kind. Overall, she and her husband have committed over $13 million to the cause. The center's goal is "… to conduct basic research to understand the mechanisms of female reproductive aging and develop strategies to prevent or delay ovarian aging."
In a July 2018 press release, Shanahan said, "Reproductive equality is an issue near and dear to my heart. On a societal level, reproductive equality impacts women's health, family planning, infertility and career development. I am excited to support groundbreaking work that has so many touch points for rebalancing our culture and economy."
See: States With the Biggest (and Smallest) Gender Pay Gap
Sandra Oh Lin
Founder and CEO of KiwiCo Sandra Oh Lin built her company, which sells educational project kits for children, over nine years ago. When COVID-19 hit and in-person school attendance shut down, the business leader knew she was in a position to help the thousands of parents with children who suddenly had to learn from home.
To start, Oh Lin's team designed an online resource hub targeted at students learning from home, which includes weekly community challenges, kitchen science experiments, weekly DIYs and printable STEAM activities.
Plus, as a result of school shutdowns, KiwiCo also began offering a free virtual summer camp, Camp KiwiCo, which includes four five-day sessions with hands-on activities, content and projects for different age groups.
More From GOBankingRates
Make Your Money Work Better for You