What a Recovery for Theme Parks Might Look Like in 2021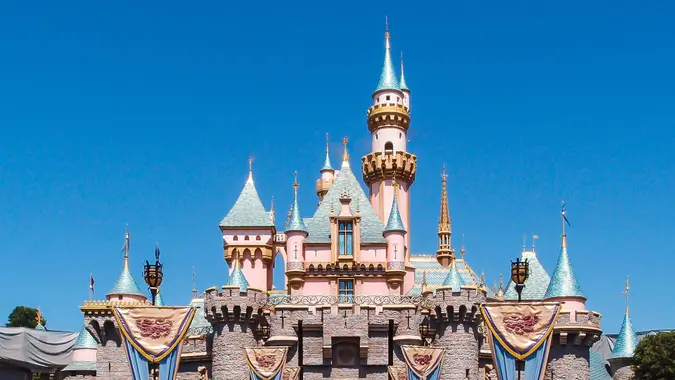 ©iStock.com
Walt Disney was one of the first businesses to shut down due to the coronavirus, closing all of its parks on March 15, 2020. It has since reopened some of its parks, but attendance is down, as it has been for theme parks around the country. The pandemic situation is likely to improve in 2021, thanks to newly developed vaccines, but it probably won't end before the Presidents Day weekend, spring break or even the start of summer vacation. 
In the News: Disneyland Will Be First Massive COVID-19 Vaccination Site
When it is safe to go out, people will flock to theme parks for an overdose of fun. People have missed thrill rides, fried food and even standing in lines with strangers. What better place to go than a theme park? Here's a look at what you might see:
In Florida, the big draws are in Orlando. Walt Disney World (owned by Disney, NYSE: DIS) is currently allowing visitors up to 35% capacity, and most visitors have been from Florida. That means that many of the park's hotels have been vacant. The Polynesian Village Resort was scheduled to be closed for an overhaul and has a reopening date of summer 2021. Other hotels are scheduled to begin reopening in March. 
Make Your Money Work Better for You
Read More: Running Disneyland for Just One Day Costs an Insane Amount of Money (Especially During a Pandemic)
Disney's management has said that it will reopen facilities only if they are profitable, so it seems likely that the company is making some money with its limited opening. Nevertheless, the theme park business worldwide lost $1.1 billion in the company's fourth-quarter ending in September, a smaller loss than the $2 billion loss posted in the June quarter. Overall, Disney is profitable, helped by its television and retail businesses, but its profits are down.
Down the road from Walt Disney World is Universal Studios Orlando, which also reopened over the summer and has been operating at reduced capacity. The theme park is part of Comcast's (NASDAQ: CMCSA) NBCUniversal business, so the numbers are not clear. There's considerable overlap in its visitor base with Disney's visitor base, so if Disney adds capacity, Universal Studios will follow suit. Both parks reached capacity early in the day over the December holidays. Disney's parks take advance reservations. Universal Parks do not take reservations now, so visitors should have alternate plans during peak times when capacity is reduced.
Make Your Money Work Better for You
While Walt Disney World and Universal Studios are true vacation destinations, most other theme parks serve a regional market. 2020 was tough for Six Flags (NYSE: SIX), which operates 26 parks in North America under the Six Flags name. It reported a significant decline in attendance, revenue and profits during the first nine months of 2020. Reported attendance was 4.6 million guests, a decline of 22.1 million guests from the first nine months of 2019. Revenue declined by $979 million in the period to $248 million, leading to a net loss of $338 million, a decline of $528 million from the first nine months of 2019.
Did You Know: Major Financial Risks Walt Disney Took in His Career
Six Flags has taken advantage of this time to undertake a transformation program. In March 2020, the company announced that it would spend $60 million in cash and $9 million in ride writedowns to improve its parks. The planned improvements include new technology apps to improve guest experiences. Some of its parks, like Six Flags Over Texas, are open now with limited capacity. Others would be closed for the season anyway. The weather is good enough that Six Flags Magic Mountain outside Los Angeles could be open, but it is closed due to COVID-19 restrictions. Six Flags Discovery Kingdom outside San Francisco is open only for a drive-through holiday lights show. If the pandemic turns the corner when the weather gets better, Six Flags could be in for a banner year.
Make Your Money Work Better for You
The Disney and Universal Studios parks near Los Angeles are also closed due to COVID-19. Reopening for California parks depends on what the outbreak is looking like in that state. Disney plans to open its Avengers campus at the California Adventure park this summer after postponing it from last year, but that assumes the parks will be reopened by that time.
Fun Facts: Here's How Much It Cost To Go To Disney World the Year You Were Born
Turning to America's north coast, as Lake Erie is branded, brings us to Cedar Point. This park is heaven for roller coaster enthusiasts, with several excellent wood and metal coasters including the USA Today top-ranked coaster for 2020, Steel Vengeance. 2020 was the park's 150th anniversary. Its parent company, Cedar Fair (NYSE: FUN), operates 11 amusement parks and four water parks in the U.S. and Canada. For the third quarter of 2020, it lost $136 million compared to net income of $190 million in the third quarter of 2019. Attendance was down at all parks. The company offered deals on 2021 season passes, so it now has 1.8 million season pass holders. When parks open for the summer, it is hoped that these pass holders will have in-park spending greater than the 2020 average of $47.29.
The parks are planning to reopen. There's pent-up demand. If the pandemic gets under control, the following months could be busy and highly profitable for the theme park business.
More From GOBankingRates
Last updated: Jan. 19, 2021
Make Your Money Work Better for You