Small-Business Owners Describe Their Biggest Challenges With the Delta Surge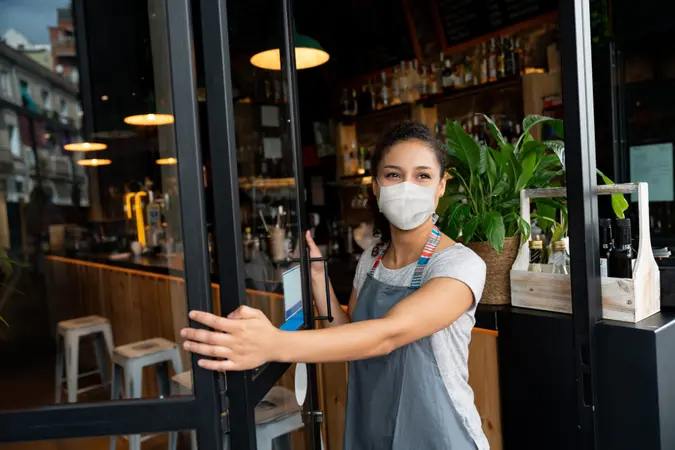 andresr / Getty Images
For the small-business owners who managed to survive the pandemic, 2021 was supposed to be the light at the end of the tunnel. Instead, many have spent the year scrambling to find new solutions to old challenges as the Delta strain clogged supply chains and made both labor and materials scarce and expensive. Today, weary but wily business owners continue to adapt and survive.
Your Voice: Nominate Your Favorite Small Business To Be Featured on GOBankingRates
2021 Small Business Spotlight: Check Out Our Small Business Stories, Plus the Nominated Businesses Near You
Those Who Planned Early Earned Crucial Employee Trust and Loyalty
The Delta variant arrived just as an already tight labor market was making good workers hard to find. For many, managing the virus's resurgence meant launching a full-court press in employee retention. 
"Our engineering firm was able to pivot during the height of the pandemic in a couple of ways," said Jay Maupin, president of Maupin Engineering, Inc. in Savannah, Georgia. Georgia is home to seven of America's 20 most dangerous Delta hotspot counties, according to a local Savannah NBC affiliate. In response, Maupin instituted a three-point plan that paid big dividends in the form of strengthened labor relations. 
Make Your Money Work Better for You
"First, everyone was assigned to work at 75% of their normal schedule since, early on, we were unsure of the economic forecast and the length of time the pandemic would last," Maupin said. "This helped us save funds to ensure that we would not have to lay anyone off. Everyone fully cooperated and appreciated the long-range planning. Second, those who had children or who were fearful were able to work from home as needed. Those with private offices could come and go as they wished with proper precautions in place to ensure limited in-person interaction with colleagues. Third, online meetings helped us continue to serve our clients and their project needs."
Read: Top Small Businesses for the Month of August
See: This Alabama Baker Is Bringing a Slice of Heaven Down to Earth
For Some Industries, the Delta Aftershock Is Just Too Much for Too Long
Many businesses already had to revamp their operations just to survive 2020. Then, just as the clouds were clearing, another storm came crashing in. 
"The effects of Delta put us back to square one," said Tony Grenier, CEO of the music store and academy Instrumental Global. "Like most businesses, our company also felt the effects of COVID-19. Luckily, we were able to quickly transform our operations online and we were able to offer online lessons, so that provided a good solution to our decreasing sales." 
Make Your Money Work Better for You
Then, the new strain brought new headaches and fewer customers. 
Help Out: Quick and Easy Ways To Support Small Businesses Today
Big Names, Small Biz: Big Names Committed To Saving Small Businesses in the Pandemic
"With the Delta variant ravaging the country, more and more people are losing their sources of income," Grenier said. "Hence, some of my younger students opted for less frequent music lessons as their parents can not shell out much money, unlike before. There have also been fewer customers visiting our shops for our musical instruments. Hence, lower sales. Though we are utilizing online marketing already, musicians like to try the instruments before purchase. Since they cannot go to the shop due to restrictions, they cannot also purchase it, so lower sales." 
For people, families and countries alike, the arts are always near the front of the chopping block line when budgets are tight.
"Hopefully, COVID will be controlled soon so we can go back to normal," Grenier said.
Find Out: How Much Small Businesses Contribute To Your Neighborhood vs. Amazon
Learn: How Small-Business Struggles Hurt All Americans
Move What You Can Online, Farm What You Can't Out to Freelancers
Pivoting from standard COVID-19 to the Delta variant has required some businesses to do their best to put out fires as they spring up.
Make Your Money Work Better for You
"When the surge of the Delta variant was beginning, our business had just reopened after being closed for several months," said Matt Richmond, marketing specialist at a precious stone company called Buy Moldavite. "Though we have implemented work from home and have made our products available online, having a brick-and-mortar store is still different. Our business, like many other businesses, has suffered a blow. So with the new restrictions to Delta, we have decided to strengthen our online marketing strategies. We are now hiring freelancers for customer lead generation and this has resulted in an increase in sales. We plan to do this continuously for the rest of the year since it doesn't seem that COVID will go away anytime soon." 
Read: 3 Stories of Small Businesses That Opened During the Pandemic
Check Out: Small-Business Ideas for a Post-Pandemic World
Reopening Requires Empathy, Flexibility and Patience
For small businesses with an office presence — particularly those with an international footprint — the biggest obstacle to success was an increasingly anxious labor pool. 
"What has or could have impacted our business most is the employees' reluctance to return to the office," said Kunal Sawhney, CEO of Kalkine Group, which performs stock market advisory services in the U.S. and Australia. "This called for a strategy that was all about the carrot and no stick. The senior management was sensitized on the issue."
Originally, Sawhney's company was forced to offer remote-work options out of necessity, but he soon learned that telecommuting was turning many workers into better employees and healthier people.
"Employees had not just been saving on fuel and/or accommodation costs, but they could spend some extra hours with their families or undertake personal tasks." 
See: 4 Valid Reasons Your Company Won't Let You Work From Home Indefinitely
More: How To Convince Your Boss To Let You Keep Working From Home
Selling a return to the office to employees who had gotten used to remote work was hard enough — then Delta made it harder.
"Returning to the office after more than a year is a big change, and people resist change," Sawhney said. "This resistance had to be overcome using unique ways without impacting the morale of employees, which is directly proportional to their productivity. As more and more employees are getting their jabs, reporting managers and the human resources department are working with them to address their queries and concerns with an empathetic approach. The approach has paid off. With a more receptive approach, things are getting sorted out more easily."
More From GOBankingRates
Last updated: Sept. 7, 2021
Make Your Money Work Better for You