Single Mom Didn't Let the Pandemic Slow Down Her Sweet Side Hustle of Custom Candies
We here at GOBankingRates want to help get our nation's small businesses back on their feet after the COVID-19 pandemic. To do that, we're highlighting readers' favorite small businesses around the country, and shining a spotlight on what makes them special to their customers and their towns.
2021 Small Business Spotlight: Check Out Our Small Business Stories, Plus the Nominated Businesses Near You
In this edition of our Small Business Spotlight series, we're featuring Kim's Candies, a small home-based business located on the Mississippi Gulf Coast. Owner Kimberly Joiner specializes in making custom gourmet desserts and edible party treats for any occasion. Here, we chat with Joiner about finding inspiration for her small business at the grocery store, learning the value of customer service early on and how the pandemic actually benefited her business.
More Stories: North Carolina Performance Venue Survives a 421-Day Closure Amid the Pandemic
Was there a particular moment or experience that inspired you to start your business?
I'm a single parent with two beautiful daughters. I started thinking, "How great will some extra income be without having to leave them with a babysitter while I go to work?" So I started brainstorming on what home-based small business I could start. I have always been an artistic person, so I knew it was going to be something involving my hands. One day I went into the local grocery store and noticed the limited amount of custom desserts. You could find seasonal goodies, but nothing stood out specifically for special occasions such as a wedding or baby shower. This inspired me to start making gourmet and custom edible party treats.
Make Your Money Work Better for You
Read More: Music Industry Vet Opens a Record Store in Cleveland
What did you take from past experiences or jobs that you knew you wanted to be a part of your new business?
I remember working at a fast-food restaurant when I was a teenager. We would always have meetings about customer service and how important it was. I also remember getting rewarded by my manager because I passed a secret shopper test. Great customer service stuck with me throughout the years. I use it in my nursing profession all the way down to my treat business. I truly believe customer service can make or break a business. By providing top-notch customer service, businesses can gain loyal and returning customers. I strive to make each customer's experience their best when shopping with Kim's Candies.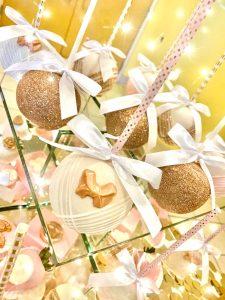 Check Out: Japanese Burger Restaurant Provides a Respite for Patrons Amid the Pandemic
What has been the most rewarding aspect of being a business owner?
I enjoy the independence of being a small business owner. Who doesn't love being their own boss and making extra income? I can make my own schedule so I can spend time with my family. I'm able to make all creative decisions about something I love to do. There is nothing more rewarding than to see my hard work pay off.
Make Your Money Work Better for You
More Stories: Atlanta Children's Theater Trains the Stars of Tomorrow
How has the pandemic affected your business?
The pandemic helped my business grow. Many people were afraid of going into public places, but I offered a delivery service. I was able to deliver treats to customers without them being in fear of leaving their homes and possibly coming in contact with someone with COVID-19. I'm also a full-time nurse who knows how scary this can be. I believe having a home-based business made customers feel safer knowing that I was the only person handling their desserts.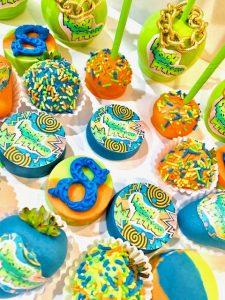 See: A Family-Run Cafe in West Texas Transforms Into a Legendary Country Music Venue
How can people continue to support your business during this time?
Customers can continue to place orders online and request delivery. Sharing pictures of my work on social media and referring a friend are also great ways to support my business.
What advice would you give to someone who wants to start their own business?
Make sure you are 100% committed when you start your own business. Don't be afraid to ask other small business owners questions. Absorb everything! Listen to what others have to say and manage your time wisely.
Make Your Money Work Better for You
This interview has been edited for clarity.
Last updated: June 7, 2021