Small Business, Big Flavor: This San Diego-Area Barbecue Joint Is Grilling With Community Pride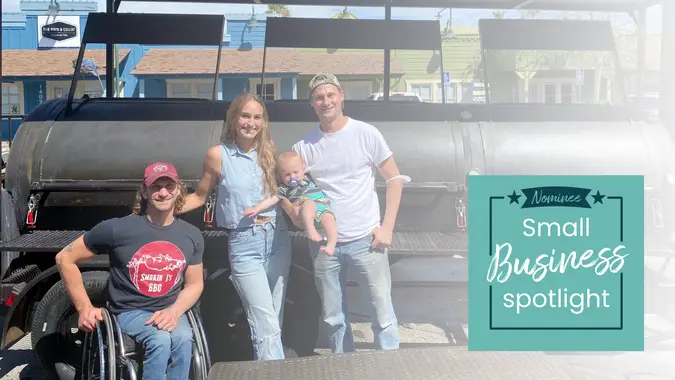 ©Smokin J's BBQ
This summer, GOBankingRates is continuing its annual tradition of the Small Business Spotlight by featuring small businesses that have been nominated by our readers. We hope to shed light on inspiring local businesses, particularly after the pandemic left so many establishments struggling to get back on their feet.
In this small-business feature, we're spotlighting Smokin J's BBQ in Poway, California. This barbecue spot was established by owners Joshua George, his brother, Jeremy George, and Jeremy's wife, Mckenzie George. This trio is bringing slow-smoked barbecue to their community alongside housemade rubs and sauces. Smokin' J's prepares its slow-cooked meat in a 20-foot direct-flow smoker made from California white oak and prepares all of its rubs, sauces and sides from scratch each day. In addition to serving a variety of meats, the San Diego-based business strives to create an environment where every guest who enters the establishment feels like they are welcomed like an old friend and recognized as an integral member of the community. Here, we speak with Joshua George about the inspiration behind his barbecue business and the advice he has for future small-business owners.
Here It Is: Our 2022 Small Business Spotlight
Check Out: 22 Side Gigs That Can Make You Richer Than a Full-Time Job
Was there a particular moment or experience that inspired you to start your business?
Mckenzie and I were drawn into the business due to the power of Jeremy's passion to open a restaurant. Jeremy is one of those annoying characters who has never used a recipe in his life, yet always cooked something amazing. He had dreams of opening his own restaurant since he was a child. Barbecue, however, came much later in life. When he and Mckenzie moved to San Diego in 2016, he knew he was going to open a restaurant, but had no intention of going into barbecue. He had learned from working at barbecue spots in the past that to do it right, barbecue was one of the hardest and most painstaking cuisines to make. Briskets and pork shoulders take up to 16 hours to smoke, and the drop in quality between a digital "set-it-and-forget-it" smoker and a traditional off-set smoker with a fire that needs to be fed manually was one that he was not willing to accept. After finding a dearth of good barbecue spots in San Diego, however, he decided to give it a go himself, and it worked out.
Make Your Money Work Better for You
Take Our Poll: Do You Tip for Service?
What did you take from past experiences or jobs that you knew you wanted to be a part of your new business?
Jeremy, Mckenzie and I have very different professional backgrounds; however, we all wanted to bring the same elements into our business. We wanted to create a company that functioned as a meritocracy and celebrated our employees' efforts to put out the best product possible while still keeping a casual atmosphere. Before we opened our first restaurant, none of us had much restaurant experience. Jeremy had worked in a couple of kitchens, Mckenzie had worked in a couple of front-of-house positions and I was coming off a professional athletic career in which I was constantly yelled at by nutritionists to eat more as I was obviously not spending enough time in restaurants. We all brought with us, however, an instinct of how to manage a team with respect, and strived to create a culture that people wanted to be a part of. We constantly hear from new hires that our restaurant operates differently than most, from the fairness of how we treat tips, to the congeniality of the kitchen, to the way we accept ideas and input from every position in the restaurant. So far it feels like our instincts were correct. The next challenge will be replicating the culture we have created in future restaurants. 
What has been the most rewarding aspect of being a business owner?
My role in Smokin J's keeps me in front working with the customers. This allows me the great pleasure of getting to chat with people every day about their experience at the shop and how much they love the food. While that is my daily joy, one of the most rewarding parts of being a small business owner was when it first dawned on us that we had created a business that was not only supporting ourselves, but was supporting the lives and families of multiple employees. I still get warm and fuzzy feelings when I think about the fact that we have created a business that is successful enough for us to pay our employees the way we do. 
Make Your Money Work Better for You
How has inflation affected your business, if at all, and how have you been coping with it?
We have had to deal with some crazy pricing situations over the past few years, beginning long before inflation kicked in. With all the supply chain disturbances during the COVID lockdowns, the price of meat products bounced all over the place. When we came out of that, we then faced new California state laws regarding the pork industry, followed by broader inflation affecting plastic goods, dairy and a number of other products we use. So far we have been able to deal with it without too much disturbance affecting our customers. Our prices came up a little bit on the consumer end, but we also started offering discounts if customers paid with cash instead of credit. We are also cutting costs now that people can dine in again and we are no longer using as much single-serving plastics. We continue to make more and more of our ingredients from scratch, such as mayonnaise, which cuts down on costs and improves our final products. We have also spent a lot of time developing our own system to track prices from multiple vendors to ensure we are always buying from the lowest cost vendor, which actually saves more than you would think.
Why are small businesses like yours so vital to the Poway community?
A large reason why we were able to survive and thrive in the turbulence of the past few years is because the people of Poway really get behind their local businesses. Part of it is pride in what a town has borne, but a large part of it is that a small business is able to offer things to customers that they cannot find in many larger businesses. The culture of community that we strive to bring and the level of care and investment that each one of our employees has for the quality of the work they are doing is noticeable and appreciated by our customers. We also offer a bit of variety to the norm. When you are driving down the street and see chain restaurant after chain restaurant, it is refreshing to see something pop up that is a bit different. When that small business can offer a high quality product, then you start building community pride around your establishment.  
Make Your Money Work Better for You
What advice would you give to someone who wants to start their own business?
Count on it being three times as hard and three times as expensive as you think it will be. If you don't really have the freedom and energy to work all hours of the day if need be, it is going to be an uphill battle. Don't put yourself in a situation where you can't pivot easily and often. A lot of what you think will work at the beginning will not work, and you need.
More From GOBankingRates
Make Your Money Work Better for You