We're Still Obsessed With Disinfecting — That's a Win for Clorox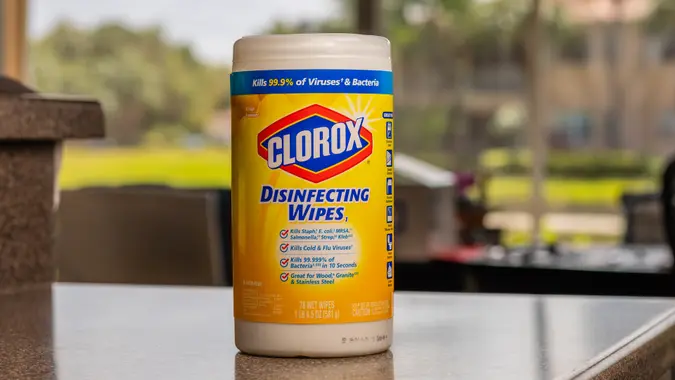 John Mantell / Shutterstock.com
The number of months we've spent navigating life in a pandemic has become a blur. Has it been 10 weeks or 10 months or 10 years? If anybody has the answer to that question, it's companies like Clorox. The cleaning product corporation has been cleaning up (in the monetary sense) since chatter of the coronavirus broke out in the states. Items like Clorox wipes were one of the first to be sold out during lockdowns and have even found their way onto COVID-19-inspired black markets.
Eight months into the coronavirus pandemic, consumer interest in Clorox cleaning products isn't dying down. Online retailers like Walmart are still limiting orders of Clorox wipes to "in-person only" in certain areas, and if you can find them in stock on Amazon, well, lucky you.
In its first-quarter 2020 earnings report shared on Monday, Clorox reported that overall sales were up 27% from a year ago. This is a continued increase from May 1, when Clorox reported that its fiscal third-quarter sales leapt 15% as demand for its cleaning products skyrocketed in response to the pandemic. 
And it's not just cleaning supplies that are enjoying a growth in consumer demand. Clorox also reported that its vitamins, minerals and supplements category is up as are grilling sales and cat litter sales, among other products. The only area that saw shrinking sales was Burt's Bees products, possibly hurt by lower in-store traffic in the parts of shops where Burt's Bees items are sold. To make up for that — and to tie into the health/medicinal marketing aspect that is so successful right now — Clorox is launching a new line of Rescue Balm with turmeric.
Make Your Money Work Better for You
Upon release of Monday's news, Clorox shares jumped 5%, rising more than 40% this year.
Keep reading to find out some of the more unexpected items people have been buying during the pandemic.
More From GOBankingRates