How Much Do TikTokers Make? Here Are 7 of the Highest-Earning TikTokers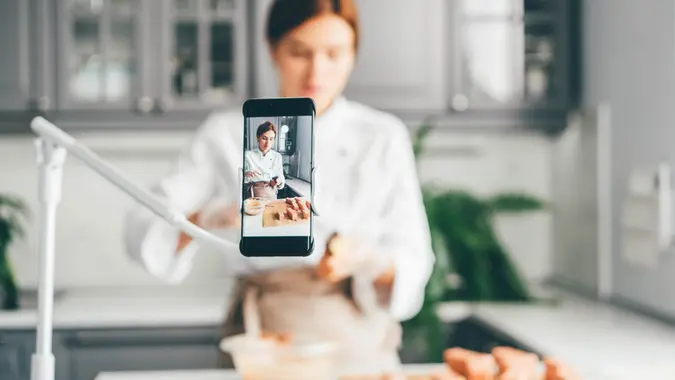 Maria Korneeva / Getty Images/iStockphoto
TikTok has become one of the fastest-growing apps in recent history, crossing over the 1 billion active users threshold in 2021. It was released internationally in 2017 by the Chinese company ByteDance. The app's success has driven the company's value to about $220 billion, according to the valuation for a private-market investment reported by Bloomberg.
Some of TikTok's most popular accounts are also enjoying big profits. Smart TikTokers who capitalize on the app's reach collectively earned over $55.5 million in 2021, according to Forbes.
How Much Do TikTokers Make?
You can earn up to 4 cents for every 1,000 views on your video. Therefore, you could earn up to $40 if your video hits a million views — but the most successful TikTokers make millions.
TikTok is all about the short videos users can create and share. TikTokers who create interesting content, often including dance and music, usually get the highest engagement. However, TikTok is more than just a dance and music app — there are accounts that focus on a variety of topics, including personal finance.
TikTokers need at least 100,000 followers and at least 100,000 views in the past 30 days to be included in the TikTok Creator Fund, which lets creators monetize their content. The fund is being replaced by the Creativity Program, which is currently in beta and accessible by invitation only.
Potential TikTok Ban
The former U.S. administration wanted to ban TikTok in the U.S. due to concerns that the Chinese government could access private user data. Although the Biden administration initially took an outright ban off the table, it said a ban is possible unless the app's Chinese owners divest, according to a March 15 Wall Street Journal report.
Make Your Money Work Better for You
The House Committee on Energy & Commerce held had a hearing on TikTok privacy issues, especially as they relate to children, on March 23, and the U.S. Department of Justice and FBI are investigating allegations that TikTok has spied on U.S. journalists.
For now, however, there's money to be made on TikTok. Here's how.
How Much Does TikTok Pay Per Sponsorship?
According to Forbes, a TikToker can earn between $100,000 and $250,000 for a branded video, with superstars earning as much as $500,000 per post. The earnings depend on the number of TikTok followers you have and your engagement rate, meaning how often users interact with your account and like and leave comments on your short videos.
TikTok superstars take advantage of their following to get paid to promote other companies and sell their own products. It all depends on your popularity and who your audience is.
How Do I Grow My TikTok Account?
The more followers you have on TikTok, the more you can earn money creating branded clips and sponsored videos. The larger and more active your follower base, the better your chances to hit high-earner status.
There are steps you can take to grow your TikTok follower count. But there's a caveat — the steps are simple, but the high-earner status doesn't happen overnight. Growing your TikTok audience takes time, consistency and hard work. Consider these ideas to grow your followers and maximize the money you can make on TikTok.
Make Your Money Work Better for You
1. Find Your Audience
Decide on what your interests and talents are and what kind of person would like your short videos. There's a lot of competition on the platform, so don't go too general. You'll have a better chance of growing a following if you focus on a smaller, more specific niche.
2. Set Up Your Profile
Once you know what your niche is, create a profile that resonates with it. Keep your target follower in mind when you're setting your account up and envision what you should look like from their eyes.
3. Create Distinct Video Clips
Creating videos that stand out from the crowd is the key to attracting a following. Make sure the videos you're creating are consistent in style so your following can recognize you. Make your videos interesting to your fan base.
A good way is by asking friends or fellow TikTokers to watch and critique your content. Their constructive criticism can give you a different point of view from what you see, or can even point out things you should fix that you may have missed.
4. Post Videos Consistently and Often
Keep your audience interested by posting videos regularly. It's up to you to set up a schedule you can work with — just remember to post fresh clips consistently so your profile doesn't look abandoned. If you're worried you'll get too busy to post regularly, consider setting aside a few hours each week to create a batch of short clips you can post later.
Make Your Money Work Better for You
5. Engage
An active profile shows advertisers you're capable of creating videos that trigger a response from your audience. Once you're regularly posting unique content that's geared toward your specialized niche, don't forget to engage your followers. Run contests, ask your viewers to tag friends in the comments and be sure to reply to any commenters to keep the conversation going.
6. Promote Your Videos
Share your videos on other platforms. You'll get extra exposure and drive traffic back to your TikTok content.
Applying these steps helps you grow your TikTok followers and shows companies and potential sponsors that you have a loyal, engaged and potentially lucrative customer base. Once you start getting attention from brands, know your value as a TikToker and price your services accordingly. You may be able to develop your TikTok persona from just a hobby to a side hustle — or even a full-time business.
7 Highest-Earning TikTokers
The most successful accounts on TikTok right now mostly belong to young women. It makes sense when you consider that roughly 25% to 30% of the users on the social media platform are teens. Forbes recently ranked the seven highest-paid. Here they are, along with their estimated earnings and how they've turned TikTok fame into serious money-making opportunities.
1. Charli D'Amelio:
$17.5

Million

Charli D'Amelio is 18 years old and earned a staggering $17.5 million, ranking her first among TikTok's highest earners. Charli started as a competitive dancer who found success on the platform with her dance clips.

She has a whopping 150.5 million followers and has had licensing deals with a number of big brands, including Prada, Burberry, Hollister, Procter & Gamble and Dunkin Donuts. She and sister Dixie star in their own Hulu series and have a limited series on Snapchat. Last year, they and their parents launched D'Amelio Brands, a fashion- and beauty-product company.

Make Your Money Work Better for You
2. Dixie D'Amelio: $10 Million
Dixie's career has followed a trajectory similar to younger sister Charli's, and the two collaborate often. Although Charli's earnings dwarf Dixie's, as do her followers — 150.5 million compared to Dixie's 57.2 million — Dixie is making her own way as a pop singer.
She released her first single in 2020 and was signed by HitCo Entertainment prior to the release of her second single, which featured rapper Wiz Khalifa.
3. Addison Rae:
$8.5 Million
Addison Rae Easterling, known as addisonre, is one of the earliest TikTokers. She got her start on TikTok posting short dance clips. Easterling is a former competitive dancer who has 88.7 million followers and has received 5.8 billion likes.
Easterling has leveraged her TikTok fame to create her own cosmetics company, called Item Beauty, release a single, "Obsessed," and land a starring role in Netflix's remake of "She's All That." The Louisiana native is slated to appear with Patrick Dempsey in an upcoming film called "Thanksgiving," the Shreveport Times reported.
4. Bella Poarch:
$5 Million
Bella Poarch seemingly came out of nowhere to shoot right up to fourth place in terms of followers — she has 92.8 million — and become one of TikTok's highest-earning personalities. She's a Navy veteran who served as a helicopter mechanic, according to Forbes.
Her entry into the TikTok big leagues stems from a 2020 lip-synch video. Since then, Poarch has done ads for Google, Prada and Tinder and released her first single. She recently won a Nickelodeon Kid's Choice Award for her music.
5. Josh Richards: $5 Million
Josh Richards is the only male that makes the list of highest-earning TikTok accounts. Josh posts lip-syncing and dancing shorts for his 26 million followers, but he's also a serial entrepreneur.
Make Your Money Work Better for You
By the age of 18, he'd created an energy drink company called Ani Energy, co-founded the talent management agency Talent X and served as an officer at Triller, a TikTok competitor. He also founded a venture capital firm called Animal Capital and co-hosts the Barstool Sports podcast with Dave Portnoy, founder of the Barstool Sports website.
6. Kris Collins: $4.75 Million
Kris Collins is a former hairdresser who started making sketch videos after COVID-19 shutdowns left her temporarily unemployed. The videos, in which she plays all the characters — some of whom are inspired by her family members — have resulted in a staggering 49 million follows and 2.2 billion likes.
Collins's popularity extends beyond TikTok. She also has 8.87 million YouTube followers, and her videos have been widely shared on Facebook. Hershey, Lionsgate and Pantene are among the companies that sponsor her content, Forbes reported.
7. Avani Gregg: $4.75 Million
Capitalizing on her wildly popular Clown Girl makeup tutorials, Avani Gregg moved from Indiana to Los Angeles and became one of the original members of Hype House, a collective of content creators formed by TikTok stars in December 2019, according to The New York Times.
Since then, she has played in the web series "Chicken Girls" and written an autobiography called "Backstory: My Life So Far," published by Simon & Schuster in 2021. She has 43.1 million followers and 3 billion likes on TikTok.
How Much Do They Make Guides
Make Your Money Work Better for You
Daria Uhlig and Melanie Grafil contributed to the reporting for this article.
Information is accurate as of April 24, 2023.
Our in-house research team and on-site financial experts work together to create content that's accurate, impartial, and up to date. We fact-check every single statistic, quote and fact using trusted primary resources to make sure the information we provide is correct. You can learn more about GOBankingRates' processes and standards in our editorial policy.