TikTok's Net Worth: How Much Is TikTok Worth Right Now?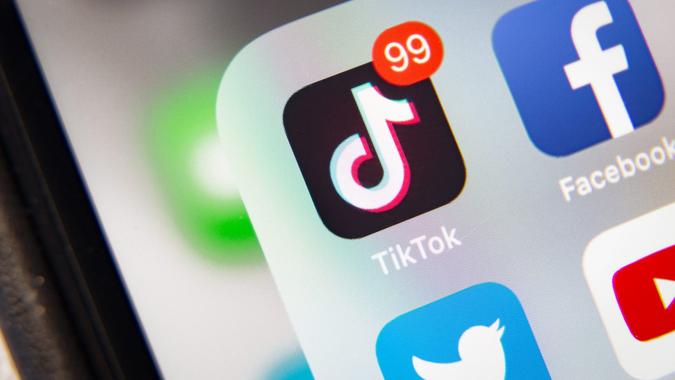 5./15 WEST / Getty Images
TikTok is the latest in a series of red-hot apps primarily aimed at teenagers and millennials. TikTok describes itself as the "leading destination for short-form mobile video," with a mission to "inspire creativity and bring joy." Based in China, the app was founded by Zhang Yiming, who remains something of a mystery, not giving many interviews.
Unlike its relatively unknown and secretive billionaire founder, TikTok is well known on the global stage. The company's parent ByteDance continues to maintain offices from Los Angeles and London to Beijing, Warsaw, Singapore, Tokyo, Dubai, Ho Chi Minh City and Bordeaux, to name just a few. Read on to learn more about Zhang's invention, how it's used and whether or not it may be a good investment going forward.
TikTok Company Snapshot
Headquarters
Beijing, China
Year Founded
2012
Founder
Zhang Yiming
CEO

Shouzi Chew
TikTok Net Worth: $50 Billion
TikTok's worth is valued at $50 billion. Recent estimates place the value of TikTok's parent company, ByteDance, at $200 to $400 billion. The South China Morning Post reported that the valuation has fluctuated between $325 and $450 billion in recent months. Those figures are based on anonymous trades published and facilitated by 36Kr, a new-media publishing and data company based in China. However, whereas major investor Susquehanna International Group attempted to sell $500 million of its shares, valuing ByteDance above $400 billion, the Post noted that ByteDance's internal employee-owned buyback scheme valued the company at $200 billion.
Make Your Money Work Better for You
TikTok itself has been valued at $50 billion by investors willing to bid that much to break off the company from ByteDance.
TikTok's Founder Net Worth
Zhang Yiming founded TikTok in 2012. He has become an unqualified success in the business world. The 37-year old former software engineer is now worth over $59.4 billion, according to Forbes' Real Time Billionaires List, making him the 22nd-wealthiest person in the world. Forbes' China Rich List ranks Yiming second among China's wealthiest.
What Is TikTok's Primary Product and Source of Revenue?
TikTok is an app that allows users to create and share short videos. It comes with an extraordinarily wide range of features that users can employ, from music clips to famous TV show moments to other TikTok videos.
If that overall description of TikTok sounds vaguely familiar, it's because it's somewhat reminiscent of the app Vine, which was all the rage in 2013. Due at least in part to the popularity of Vine, video as a method of expression — and generating revenue — exploded in the mid-2010s, popularized still further with the explosive growth of Snapchat, Instagram (owned by Facebook) and YouTube.
Make Your Money Work Better for You
How Exactly Does TikTok Work?

TikTok allows users to film their own videos of up to three minutes. A database of sound bytes, songs or effects can enhance videos at a user's creative whim. Initially, videos lasted a maximum of 15 seconds and  primarily involved lip-synching or acting out comedy sketches. While "entertainment"-tagged videos are still the most-watched, followed by dance videos and pranks, the range of categories is limited only by creators' imaginations.
ByteDance, the parent company of TikTok, reportedly generated $17.2 billion in revenue in 2019 alone, an insider told TechCrunch. About two-thirds of this amount was from domestic ads on the Chinese version of TikTok, dubbed Douyin. Additional revenue came in the form of live streaming, games and e-commerce.
According to analysts at Business of Apps, TikTok generated $1.9 billion in revenue in 2020 and had been downloaded three billion times as of June.
Current Top Shareholders
Susquehanna International Group has been one of ByteDance's largest investors since its founding, but in October, the company tried unsuccessfully to sell $500 million of its shares, according to Bloomberg. Susquehanna is reportedly still trying to sell off part of its stake.
Make Your Money Work Better for You
The Chinese arm of Sequoia Capital also counts itself as one of the early investors in ByteDance. Additional investors in TikTok parent ByteDance include the following, according to CrunchBase:
TikTok's Top Shareholders

CMB Wing Lung Bank
Morgan Stanley
Goldman Sachs
Bank of China
K3 Investors
Primavera Capital Group
Kohlberk Kravis Roberts
Tiger Global Management
GGV Capital

SoftBank Group Corp. also backs ByteDance, according to Bloomberg.
How Does the Future Look for TikTok?
The company was perfectly positioned to benefit from the global quarantine created by the coronavirus pandemic. The app has been downloaded more than three billion times and had one billion annual users as of the second quarter of 2021, Business of Apps reported. In the U.S., TikTok is the most popular app, edging out Zoom by seven million users and beating Instagram by 27 million.
One roadblock for TikTok has been the U.S. government's security concerns regarding the app. A deal was struck for Oracle and Walmart to take over the U.S. operations of TikTok, but that deal reportedly has been tabled indefinitely while the Biden administration reviews security threats from Chinese tech companies, according to CNBC.
ByteDance's widely anticipated initial public offering is also on hold, until late 2022, due to a regulatory crackdown on tech companies by the Chinese government, according to the South China Morning Post. As a result, some private investors have tried to divest. 
TikTok still has a long way to go before it competes with the $2 trillion valuation of companies like Apple. However, the bottom line is that user penetration and in-app revenue are both showing strong, consistent gains, pointing the way to a bright near-term future for TikTok as long as it's not sidelined by regulations in the U.S. and China.
Should I Invest In TikTok?
Consider this before investing: TikTok is not a publicly traded company. Unlike so many of its "unicorn" brethren that have commanded multimillion-dollar valuations and then had a splashy IPO, you won't find TikTok traded on say, the New York Stock Exchange. Since TikTok remains private, you'd have to find a way to convince management to accept your investment, which isn't likely for most.
However, there could be good news late next year, if ByteDance goes public. If an IPO comes to pass, you'd want to determine if investing in TikTok would even make sense for you as an individual investor.
Consider these before investing:

Private Company: TikTok isn't subject to the same disclosures as a public company, meaning you won't have access to quarterly earnings reports and other financial disclosures.
High Risk/High Reward: Combined with the high valuation and the fate of similar companies that have gone before (e.g., Vine), TikTok solidly resides in the "high-risk/high-reward" camp.
Security: Possible security concerns raised by the U.S. government fears that information on millions of Americans could be passed to China's Communist Party.
The bottom line is that any investment in TikTok at this time would have to be considered very speculative.
If you're still interested in investing in TikTok, you might want to strongly consider enlisting the help of a fiduciary financial advisor, such as a Registered Investment Adviser or a Certified Financial Planner.
These types of professionals, particularly those from one of GOBankingRates' Best Brokers, can not only help analyze your own investment objectives and risk tolerance but may also have better access to information about what an investment in TikTok would entail.
Company Net Worth Guides
Daria Uhlig contributed to the reporting for this article. 
Information is accurate as of Nov. 28, 2021.
Our in-house research team and on-site financial experts work together to create content that's accurate, impartial, and up to date. We fact-check every single statistic, quote and fact using trusted primary resources to make sure the information we provide is correct. You can learn more about GOBankingRates' processes and standards in our editorial policy.