How To Increase Your Cash App Sending and Receiving Limit Weekly and Per Day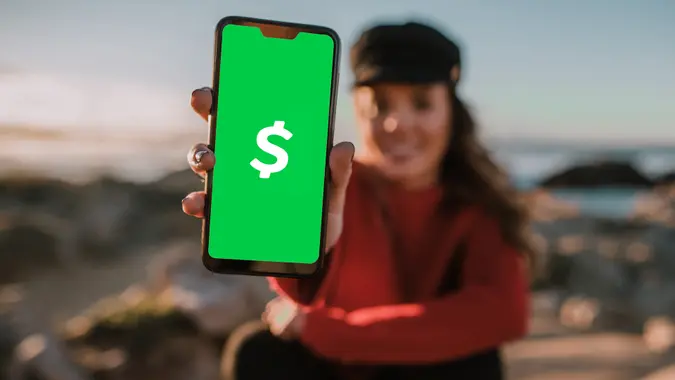 MarioGuti / Getty Images/iStockphoto
Cash App is a payment app available for iOS and Android that is used to send and receive money, as well as make purchases and invest. Cash App, like similar payment apps, has limits for all of its transactions.
Cash App limits vary based on the transaction type and identity verification status. For example, unverified accounts have a $250 weekly sending limit. However, that limit can be increased to $7,500 by meeting Cash App identity verification requirements.
Keep reading to learn more about Cash App's sending and spending limits, and find out how you can increase yours.
What Is Cash App?
Cash App is a platform that allows you to send and receive money, make purchases, invest in stocks, buy and sell bitcoin, and complete other financial transactions. Cash App also partners with other financial institutions and banks to provide debit cards and brokerage services. You can even use Cash App to file your taxes and have your refund sent directly to your Cash App account.
Cash App Limits
Cash App limits apply to all accounts, and generally depend on whether the account is verified. 
Cash App Sending Limits
Cash App lets unverified users send up to $250 within seven days. If you complete the identity verification process, you can send up to $7,500 per week. You will need to verify your full name, date of birth and the last four digits of your Social Security number to increase your sending limits.
Cash App Receiving Limits
Unverified Cash App accounts can receive up to $1,000 within 30 days. Once you verify your identity using your personal information, you can receive an unlimited amount of money each month.
Cash App Withdrawal Limits and Spending
If you use the Cash App Cash Card — a free debit card that is connected to your Cash App balance — you may be subject to spending limits, similar to other debit cards. The Cash App limit per day and per transaction for Cash Card users is $7,000. Daily limits reset at 6 p.m. Central Standard Time each day. 
Make Your Money Work Better for You
The Cash Card also has weekly and monthly limits. You can spend up to $10,000 per week and $15,000 per month. Weekly limits reset at 6 p.m. CST on Saturdays, while monthly limits reset at 6 p.m. on the last day of the month. 
The Cash Card not only implements an ATM withdrawal limit of $1,000 per day, but it also limits total daily spending on purchases made in-store and online, including declined transactions and cash-back withdrawals.
Cash App Limits for Users Under 18
With a Cash App family account, users under 18 will automatically have access to borrow money, make deposits via check and contact phone support. With consent from a parent or guardian, these younger users can also send and receive money — up to $1,000 within 30 days — as well as have a personal debit card and transfer funds between Cash App and a linked bank account.
They can also transfer up to $7,500 per 30 days into their Cash App account and move up to $25,000 per seven days out of their Cash App account. In addition, users under 18 can make paper money deposits of up to $250 within seven days and $1,000 within 30 days.
Users under 18 who have a Cash Card are subject to the same spending and withdrawal limits as users over 18.
How To Increase Your Cash App Daily and Weekly Limits
According to Cash App's terms of service, the company may impose limits on single transactions and on transactions within a seven-day period. This means that while there are weekly limits, there are no daily limits on Cash App.
Increasing your Cash App limits is relatively simple. After setting up your Cash App account, you just need to verify the following information to confirm your identity:
Your full name
Your date of birth
The last four digits of your Social Security number
Make Your Money Work Better for You
If you're under 18, a parent or guardian must give consent in order to access certain features and increase your limits. In some cases, Cash App may need to request additional information if they are unable to verify your identity with just the information listed above.
How To Send Cash App Payments
The Cash App platform is designed with ease in mind, so sending money to another Cash App user just takes a handful of simple steps:
Open the app and enter the amount you want to send.
Tap "Pay."
Search for the recipient using an email address, phone number or Cashtag.
Add a note describing the purpose of the payment.
Tap "Pay" again to complete the transaction.
Is Cash App Safe To Send and Receive Money?
Cash App has many security features to keep your money safe. In addition to using top-tier data encryption, Cash App accounts can be locked using a PIN, Touch ID or Face ID, and users can enable account notifications to monitor activity. Cash Card users can disable their cards at any time, and Cash App also has security features specific to bitcoin storage and fraud protection.
Final Take
It's important to note that Cash App sending limits are relatively low, especially compared to traditional bank accounts and some other money apps. If you send or receive money regularly, you should compare your options to make sure your transaction limits are high enough to meet your needs. 
Make Your Money Work Better for You
FAQ
Here are the answers to some of the most
frequently asked questions
about Cash App limits.
Can you send $3,000 on Cash App?

If your account is not verified, you will have a 30-day $1,000 send limit. Once you have verified your account you can send $3,000 dollars, since standard Cash App send limits are $7,500.

Can you send $5,000 through Cash App?

If you have verified your account and received an increased weekly send limit of $7,500 you can send $5,000 on Cash App.

Are there cash limits on Cash App?

Cash App has limits on withdrawing cash with the Cash App Cash Card. The limits are $7,000 per day, $10,000 per week and $15,000 per month. If your Cash Card transaction is declined, it will still count toward your limits.

How do I increase my Cash App limit from $2,500 to $7,500?

Some Cash App users have reported receiving decreased limits of $2,500 instead of $7,500 after verifying their identity. Cash App does not publicly disclose its criteria for account limits on its site, but Cash App support staff have mentioned that limits are based on an approval process. Cash App does not provide a way to increase limits if your account is already verified, although they state they can adjust limits at their discretion. If your limit is only $2,500, you can reach out to Cash App support to see if they can help.
Chris Ozarowski contributed to the reporting for this article.
Editorial Note: This content is not provided by any entity covered in this article. Any opinions, analyses, reviews, ratings or recommendations expressed in this article are those of the author alone and have not been reviewed, approved or otherwise endorsed by any entity named in this article.
Our in-house research team and on-site financial experts work together to create content that's accurate, impartial, and up to date. We fact-check every single statistic, quote and fact using trusted primary resources to make sure the information we provide is correct. You can learn more about GOBankingRates' processes and standards in our editorial policy.