Transfer Money From Zelle to Cash App: How It Works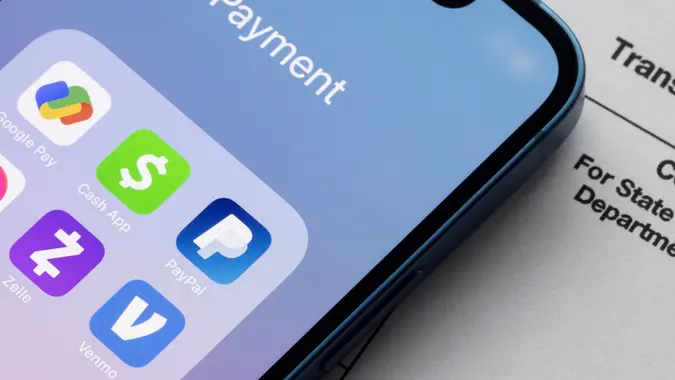 hapabapa / Getty Images
Roughly 80% of all bank account holders in the U.S. have access to the Zelle platform to send and receive money. Customers at other banks can download and use the Zelle app to send and receive funds from Zelle users who are customers at banks in the Zelle network.
But you may be wondering if you can use Zelle to send and receive money through Cash App or how the two platforms can work together to help you send and receive money between family and friends. While you can't transfer money directly from Zelle to Cash App — or from Cash App to Zelle — there are work-arounds you should know.
How Do Zelle and Cash App Work Together?
You cannot directly transfer money between Cash App and Zelle. However, you can transfer money between your bank account linked to Zelle and your Cash App account if you link that bank account to Cash App.
Using Zelle With Your Bank Account
If your bank offers Zelle, the money should be in your bank account within just minutes of the transfer. Moving the funds into your Cash App account is as simple as using the Money tab in Cash App to initiate the transfer.
Using Zelle With Your Debit Card
If you're using a debit card with Zelle, the money will still be transferred into your bank account through the card — it might just take a little longer. Once the funds hit your balance, it's again a simple matter of initiating the transfer through Cash App.
Linking Your Bank Account to Zelle
Linking your bank account to Zelle can be done through your banking app, if your bank offers the service. If it doesn't, you can create an account with the Zelle app and link a Visa or Mastercard debit card, as long as the card is linked to a U.S. bank account.
Make Your Money Work Better for You
How To Link Your Bank to Cash App

To link your Zelle-supported bank account to your Cash App, just follow these steps.

Tap the Profile Icon in the Cash App.
Select "Linked Banks" and tap your bank's icon.
Enter your login information for your banking app.
Cash App will connect securely to your bank using the Plaid protocol.

Plaid is a platform that securely links bank account information with personal finance apps, such as P2P payment services like Cash App, investment apps and others. More than 7,000 personal finance apps support Plaid.
Zelle vs. Cash App
Like Zelle, Cash App is a person-to-person, or peer-to-peer (P2P) money transfer platform. Cash App connects to your bank account and gives you the capability to send and receive money with other Cash App users, either from your bank account or directly from Cash App. You can hold money in your Cash App digital wallet.
Zelle deposits money directly into your connected bank account. When you send someone money from Zelle, it is deducted from your bank account. Zelle does not have its own digital wallet to store funds. If your bank doesn't support Zelle, you can download the Zelle app and connect your bank account with a debit card.
Final Note
While you can't use Zelle to transfer money into your Cash App, you can connect your bank account to both Zelle and Cash App and then transfer money you received via Zelle directly into your Cash App digital wallet.
FAQ
You may still have questions about how Zelle works and how it interfaces with other P2P payment platforms like Apple Pay and Venmo.
How do I receive money from Zelle without a bank account?

If your bank account does not support Zelle, you can use the Zelle app. Just link an eligible Mastercard or Visa debit card to access Zelle.
To send or receive money with Zelle, at least one of the people must use a bank in the Zelle network.

What prepaid cards work with Zelle?

Zelle does not support prepaid cards to transfer funds using the Zelle app, only debit cards that are linked to a bank account.
It supports most Visa and Mastercard debit cards.

Can you send money from Zelle to Apple Pay?

You can't send money directly from Zelle to Apple Pay, because Zelle does not have a digital wallet to hold cash. However, if you receive money to your bank account through Zelle, you can link that bank account to Apple Pay and transfer the funds to your Apple Pay digital wallet.

Can Zelle send money to Venmo?

You can't use Zelle to send money to Venmo. However, if you have a bank account that supports Zelle, you can connect that bank account to your Venmo account and transfer funds from the bank account.
Make Your Money Work Better for You
Editorial Note: This content is not provided by any entity covered in this article. Any opinions, analyses, reviews, ratings or recommendations expressed in this article are those of the author alone and have not been reviewed, approved or otherwise endorsed by any entity named in this article.