20 Jobs You're Most (and Least) Likely to Live Paycheck to Paycheck

10 min Read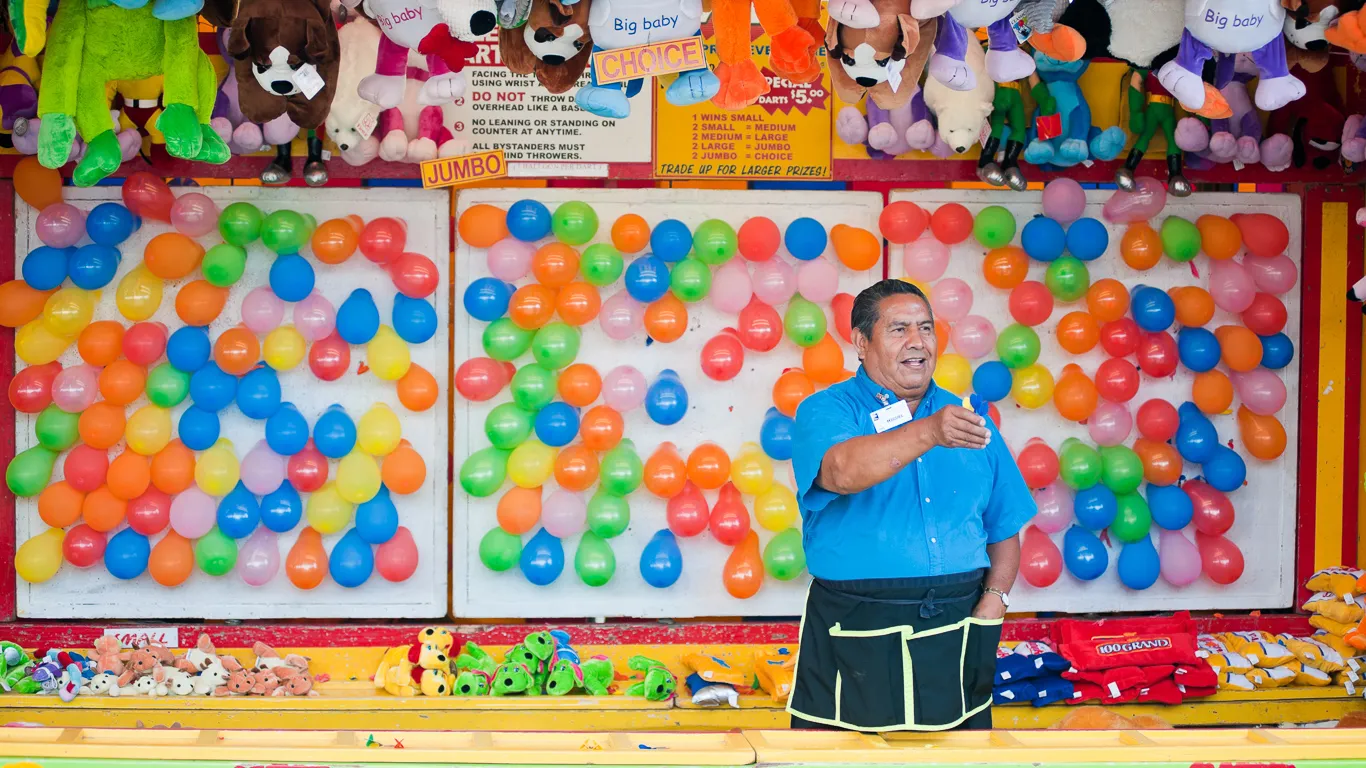 Make Your Money Work Better for You
10 Jobs You're Most Likely to Live Paycheck to Paycheck
The lowest-paying jobs typically don't require any formal education, which might make them ideal for high school or college students looking to earn extra cash, and most provide on-the-job training. But the pay for these 10 jobs might not be enough to cover the annual cost of living for a single adult.
Explore: The Minimum Salary You Need To Be Happy in the Biggest Cities
Gaming Dealer: $11.41 Per Hour
People go to casinos hoping to strike it rich playing poker or blackjack. But the people dealing the cards are far from rich with an annual median salary of just $23,733. They also know the house always wins, so you can't count on games of chance to become wealthy. Avoiding get-rich schemes and having multiple sources of income are some secrets to getting rich and maintaining your wealth.
Waiter and Waitress: $11.42 Per Hour
Late nights, hours on your feet, stress from having to serve customers quickly — that's all part of the job for waiters and waitresses. What this job doesn't come with, though, is a big paycheck. The median annual salary is $23,754, which is almost $1,000 short of covering the cost of living. As a result, waiters might need to work extra shifts or take a side hustle to make more money.
Find Out: 22 Side Gigs That Can Make You Richer Than a Full-Time Job
Fast Food and Counter Worker: $11.47 Per Hour
You can get a job serving food to diners at a counter without any formal education or previous work experience. But don't expect the pay to be enough to cover the cost of living. The annual median salary of $23,858 falls short of being enough to pay for everyday expenses.
Discover: 5 Things To Negotiate at Your Job Other Than Salary
Make Your Money Work Better for You
Restaurant Host and Hostess: $11.48 Per Hour
This job requires greeting restaurant patrons. But it might be hard to show them to their tables with a smile if you're struggling to make ends meet with this low-paying job. The annual median salary for a restaurant host or hostess is $23,878, which doesn't cover basic living expenses for a single person.
Shampooer: $11.63 Per Hour
Shampooing and rinsing customers' hair at a salon doesn't take a college degree or any formal training. As a result, it's one of the lowest-paying jobs. The annual median salary of $24,190 might, however, help pay for cosmetology school to become a stylist — if you have someone, such as a parent, helping you cover over $450 in excess cost-of-living expenses while you learn.
Learn: Tips To Keep Your Finances in Order Without Sacrificing What You Want
Fast Food Cook: $11.72 Per Hour
Fast-food cooks get their training on the job. But it's one of the lowest-paying jobs because it doesn't require formal education. With a median annual salary of $24,378, fast-food cooks might need to juggle a second job to make ends meet.
Explore: The Minimum Salary You Need To Be Happy in the Biggest Cities
Amusement and Recreation Attendant: $11.90 Per Hour
Working at an amusement park or recreation facility might seem like a fun job, but earning $11.90 an hour will make it hard to have fun off-hours. With a median annual salary of $24,752, you'll barely cover your basic expenses, never mind pay for extras.
Bartender: $12.00 Per Hour
Bartenders have a tough job and even tougher hours, but you'd never know it by the salary. A median annual income of $24,960 gives bartenders barely $300 per year above what they need to pay their basic expenses, which means you'll definitely live paycheck to paycheck if you go into this line of work.
Make Your Money Work Better for You
Lifeguard and Ski Patrol: $12.03 Per Hour
The low salaries earned by protective service workers like lifeguards and ski patrol belie the training required for these positions and the level of responsibility they entail. These workers might need a second job or a roommate to make their $25,022 annual salary go a little further.
Dining Room and Cafeteria Attendant and Bartender Helper: $12.03
Ironically, the workers who support servers and bartenders also out-earn them. Better pay, fewer skills needed and perhaps less job stress could make these jobs more desirable for some hospitality workers. But with annual earnings of just $25,022, they'll still live paycheck to paycheck.
10 Jobs You're Least Likely to Live Paycheck to Paycheck
To earn the big bucks, you have to put in your time first — time in college, possibly graduate school, and on the job. You might also have to work long hours. Even though you'll have plenty of money to cover the cost of living, maintaining a work-life balance with these jobs might be hard.
Judge: $67.83 Per Hour
Lawyers who want a bigger paycheck can climb the career ladder to become a judge. After covering the cost of living, a judge's median annual income of $141,086 leaves them with $116,435 to pay down debt, save for retirement or cover other expenses.
Becoming a judge typically takes several years of experience practicing law as an attorney — which first requires a law degree and passing a state bar exam.
Marketing Manager: $68.35 Per Hour
Marketing managers have an annual median income of $142,168, leaving them with $117,517 after covering the cost of living. This job involves planning and coordinating marketing programs for companies and organizations. It can include determining the demand for a company's products, overseeing product development and developing pricing strategies.
To get this lucrative job, you don't necessarily need a master's degree. Most marketing managers have a bachelor's degree in marketing, communications, business or similar field.
Make Your Money Work Better for You
Architectural and Engineering Manager: $71.89 Per Hour
A job planning and coordinating architectural or engineering projects might pay well. These managers have $124,880 left after covering daily expenses on a median annual salary of $149,531.
To be an architectural or engineering manager, you need a bachelor's degree and at least five years of experience as an architect or engineer. However, getting one of these jobs might be tough because the Bureau of Labor Statistics expects strong competition in this field.
Computer and Information Systems Manager: $72.67 Per Hour
One of the hottest and highest-paying STEM jobs, computer and information systems managers make a lot of money coordinating computer-related activities for organizations. This job typically requires a bachelor's degree and five years of experience.
With a median annual salary of $151,154, computer and information systems managers would still have $126,503 left after covering the cost of living.
Dentist (General Practitioner): $76.41 Per Hour
With a median annual income of $158,933, dentists could easily cover the cost of living and have $134,282 left over — which they might need to pay off undergraduate and graduate school loans. To become a dentist, you have to get a bachelor's degree, graduate from a four-year dental school and then pass a licensing exam.
Pediatrician: $85.16 Per Hour
Although pediatricians don't make quite as much as some other doctors, their annual median income of $177,133 gives them enough to cover their cost of living and then some. The extra $152,482 they have after paying everyday expenses could be used to quickly pay down student loan debt they have from medical school.
In addition to a bachelor's degree, pediatricians have to go through four years of medical school and three years in a residency program. Those who specialize have to spend another two to six years in a fellowship.
Make Your Money Work Better for You
Dentist (Specialist): $88.12 Per Hour
There's a lot to be said for a general practice, where dentists make good money performing a variety of services for a diverse population of patients, but specialists have even higher earnings. Dental specialties include anesthesiology, endodontics, radiology, surgery, pathology and orthodontics. Dentists who follow these paths can expect to have $158,639 left over from their median annual salary of $183,290.
Nurse Anesthetist: $88.26 Per Hour
This job involves assisting anesthesiologists and overseeing patient recovery from anesthesia. A median annual income of $183,581 leaves nurse anesthetists with $158,930 after paying cost-of-living expenses. Add on that this is one of the few jobs still offering pension plans, and you have a lucrative retirement ahead of you.
To get a job as a certified nurse anesthetist, you need a bachelor's degree in an appropriate area of study, a license as a registered nurse or advanced practical nurse and at least a master's degree from an accredited nurse anesthesia education program. By the time you sit for your National Certification Examination, you'll have invested at least seven years and over 9,000 hours of clinical experience to qualify, according to the American Association of Nurse Anesthetists.
Chief Executive: $89.40 Per Hour
Being a chief executive comes with big responsibilities and, often, a big paycheck. CEOs plan and direct the operational activities of companies or organizations and make sure they meet their goals. They earn a median annual income of $185,952 that easily covers the average cost of living and still leaves $161,301 to indulge in hobbies only the rich can afford.
A college degree typically is the ticket to becoming a CEO — but not a requirement. Examples abound of people who became the head of companies without a college degree, such as Microsoft founder and billionaire Bill Gates.
Make Your Money Work Better for You
Family Medicine Practitioner: $99.70 Per Hour
It's probably no surprise that the highest-paying career is in the medical field. Family medicine practitioners earn six figures diagnosing diseases and treating patients. With an annual median income of $207,376, they're the least likely on our list to live paycheck to paycheck because they still have $182,725 after covering the cost of living.
It's worth noting, however, that earning a lot of money doesn't guarantee you won't be living paycheck to paycheck. Even the rich make money mistakes that can leave them struggling financially.
More From GOBankingRates
Daria Uhlig contributed to the reporting for this article.
Methodology: GOBankingRates began by analyzing the May 2020 National Occupational Employment and Wage Estimates data on detailed occupations from the Bureau of Labor Statistics to identify the highest and lowest paying jobs in terms of median hourly wage. Then, GOBankingRates used the Bureau of Labor Statistics' 2019/2020 Midyear Consumer Expenditure Survey data table 1502 to estimate the total annual cost of necessities for a single person, calculated as the combined annual cost of groceries, housing, utilities, healthcare, transportation, and miscellaneous expenses. The detailed breakdown of definitions used for each expense category can be found in the All Data tab. GOBankingRates then subtracted the total annual cost of necessities from each featured job's median annual income to determine how much of a shortfall or surplus there would be for a worker employed in each occupation. All data was collected on and up to date as of May 24, 2021.
About the Author