4 Career Moves To Make If You Were Passed On for a Promotion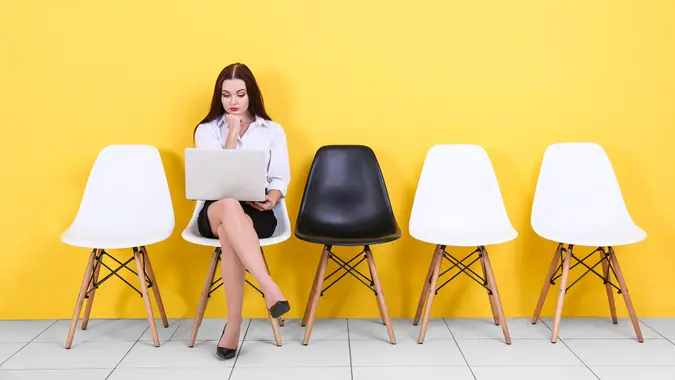 Africa Studio / Shutterstock.com
When you're expecting to get a promotion and don't end up receiving one, it can throw a real wrench in your planned career trajectory. But depending on the situation, you may be able to use this as a learning opportunity to make yourself a better candidate for future promotions within your company. On the other hand, it may be a sign that it's time to consider looking for a new job.
Here are the career moves you should make if you were passed on for a promotion.
Look For Reasons the Other Candidate May Have Been Chosen
"Take stock of the situation with a realistic eye," said career expert Laura Smith-Proulx. "Perhaps the winning candidate has more specialized expertise or leadership insight in your field, or even a better network inside the company. It's possible that the hiring team favored someone who was ready to change the organization, rather than maintain the status quo.
"Look carefully at the background of the person who was promoted before asking for feedback on your own performance," she continued. "Review their LinkedIn profile to gain insight into their past experience and qualifications. You might see clear reasons they were selected for the job over you."
Ask For Feedback
Although it's always hard to get negative feedback, it's important to know for certain why you were passed over for a promotion. Speak to the hiring manager about where you may have fallen short of being able to fulfill the new role.
"Make sure that the feedback is clarifying and provides you with a roadmap of what concrete steps you can take to be considered should a future opportunity open up," said Jennifer Miller, a leadership coach, HR professional and interim head of people and coaching at Lingo Live. "For example, ask 'What are the top two or three things that I can work on that would best position me for a promotion in the future?'"
Make Your Money Work Better for You
In addition to asking the hiring manager for feedback, you may also want to ask other colleagues for their feedback.
"Remind them that their transparency will only help you learn and improve," Miller said. "Ask them the same questions: 'Based on your working history, what are the top things that they feel would help you to excel in the organization?' 'What am I doing or not doing that I don't know about?' 'How do you think I can better support the organization?'"
Invest In Your Growth
Once you've gathered feedback, it's time to put it into action. Take steps to fill any gaps you may have and gain skills you may be missing.
"Consider taking courses or do independent learning to upskill," Miller said. "Work with a coach who will help you set your goals, create an action plan and be your accountability partner in working on that feedback."
Have a Plan B
"If your feedback session doesn't give you clarity on why you were not selected for promotion and doesn't help you to understand what you can do to work toward a promotion, or there if does not appear to be any reason why you were not selected, be prepared to take other steps in your career," Miller said.
In addition to vague feedback, another red flag — and a sign it may be time to move on from your current employer — is if the person who was promoted got the job because of favoritism rather than any objective reason.
Make Your Money Work Better for You
"If you have insight into the reasons another candidate was selected over you — and it's clear that favoritism or other internal politics were at play — the writing might be on the wall," Smith-Proulx said. "This could be especially true if you've been denied a promotion or raise in other situations at your employer."
If you decide to leave your current company, work to secure your future job prospects before taking the leap.
"Network consistently within your industry, research other companies of interest, identify specific roles that you may be interested in, and develop skills and competencies that could help you be successful in getting one of them in the future," Miller said.
More From GOBankingRates