How Will Ongoing Climate Change Efforts Impact US Jobs?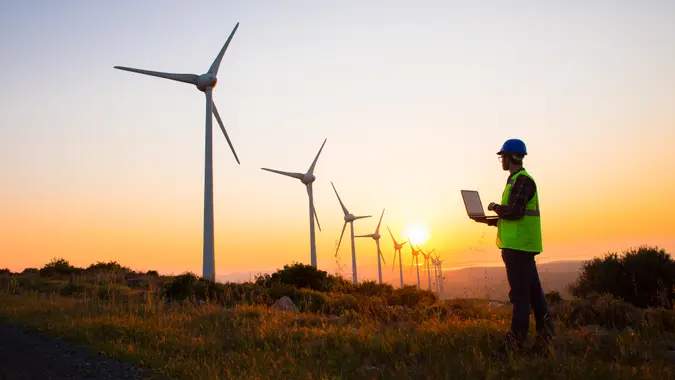 BulentBARIS / Getty Images/iStockphoto
President Joe Biden's new infrastructure bill is heavily focused on tackling climate change. According to The New York Times, sources familiar with the bill said that "it includes building electric power lines that can deliver more renewable energy, building electric vehicle charging stations, capping oil and gas wells to reduce emissions and reclaiming abandoned coal mines. There is money to build a million new affordable, energy-efficient housing units and to make existing structures more energy efficient. Hundreds of billions of dollars would go toward 'high-growth industries of the future,' such as advanced battery manufacturing."
Read More: How Climate Change Will Affect Your Investment Opportunities
And while this all sounds incredible from an environmental perspective, what will this mean for U.S. jobs? Will the jobs lost due to a shift to being a more environmentally friendly country outweigh the jobs that would be created? Could retraining help transition people from eliminated jobs into green jobs? These are complicated issues and it's hard to project exactly what will happen — but here's a look at what's already happening and what could happen down the line.
Make Your Money Work Better for You
Biden Is Already Cracking Down on Fossil Fuel Pipelines
While it remains to be seen exactly what will be passed as part of Biden's proposed infrastructure bill, the president has already been making moves that affect the fossil fuel industry. During his first day in office, Biden vetoed the Keystone XL pipeline, a major oil project. He also paused new leases for oil and gas drilling on federal lands. This marks a direct reversal of former President Donald Trump's actions — he approved the Keystone XL pipeline and the Dakota Access pipeline, and also opened up almost all federally managed land and ocean for oil and gas drilling.
In the News: Gates Touts Electric Cars, Synthetic Meat and Less Air Travel During Reddit Chat on Climate Change
Some labor leaders are worried about the negative effects Biden's actions could have on employees who work in the fossil fuel industry, even if these workers are transitioned into new, green jobs. According to the 2020 U.S. Energy and Employment Report, only about 4% of solar industry workers and 6% of wind-sector workers are unionized, compared to about twice that in coal- and gas-fired power plants. Perhaps as a result of their lack of union protections and bargaining power, wind turbine technicians and solar panel installers are typically paid less than those with similar positions in the coal, oil and gas industries.
Make Your Money Work Better for You
Can Fossil Fuel Workers Easily Transition Into Green Jobs?
Pay aside, another issue with eliminating fossil fuel-based jobs is the question of whether or not these workers can move seamlessly into new positions. Swinerton Renewable Energy President George Hershman told The Washington Post that the skills in demand in the solar industry are comparable to those found among traditional power plant operators. "There is an ability to transfer that workforce," he said.
Related: Wells Fargo Aims for Net Zero Carbon Emissions by 2050
Offshore wind power projects can also be a source of new jobs for displaced workers. Last November, Orsted, an offshore wind development company, announced an initiative with North America's Building Trades Unions, a labor organization representing skilled craft professionals, to transition U.S. union construction workers into the offshore wind industry.
It seems that many of the eliminated jobs can be transitioned into new jobs — but will there be enough?
Make Your Money Work Better for You
The Biden Admin Has Promised Millions of New Jobs
National climate advisor Gina McCarthy has said the Biden administration's infrastructure plan will "produce millions of American jobs that are going to be good-paying, that are going to be jobs that have the opportunity for workers to join a union," The Washington Post reported.
Related: How Biden's Economic Plan Differs From the Obama Era Recovery So Far
Although it's certain that jobs will be lost — including those associated with coal mining and oil pipelines — some experts believe the net effect of Biden's proposals will be positive. Jeff Navin, a former chief of staff at the Energy Department, told NBC News that Biden's climate proposals include "aggressive spending" to ensure that more high-paying jobs are created than are lost.
Find Out: How To Visit 30 Beautiful Places Before They Disappear
Recently, Senate Democrats have proposed the BUILD GREEN Infrastructure and Jobs Act, "which would invest $500 billion over 10 years in state, local and tribal projects to jumpstart the transition to all-electric public vehicles and rail and help modernize the nation's crumbling infrastructure." According to a statement from Congresswoman Alexandria Ocasio-Cortez, the act would "create nearly one-million good-paying jobs" with strong labor protections.
What Can Be Done To Protect Fossil Fuel Workers?
While Democrats and environmentalists are promising that fossil fuel workers will be able to find new, high-paying jobs in climate-friendly industries, some groups are advocating for additional government policies to ensure that this will be the case.
Socially Responsible Investing in 2021: How Can You Invest Responsibly?
A March 25 report from the Resources for the Future and Environmental Defense Fund outlined the ways that federal lawmakers can protect fossil fuel workers and their communities as the country transitions to a low-carbon economy. The report outlines suggested policies and programs the government should enact, including:
Discover: How the Biden Administration Could Be Impacting Your Investments
"Programs that protect workers and help them find new jobs, including job training, career services, and supplemental supports such as childcare; as well as protections for workers, such as compensation standards and workplace safety standards.
Policies such as grants to help diversify local economies, loans for small businesses, and technical assistance for local planning efforts, all of which can bolster local economies where jobs and revenue from fossil fuel production have been lost in the past and may be lost in the future.
Programs that can build and update critical infrastructure that enable businesses to thrive. In communities with a legacy of pollution, environmental remediation programs can help create healthier, cleaner communities while creating near-term jobs.
Public benefit programs — such as unemployment insurance, pension and health care programs — are an essential first line of defense for workers and families and help stabilize local economies."
A Difficult Balancing Act
It's clear that Biden faces a challenging road ahead.
"He wants to be the best union president ever, but at the same time, he's also said he wants to be the president that finally does something real about addressing the climate crisis," Joe Uehlein, president of the Labor Network for Sustainability, told NPR. "That's going to be a very difficult balancing act."
Read: Biden's Two-Part $3 Trillion Economic Plan Aims to Improve Infrastructure, Fight Climate Change
And while it may be difficult, Richard Trumka, president of the AFL-CIO, the largest federation of unions in the United States, is optimistic that it's possible to protect workers while also protecting the environment.
"People want to make everybody believe it's an either/or — that you have to [fix] climate change and [have] no jobs, or you can have good jobs and no climate change [solution]," he told NPR. "That's just not true. There's a path to navigate where you can fix climate change and get good jobs."
More from GOBankingRates
Make Your Money Work Better for You