10 Best Jobs Like Instacart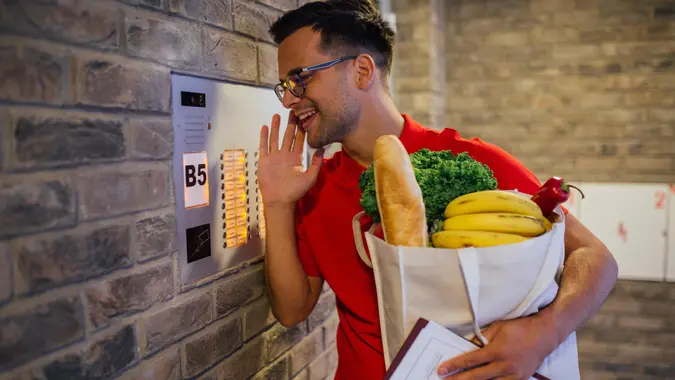 Brothers91 / Getty Images
Instacart is a platform that lets customers buy their groceries online or through a mobile app from nearby stores. If you're looking for jobs like Instacart, you are in luck as multiple companies offer similar services for drivers and shoppers.
10 Jobs Like Instacart
Here is a look at ten companies that offer jobs like Instacart, helping you earn money whether you have a car or prefer to shop in-store, instead.
1. DoorDash
Potential earnings: $2.00 – $10.00 per order + 100% of tips
DoorDash is one of the most popular food delivery companies in the U.S. today. Its Shop & Deliver option allows customers to place orders with grocery, retail and convenience stores and have them delivered to their doorstep. As a Dasher, you are an independent contractor who can accept the order, shop for the items, pay and deliver them to the client.
2. Amazon Flex
Potential earnings: $18.00 – $25.00 an hour, depending on your location, tips and the delivery time
Make Your Money Work Better for You
Amazon Flex is a service that lets you use your vehicle to deliver Amazon packages. To work as a delivery partner, you must be at least 21, have a driver's license, a mid-sized or large vehicle and a smartphone. Once Amazon approves your application, you can start delivering packages based on the blocks you choose and schedule.
3. Shipt
Potential earnings: $7.25 – $27.85 per hour + 100% of tips
Shipt is a service similar to Instacart where customers can order groceries and household items from retailers and receive them at their doorstep. Shipt shoppers shop and deliver the items to the customer, while Shipt drivers reserve routes, pick up packages and deliver them without shopping.
4. TaskRabbit
Potential earnings: Varies based on the task and your rate — some Taskers charge upwards of $160.00 per hour for select services
TaskRabbit is a site that lets users browse a catalog and choose someone to take on a task. The task categories vary from cleaning services, moving, handypersons and personal assistant tasks. As a Tasker, you are an independent contractor who can set your hourly rate for the jobs you complete.
5. Uber Eats
Potential earnings: $17.68 – $24.27 per hour + no service fees on tips
Make Your Money Work Better for You
Like DoorDash, Uber Eats is a food delivery platform that lets customers order groceries. As a grocery delivery driver, you receive the order through the Uber Eats app and collect the items on the customer's shopping list. Once you ensure the order is accurate, you deliver the groceries to the customer's specified location.
6. GoPuff
Potential earnings: Variable base pay depending on delivery + 100% of tips
GoPuff is a retail company and service that delivers home essentials, alcohol, tobacco and groceries to clients. As a driver, your job is to pick up packages from fulfillment centers and deliver them to the client.
7. Cornershop
Potential earnings: $16.66 per hour
Cornershop is a service owned by Uber that offers jobs like Instacart. Customers can order groceries and receive them at their desired location. You can become a shopper or a driver depending on your availability and whether you have a personal vehicle. Shoppers do not need a driver's license to start working.  
8. PostMates
Potential earnings: Varies by city and per order
Postmates is a delivery service that allows you to make deliveries to customers who order alcohol, food, groceries and household essentials. As a courier, you are an independent contractor who delivers to clients and makes money depending on the delivery.
Make Your Money Work Better for You
9. Grubhub
Potential earnings: Varies, but you receive base pay, Grubhub contributions, special bonus offers and keep 100% of tips
Grubhub started as a food delivery service that delivers orders from the restaurant to the customer. Nowadays, it expanded its operations through a membership service to include grocery and convenience store delivery. As a driver, you can make excellent side income, especially if you choose to work with other companies.
10. Favor
Potential earnings: Varies depending on the delivery fee + 100% of tips
Favor differs from the other companies on the list because they describe their contractors as personal assistants instead of delivery drivers. Customers can order services from food delivery to grocery runs and dry cleaning.
What Is an Instacart Shopper?

Instacart has two types of shoppers who fulfill orders: Full-service and in-store.

Full-service shoppers are independent contractors who can choose their working hours. Once they receive an order, they select and purchase the groceries on behalf of the customer, then deliver them to the specified address.

In-store shoppers prepare the orders but do not participate in the delivery process. Unlike full-service shoppers, they are not independent contractors but part-time Instacart employees who work scheduled shifts, up to 29 hours a week. This position is less flexible regarding scheduling but may be a more feasible option for individuals who do not meet the requirements for a full-service shopper role.
Make Your Money Work Better for You
Takeaway
Working as a delivery driver or shopper is an excellent way to set your hours and make money on your terms. You don't have to work with one company and can simultaneously perform several jobs like Instacart for additional income.
The companies on this list provide support and assistance when needed, with thousands of users monthly. With some planning and dedication, you can make a steady income based on your availability and circumstances without sacrificing family or personal time.
FAQ
Here are the answers to some of the most frequently asked questions regarding jobs like Instacart.
Is there anything similar to Instacart?

Yes, there are quite a few companies that offer jobs very similar to Instacart. Here is a look at a few:

1. DoorDash
2. Amazon Flex
3. Shipt
4. TaskRabbit
5. Uber Eats
6. GoPuff
7. Cornershop
8. PostMates
9. Grubhub
10. Favor

 What pays better than Instacart?

On average, Instacart pays $8.00 to $23.11 per hour. Two options that would pay more would be Amazon Flex which pays $18.00 to $25.00 an hour and Uber Eats which pays $17.68 to $24.27 per hour. Keep in mind that jobs like Instacart will range in pay depending on your location, shifts and tips.

How does Instacart work?

After a customer creates an account on Instacart's website or mobile app, they choose the stores they want to shop from and add the items to their virtual cart.
When they place their order, an Instacart shopper receives a notification, picks up the items from the store and delivers them to the customer.
Instacart also offers a more cost-effective pickup option, allowing them to collect their orders directly from the store after a shopper prepares them.
Make Your Money Work Better for You
Information is accurate as of April 7, 2023. 
Our in-house research team and on-site financial experts work together to create content that's accurate, impartial, and up to date. We fact-check every single statistic, quote and fact using trusted primary resources to make sure the information we provide is correct. You can learn more about GOBankingRates' processes and standards in our editorial policy.
Make Your Money Work Better for You