16 Ways To Teach Your Kid Healthy Work-Life Balance Lessons Every Day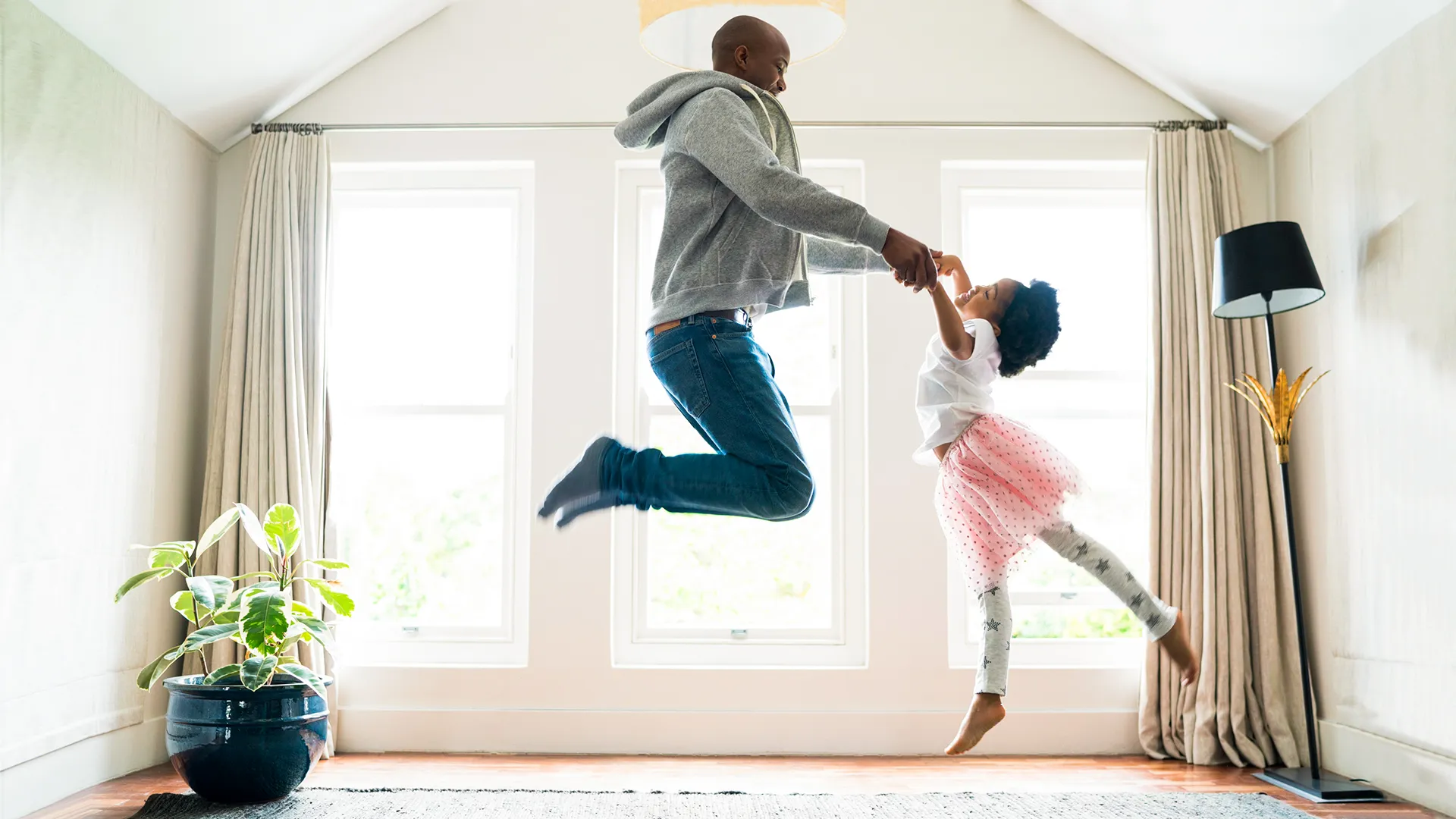 Get up, rush to school, take a few tests, practice for a choir concert, stay after school for sports, go to a guitar lesson, squeeze in homework between dinner and bedtime. Sleep, wake up and repeat. Many kids these days have nonstop schedules like this. The hope — usually of their parents — is that hard work before, during and after school will pay off in the long run.
But there needs to be a balance. Kids have to understand the benefits of both working hard and taking time to relax and enjoy life. This is something that parents can help them learn. Find out how from eight parents who have successfully taught their children healthy work-life balance lessons.
Lesson: Work Is Important
Play is important for children's development, but kids also need to be taught the value of hard work. Debt relief attorney Leslie Tayne said she believes in leading by example to teach this lesson to her children. "I have always explained to my children that, 'Mommy goes to work and she loves you and thinks about you during her day, but it's important that mommy works for our family,'" Tayne said.
She said she has explained to her children what benefits the family gets because she works, and they have benefited from watching her build a business. "They know work is important to me, as is my family time with them," Tayne said. "That's something I hope they've taken away from the example I've set. You can work hard and build a good reputation for yourself, but also have time to do the things you enjoy, like spending time with your family. The two don't have to be mutually exclusive."
Make Your Money Work Better for You
Lesson: Work Can Be Fun
There's probably not a parent out there who hasn't been met with resistance from their kids when they've asked them to do work around the house. But parents might be able to get a different reaction if they help their kids develop the right mindset about work.
Peter Koch, founder of the blog Seller at Heart, said he recently taught his children that work can be fun, by building a dog house with them. They planned the design, bought the lumber, then built the dog house from the ground up while playing and working, he said.
"Actually, the whole idea is to show that hard work doesn't have to be that hard," Koch said. "It is all about the mindset. Work as play, play is fun, play is what we want to do." And when the dog house was complete, he and his kids were proud of what they had built, he said.
Lesson: You Can Prioritize Work and Play
It's important for kids to learn from a young age about putting first things first. For example, when Andrew Herrig works from home on Fridays, his two young children constantly beg him to come and play. "I have to tell them that I am working right now, but as soon as it hits 5:00 I would love to play," he said.
He lets them know that work is a priority but that they are, too, because he stops working when he tells them he will. "I think it's important to show my kids that I work hard to provide for the family but that play time is also a priority," said Herrig, who blogs about pursuing financial freedom while raising kids at Wealthy Nickel.
Make Your Money Work Better for You
Lesson: Do What You Need To Do and What You Love
Herrig is trying to teach his 3-year-old daughter about the importance of balancing doing what she enjoys with doing what needs to be done. He and his wife encourage her to practice her letters and numbers even though she doesn't like it.
However, they balance out the requests for her to do things she doesn't like with encouragement to do what she truly enjoys — artwork. "It's a balance to get the work done she needs to do to be ready for kindergarten, while also learning to not push to the side the things she loves doing," Herrig said.
Lesson: Separate Work From Play
Miranda Marquit said it's important for her to lead by example by showing her son how to separate work and play. That's why she makes an effort not to let work distract her when she's spending time with him.
For example, there are times when she has to work while they are on vacation, but she doesn't let it interfere with their "play" time. "While we were on spring break this year, I did my work before we left the hotel room — and didn't look at my email or mess with Twitter while we were enjoying ourselves," said Marquit, who is a personal finance expert and founder of Planting Money Seeds.
Lesson: Make Time To Relax
Marquit said she also is teaching her son to how to de-stress by building time into his schedule for relaxation. For example, he recently dropped an extracurricular activity that was adding more stress to his life.
And she's not pushing him to overburden himself by taking too many college-level courses that will give him dual credit while in high school. "He's aware that these courses will take more time and energy, so, rather than insisting that he have his associate's degree by the time he finishes high school, I'm letting him feel out where things are," Marquit said. She'd rather he take fewer dual-credit courses so he can learn how to enjoy himself and understand the importance of taking time to de-stress and recharge.
Make Your Money Work Better for You
Lesson: Celebrate Small Wins
Kim Studdard wants her daughter to learn that achieving a good work-life balance involves celebrating successes along the way — even small wins.
"I'm teaching her that even something as simple as celebrating a clean room is enough sometimes," said Studdard, who is the creator of The Entrepremomer blog. She wants her daughter to know that it's OK for her to be proud of herself.
Lesson: It's OK To Take a Mental Health Day
Because Studdard has suffered from depression and attention deficit disorder, she said she's teaching her daughter that it's important to take care of mental health to function well.
"If she's having an off day, or if she just doesn't want to go to preschool because she's been having some tough and long weeks, we take some time out and just go have a girls' day," Studdard said. "She does a lot between preschool — Spanish classes and sports. So having that time to herself really helps get her in the right frame of mind and teaches her that it is OK to take some time off."
Lesson: It's OK to Have 'Me' Time
Studdard used to work 60-plus hours a week when her daughter was born. But she wanted to set a better example of how to take care of herself, so Studdard now works just four days a week and devotes Saturdays to "me" time.
"She realizes that Mommy has to take time for herself so she can have a full cup for the rest of the week to give to others," Studdard said. "Self-care is a priority for me, and I'm teaching her through my own actions that it should be a priority for her."
Lesson: Failures Can Be Learning Experiences
As a motivated and competitive entrepreneur, Chris Huntley said it's tempting for him to push his three daughters to succeed at everything they do. "I've learned, though, that there are great lessons for my kids to learn if I take a step back, let them live and make their own decisions, and let them fail," said Huntley, who is the co-founder of Credit Knocks.
For example, he recently watched one of his girls fail a math test, another get a large sum of birthday money only to blow it on a toy she never plays with and his middle child missed a penalty kick that would have tied her soccer game. "I found all of these great opportunities to step in and offer help with math, soccer and saving money," he said. "This way, my attempts to improve my kids appeared to them as help instead of pushing."
Make Your Money Work Better for You
Lesson: It's OK To Quit Under the Right Circumstances
Parents walk a fine line between encouraging their kids not to give up and pushing them too hard not to ever give in. Sometimes, the best thing they can do to help their kids have a healthy work-life balance is to help them understand when it's OK to quit.
Julie Rains said that her son will graduate in May with a degree in aerospace engineering. "At some point in his college career, he decided he'd like to take on another major to become more well-rounded," said Rains, who is creator of the blog Investing to Thrive. "He settled on sociology. During the first day of his second sociology class, he began to regret this decision."
So Rains encouraged him to drop his second major. "He didn't need my permission really, but I think he may have been reassured that, in some cases, it's really OK to quit something that doesn't fit your life anymore."
Lesson: Find Easier Ways To Accomplish Goals
Rains encouraged her son to drop his sociology major because she could see that he had been pushing himself too hard and needed to de-stress. However, she helped him find an easier way to accomplish his goal of being more well-rounded.
"As a more relaxing substitute, we often read and discuss books together that relate to sociology," Rains said. He's still achieving his goal, but he's doing it in a way that allows him to have a better work-life balance.
Lesson: See the Value in Quality Over Quantity
Debbie Schwartz chose to move her son from a public high school to a private school because she wanted him to have a better work-life balance. At his public high school, there was a lot of pressure to take as many advanced placement classes as possible. "In competitive high schools, it's become an arms race as to how many AP classes a student can take," said Schwartz, who is the founder of college admissions and financing advice website Road2College.
Many private schools, on the other hand, are not offering AP classes because they don't see the value in quantity over quality, she said. Schwartz would rather that her son learns that quality of work matters more than the quantity of work.
Make Your Money Work Better for You
Lesson: Give Your All
Schwartz said that another important work-life balance lesson that she has taught her children is that it is important for them to give their all. What matters is the effort more so than the outcome.
"If you feel you've done everything you could have, then that's your best – regardless of the outcome," she said. "If the outcome isn't what you like or want, then learn from the experience."
Lesson: Advocate for a Work-Life Balance
Although Schwartz wants her children to work hard and give it their all, she also wants them to stand up for their right to enjoy life along the way. For example, when her oldest daughter was in college, she had a professor who assigned a large project that was due the Monday after Thanksgiving break. Schwartz's daughter thought that students should be able to spend time with family rather than working on a project over the break. So, she told her classmates. They asked their professor to change the due date, and he agreed.
Lesson: Recognize You Can't Always Have the Balance You Want
Although striving for a work-life balance is important, children also need to learn that they can't always have the balance they want, Schwartz said. There are times when they have to work hard before they play hard. "I think that's OK as long as it's for the desired goal," she said. "If this happens, then dig in and get the work done knowing you'll take time to recoup after."
Teaching kids to be organized and plan ahead can help them get through the more stressful times better. Then when it's time to de-stress, encourage them to really recoup by relaxing and disconnecting from the digital world, Schwartz said.
More on Living Well