Where Workers Leaving the Restaurant Industry Are Going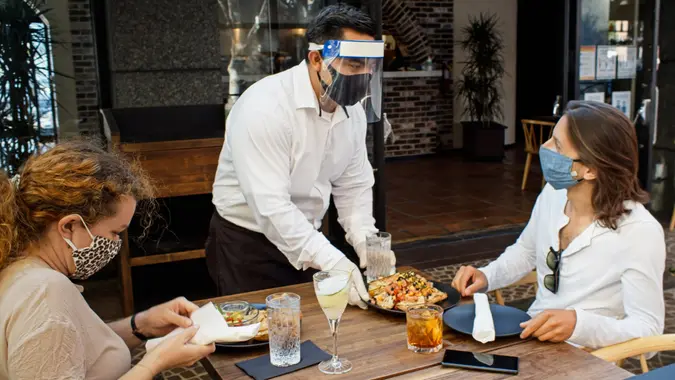 halbergman / Getty Images
The pandemic was devastating to many industries, but none may have been harder hit than the restaurant/foodservice industry, with indoor dining restricted heavily in most states for good chunks of 2020 and even into 2021. As restaurants reopened first to outdoor dining and then indoors again, many workers have cited feeling unsafe due to poor health protocols or customers not respecting them. And that's no surprise, given that restaurant workers were high among the numbers of people who fell ill and died from COVID-19 before the vaccine rollout.
2021 Small Business Spotlight: Check Out Our Small Business Stories, Plus the Nominated Businesses Near You
According to The Washington Post, millions of restaurant workers have left the industry with no plans to return despite increased job openings. According to a report by the nonprofit One Fair Wage, 53% of all workers surveyed said they were considering leaving their restaurant job since COVID-19 struck. That number increases for women — 54% of all women — and 55% of all mothers in this industry were thinking of jumping ship.
Related: 18 Restaurant Chains That Have Filed for BankruptcySee: 10 Careers That Are Booming During the Pandemic
Industry Issues Pre-Pandemic
While some of this exodus is certainly related to the pandemic, One Fair Wage's report states that the industry was already in crisis before the pandemic, particularly for women, and women of color, who make up the largest portion of workers in these often low-wage jobs.
The report authors wrote, "As one of the largest employers of women and one of the largest employers of subminimum wage workers, the restaurant industry plays an outsized role in perpetuating inequality among women, particularly women of color."
Find Out: 10 Unexpected Jobs You Can Do From Home
Their findings show that workers are largely leaving the industry due to low wages and tips, mothers being among the highest to contract COVID-19, and women reporting high incidences of sexual harassment.
Make Your Money Work Better for You
Other workers who left the industry, like 64-year-old Jim Conway of Pittsburg, decided to simply retire early because it wasn't worth going back. Conway told The Washington Post, "The main issue for me was safety. There are lots of people who don't want to participate in the old ways."
The pandemic highlighted problems that existed within the industry before COVID-19, according to 36-year-old restaurant worker Crystal Maher from Austin, Texas. She told The Washington Post, "People are forgetting that restaurant workers have actually experienced decades of abuse and trauma. The pandemic is just the final straw."
Looking To Change Careers Due to COVID-19? You're Not Alone
Where To Now?
So where are these disenfranchised restaurant workers going now? One worker who formerly worked at a Chili's ended up as a clerk at Walmart in Sarasota, Florida, according to The Washington Post. Another restaurant worker from Memphis, Tennessee, Allan Creasy, left bartending to go into fundraising. He told The Washington Post, in response to complaints about workers staying on unemployment too long as the reason the restaurant industry hasn't rebounded faster, "It's not that we're on unemployment. We did our unemployment stint, and we found something else."
A worker named Jeremy Golembiewski of California was furloughed from his restaurant job during the pandemic and went on unemployment. During that stint, he got to spend more time with his kids and wife and realized that he wanted a lifestyle change. He's polishing up his resume and looking into jobs in retail, insurance and data entry, according to NPR.
Find Out: Companies Hiring for Remote Jobs Right Now
Customer Service
A related industry that has been courting these disenfranchised restaurant workers is customer service in such fields as healthcare and other forms of hospitality, since many restaurant workers already have the necessary skills, according to the site Restaurant Business.
And in some regions, grocery stores have been able to glean former restaurant workers to keep them employed.
Make Your Money Work Better for You
The loss of jobs even spurred the Food Marketing Institute (FMI) to join forces with a tech company, Eightfold.ai, to create a nationwide job board that connects human resources and business leaders with employees who lost jobs due to COVID-19. They use AI algorithms to pair job seekers with open positions.
Read More: Remote Workers Hired During the Pandemic Are More Likely To Quit Jobs
Check Out: The 10 Most Common Jobs in America — And How They're Holding Up During the Pandemic
Respecializing and Remote Work
Other former restaurant and foodservice workers have taken the time to actually retrain for new careers. Lifelong bartender, 57-year-old Ellen Booth, had had enough of lugging around ice buckets and beer kegs before the pandemic. She was tired and in pain and had wanted to change careers for some time but felt limited by her lack of a college degree. When the pandemic hit, it gave her "the kick I needed," she told ABC10 news. She started a course to become a medical coder, a job that will be much easier on her body, and which she can do remotely.
The option for remote work is another effect of the pandemic on workers in general. Remote work can offer more possibilities for work-life balance, reduce the stress and costs of commuting, and allow workers to set their own schedules. Restaurant workers may be leaning toward jobs that are less physically taxing, and better paid, with remote options that enable them more time to be with family, or fewer child care dollars spent.
"We have changed. Work has changed. The way we think about time and space has changed," Tsedal Neeley, a professor at Harvard Business School and author of the book "Remote Work Revolution: Succeeding From Anywhere," told NPR.
More From GoBankingRates
Make Your Money Work Better for You
Last updated: July 1, 2021