Get Paid To Write: 10 Best Sites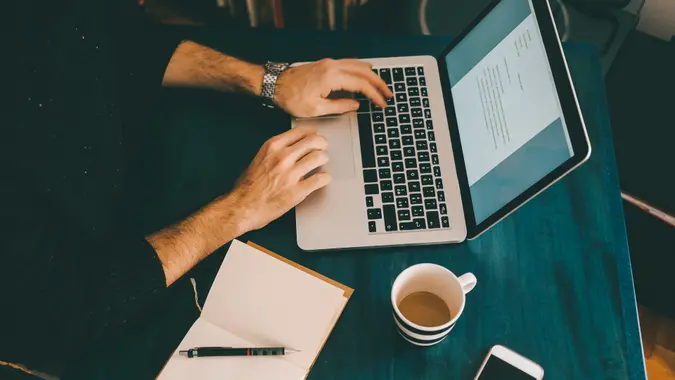 lechatnoir / Getty Images/iStockphoto
The path toward a writing career can take a lot of turns. Writing jobs don't just have to be passion projects, but rather you can earn money as a side hustle or even a full-time venture.
Whether you want to get paid to write articles, blog posts or even personal essays, start looking into what sites can help you earn money online and be worth your time. 
10 Best Sites That Pay You to Write
Copyhackers: Copywriting educational content
Copypress: Variable content
Fiverr: Variable content
Listverse: Listicles
Narratively: Narrative nonfiction
RankPay: SEO/digital marketing/small business blog posts
Reader's Digest: True micro-stories
Writer's Digest: Fiction, nonfiction and poetry
Unemploymentville: Employment and job-focused content
Vibrant Life: Christian philosophy and health
1. Copyhackers
Pay range: $300 to $1,000 per accepted article
Type of content: Educational
This content company not only has copywriting educational programs but also pays writers for guest posts or other articles. It is strict with its submission guidelines, so be sure to follow them exactly to avoid your work being put in the spam file. Copyhackers is competitive, as they typically choose around one out of 30 entries, but if chosen, your piece gets great exposure and is re-shared on several social media platforms.
2. Copypress
Pay range: 6 to 10 cents per word
Type of content: Varies
This content and marketing agency takes on many freelance writers, as well as offering free training for its site. The content clients request will vary, so you could write anything from true stories to personal stories to branded pieces. It also offers gigs to influencers and designers.
Make Your Money Work Better for You
3. Fiverr
Pay range: Set your own
Type of content: Varies
Fiverr is a great site for all types of beginning writers. It accepts submissions for many writing ventures, such as transcribing, proofreading, editing or article writing. The pay does range, as you can set your own rates based on your personal skillset and experience. You can upload a résumé and other writing samples to your Fiverr profile and get started.
4. Listverse
Pay range: $100 per list
Type of content: Listicles
If you like writing snappy, highly clickable posts such as listicles, then Listverse may be the site for you. What's even better is you can pitch and write about any topic you like, which, paired with the fact it pays $100 per list, makes it a pretty choice site for writers. Listverse just requests that your work is original and includes one to two paragraphs per item on your list and that you follow its author guide rules as listed on the website.
5. Narratively
Pay range: $300 to $400 per article
Type of content: Narrative nonfiction
As the name suggests, Narratively prefers submissions to be longform, human-interest, boldly told stories. It has several sections and topics that it takes unique submissions for, but be sure to incorporate solid storytelling threads throughout your narrative nonfiction piece.
6. RankPay
Pay range: $50 per blog post
Type of content: SEO/digital marketing/small business blog posts
RankPay is always looking for writers to enter blog submissions on topics covering small business, SEO or digital marketing copywriting. Be sure to follow the blog program submission guidelines so your pieces are chosen to help RankPay provide business solutions through content marketing.
7. Reader's Digest
Pay range: $100 per piece
Type of content: True micro-stories
Make Your Money Work Better for You
Reader's Digest is classic for a reason. Though it takes in submissions for and produces an array of writing, it is currently seeking smaller pieces — stories of 100 words or fewer. Even though it's a short piece, you still make $100, which makes it more than financially efficient for your time.
8. Writer's Digest
Pay range: 30 cents to 50 cents per word in print
Type of content: Fiction, nonfiction and poetry
Writing for writers is a great way to hone your craft and truly speak to an audience of your peers. As an instructive magazine for writers, Writer's digest focuses on industry trends, readership trends and other writers' success stories and how they accomplished it. It also holds various writing competitions for everything from poetry to personal essays to self-published books.
9. Unemploymentville
Pay range: $25 to $75 per blog post
Type of content: Employment and job-focused
In today's job market, unfortunately, there are many people experiencing the stress and woes of unemployment. On the bright side, Unemploymentville pays freelancers to write on topics such as dealing with job loss, small business ideas or job searching techniques. Plus, if you're an out-of-work writer, writing a blog post that potentially pays $75 has its appeal.
10. Vibrant Life
Pay range: $100 to $300 per article
Type of content: Christian philosophy and health
Though Vibrant Life is a bit more niche as a lifestyle magazine about the Christian perspective on philosophy and physical health, if this is a field you are interested in, it does pay its writers well — on average, it pays $200 per piece. In general, Vibrant Life accepts more in-demand shorter articles ranging from 450 to 650 words.
Make Your Money Work Better for You
Final Take
So often, writers are told their vocation is a passion project and they should settle to get paid in exposure or something else condescending that won't pay their bills. However, if you know where to look, there are numerous sites out there that will pay you to write. Even a small amount per piece grows your portfolio as well as your bank account.
FAQ
Here are some quick answers to frequently asked questions about what sites will pay you to write.
Where can I write content and get paid?

There are many sites that pay you to write content, including Copyhackers, Copypress, Listverse and Narratively.

How can I get paid for writing with no experience?

RankPay, Fiverr, Writer's Digest, Unemploymentville and Upwork are all good options for writers who don't yet have any published work. Just note that your beginning pay range may be lower than that of experienced writers, especially on freelancing sites.

Can you actually make money writing?

Yes, you can absolutely make money writing. There are many sites that publish submitted work on various topics, fiction and nonfiction both, or you can sign up for a freelance website like Fiverr and pitch your portfolio to companies looking to hire writers for various projects.
Information is accurate as of March 13, 2023, and is subject to change.