How To Make Money With 3D Printing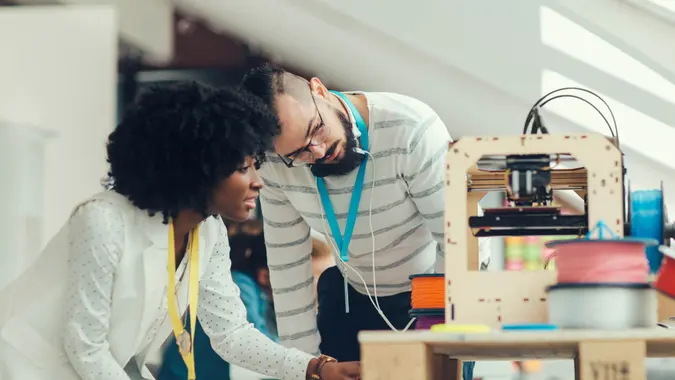 vgajic / Getty Images
The introduction of low-cost desktop and personal 3D printers has made the technology accessible to consumers and created a cottage industry for aspiring entrepreneurs willing to navigate a steep learning curve to make money from their machines. The 3D printing market has already reached $15 billion and is expected to more than double in the next five years, according to a growth analysis from Research and Markets. With retailers like Amazon and Staples bringing 3D printers to consumers, this could be the perfect time to start printing as an income-producing hobby or full-fledged business.
See: How To Build Your Savings From Scratch
How Does 3D Printing Work?
Of the several different 3D printing technologies available, the most common for consumer use is extrusion. With extrusion printing, a 3D printer functions similarly to an inkjet printer in that it has nozzles that extrude a material onto a surface. But whereas the inkjet printer extrudes ink onto paper to create a two-dimensional image, the 3D printer extrudes layer after layer — slices, if you will — of filament to build a three-dimensional object. Adorama, a retailer that sells 3D printers, likens the process to building a Lego structure, where you start at the bottom and add layers of bricks to build your model.
Here's how it works:
First, the maker selects a premade 3D model design or creates one using computer-aided-design software such as Tinkercad, which Adorama notes is free.
Next, the model needs to be digitally "sliced" into horizontal layers. Some CAD software does this automatically; otherwise, you'll need separate "slicer" software.
The software tells the printer how to lay the filament. Print heads extrude the filament onto a surface. With each layer, the surface drops a fraction of a millimeter to make room for the next layer. Layer by layer, the 3D printer builds the object until it's complete.
What Can You Make With a 3D Printer?
You can make a nearly endless assortment of objects with a 3D printer. The website for Thingiverse, a 3D printing community, features designs for a cellphone stand, vessels to hold everything from cotton swabs to plants, a corner bracket, a recorder (as in a flutophone) and a utility case — just on its homepage. If you can dream it up, design it (or find a design for it) and make it from plastic, you can 3D print it with relatively affordable equipment.
Make Your Money Work Better for You
That said, 3D model design is not for the fainthearted if you're starting from scratch. Not only do you need to learn how to design and model the object itself, but you'll also have to figure out how to program in supports for thin, overhanging sections that might collapse before the filament hardens.
If you want to get your feet wet with premade designs while you're building the skills to create your own, you can select from the seemingly infinite supply available online for free and for purchase. In addition to Thingiverse offerings, you can find printer-ready files on these sites:
MyMiniFactory: Good for role-playing game pieces
Cults: Good for jewelry
Sketchfab: Huge selection, including royalty-free designs
Pinshape: A marketplace with a huge selection of diverse designs
NASA: Small selection but makes up for it with cool factor — you can download models of spacesuits, Curiosity rover, Hubble Space Telescope and more, all for free
How Can I Make Money With 3D Printing?
3D printing offers several ways to make money. However, some of them require advanced skills.
Sell 3D-Printed Items
This might be the easiest way to make money with 3D printing because you can use premade designs. In that event, be sure they're royalty-free; otherwise, selling objects you make with the designs could violate the designer's copyright or patent. Most files have a license attached that explains how the design can be used, according to All3DP. You can sell your prints on Etsy and Facebook Marketplace or in your own online store.
Create and Sell 3D Designs
You can create your own 3D designs and upload the files to platforms like Cults, CGTrader and Shapeways. Some, including Shapeways, let you build your own shop.
Make Your Money Work Better for You
Offer 3D Printing Services
You can charge a fee to print 3D objects for businesses and individuals who have a design but lack access to a printer.
Create Content for 3D Printing Beginners
If you're passionate about 3D printing and have developed advanced skills, you can create a blog and YouTube, TikTok and Instagram channels to share tutorials and other content. Once you've grown your readership/viewership, monetize your accounts to generate income from advertising and affiliate marketing.
Teach 3D Printing
You can create a 3D printing course and charge students a fee to access it. A relatively easy way to reach students is through a platform like Skillshare. You have to apply and be approved, but once you are, you'll find plenty of tools for creating and promoting your class. You might also find opportunities to teach in person through local recreation and other community programs.
How To Get Started in 3D Printing
You'll need to make some decisions before you dive into 3D printing.
1. Consider What You Want To Print
First, think about what kinds of items you want to print and what that means in terms of the printer. If your models don't fit in the print area, you'll have to print components individually and glue them together later. In its guide to starting a 3D printing business, Indeed lists on-demand prototypes, customizable eyeglasses, collectible toys and replacement pieces for toys, game pieces, phone cases and home decor as being common markets.
2. Choose a 3D Printer and the Type of Filament You Want To Use
As for types of printers, you can choose between fused deposition modeling and stereolithography apparatus. FDM is the more common for home use, according to Wired. While it won't produce the level of detail you'll get with SLA, it's more flexible and easier to use.
Make Your Money Work Better for You
Among the specs to watch when you're shopping are speed and resolution. Wired recommends the standard 100 millimeters per minute speed and 10-200 microns of resolution for beginners.
Prices start below $300 for an entry-level 3D printer that's compatible with a desktop computer. Of PC-compatible models currently listed on Amazon, the highest-priced is just under $7,000.
Next, decide on the type of filament you want to use. Polylactic acid, or PLA, is the most common and is easy for beginners.
3. Select the Software You'll Use
Software is the last thing you'll need to get up and running. A CAD program like Tinkercad, which is free, lets you model your own designs. Alternatively, download designs from one of the platforms listed above — but check the license before you print a design for resale. Finally, slicer software translates the design file into instructions the printer uses to build the object.
Could 3D Printing Be a Moneymaker for You?
A simple 3D printing business is relatively easy and inexpensive to start, and you'll find plenty of royalty-free designs to practice with. But making serious money from any one strategy, and maximizing your earnings by combining strategies, will require higher-end equipment and a significant investment in upgrading your skills so you can create your own designs and teach others to do the same.
Our in-house research team and on-site financial experts work together to create content that's accurate, impartial, and up to date. We fact-check every single statistic, quote and fact using trusted primary resources to make sure the information we provide is correct. You can learn more about GOBankingRates' processes and standards in our editorial policy.