10 Best Paid Online Studies and Surveys 2022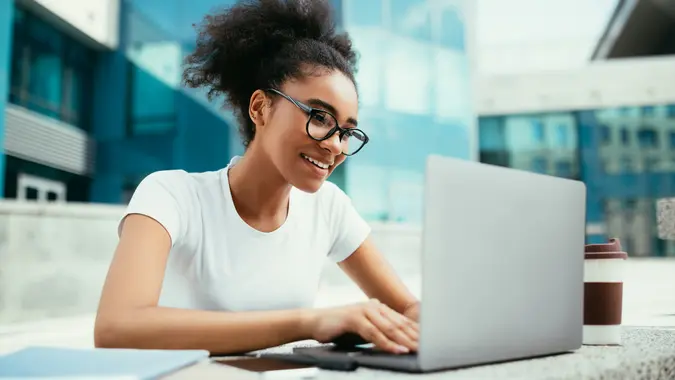 Prostock-Studio / iStock.com
Probably most of us could use some extra money, and you don't need to look any further than your smartphone for ways to make it. Sign up to take part in online surveys and studies, most of which you can do without leaving home.
What Are the Top 10 Paid Online Studies and Surveys?
Companies across the country turn to market research firms to get the opinions of people like you to help shape their products and services.
1. American Consumer Opinion
Founded in 1986, American Consumer Opinion has more than 7 million members willing to share their opinions about products and services, according to its website. You'll receive between 100 and 5,000 points for each project you participate in, and points are worth a penny, translating into $1 to $50 per survey. Members can earn gift cards and other prizes through additional incentives. The company reports it has run more than 20 million surveys and distributed in excess of $35 million.
2. Fieldwork
If you live in one of 13 specific major metropolitan areas from coast to coast, you could be eligible to participate in paid market research opportunities run by Fieldwork. The company says it is looking for consumers to take part in research studies in a variety of areas. Interviews and panels take one to two hours, with topics that range from "breakfast cereal to video games," Fieldwork's website says. Fieldwork doesn't reveal its compensation on its website.
Make Your Money Work Better for You
3. Focus Group
With Focus Group, opinions gathered are used to shape the future of everything from food to healthcare. Studies are conducted in person at one of 16 locations across the United States or via telephone or online. Or, you could be asked to take part in a product test.
Focus Group is owned by Schlesinger Group, which has provided research services for more than a half-century. Participants receive rewards for every survey they complete, and while the company doesn't specify the amount, Focus Group says it has paid out $65 million in the past year.
4. LifePoints
With LifePoints, you'll earn points for each survey you complete that can be turned into PayPal credit or gift cards. LifePoints offers a variety of surveys, product tests, polls and more that take an average of 10 to 20 minutes to finish. LifePoints will tell you how many points you'll earn for each opportunity and also offers occasional special prizes that include smart TVs. LifePoints says it has paid out more than $22 million to members in the past year.
Make Your Money Work Better for You
5. PingPong
While its website talks about its pay scale in euros, anyone can take part in PingPong surveys — no matter where you live. PingPong conducts video interviews and user tests for its client list, which includes Skyscanner and Nestle. PingPong says it pays up to 100 euros per hour — about $105 —  though some projects could be worth twice that.
6. Probe Market Research
Probe Market Research runs a variety of research projects for clients, and you could be asked to give your thoughts on things such as television commercials, an ad campaign or product packaging. The company conducts focus groups and might interview you by phone to get your insight, and you could earn up to $400.
Sign up through the Probe Market Research website or look at the company's Facebook page. It frequently advertises upcoming projects, and if you fit the qualifications or regional requirements, you can apply for the opportunity.
7. Product Report Card
Participants in Product Report Card surveys will enjoy a variety of opportunities plus the availability of free product tests every month. The payouts run the gamut, too – from 50 cents to $500. Product Report Card says that since 2012, it has worked with more than 200 companies on over 18,500 surveys. It also has paid out more than $14 million, much of it via gift cards.
Make Your Money Work Better for You
8. Recruit & Field
Based in New York, Recruit & Field has been leading market research projects since 1977. Participants are consumers, medical professionals for healthcare surveys, and businesspeople used for business-to-business studies. While it doesn't disclose its pay rates on its website, payment is made via PayPal or gift cards. Recruit & Field says it has worked with some of the biggest businesses, including Google, GMC and Spotify.
9. Respondent
Respondent is looking for very specific participants, but those who qualify will receive top-notch pay. The research company engages with business professionals, and at sign-up, you'll have to provide your work email address to help verify your employment. According to pay examples provided by Respondent, software developers can earn $200 an hour, with business owners compensated $500 an hour and executives $700. The company counts GoDaddy, Microsoft and IBM among its clients.
10. Shifrin-Hayworth, Inc.
Shifrin-Hayworth conducts market research from its office in the Detroit area. It has two sets of projects: one for consumers and businesspeople, the other for medical professionals. For the former, participants are paid between $100 and $250 for their input in studies that last from 30 minutes to two hours Medical professionals can earn up to $400 in the same time range. The downside is this opportunity is limited to area residents.
Can You Get Paid To Participate In Studies?
That seems simple enough so ask yourself. Yes, you can get paid to participate in studies. But be realistic when thinking about how much you will get paid for research studies. You realistically can't earn enough responding to online studies and surveys to turn it into a full-time career.
While some can pay hundreds of dollars – sometimes you'll receive gift cards, not cash — those generally are limited to respondents who meet very narrow qualifications. And the bigger-paying opportunities aren't available every day. Still, if your goal is to make enough money each month to pay one specific household bill or add a nice piece to your business wardrobe, that is doable.
How Much Will Swagbucks Pay?

Survey site Swagbucks says that while some market research surveys can pay $20 or more, most paid surveys are worth 25 cents to $5. Still, Swagbucks says it's reasonable to think you could make an extra $50 to $250 per month.
What is the best paid survey site? That's impossible to answer because each survey site has different target groups, focuses, frequency of surveys and payouts. But the following 10 sites are good ones to start your investigation into the market research field.
Before you get started, you might wonder this: Are paid online surveys legitimate? Most of them – yes. But there are purported survey companies that are scams, promising to pay you to offer your opinion but instead actually seeking your personal information to use for illegitimate purposes. The Better Business Bureau offers these tips to help you spot a possible survey scam:
Try These Tips:

Look for logos. If a website offering a survey for a specific company doesn't match that well-known company's logo, move on.
Beware of high-value rewards. If you're told you will earn $100 for answering three short questions, it's probably too good to be true.
The reward is the focus of the survey promotion. Legitimate market research firms offer some sort of compensation, but that's almost a side note to its pitch to gain participants.
Don't respond to a "limited-time" offer that tries to get you to sign up for free gifts.
Remember, too, not to pay to take a survey or to unlock a survey website. The companies pay you – not the other way around.
Bottom Line
Taking online surveys or taking part in in-person focus groups – can be a fun way to earn extra money. How much do you get paid for research studies? Not enough to quit your day job, but it is rewarding on its own to help shape the future of the goods and services in the marketplace.
Make Your Money Work Better for You