How To Make $1,000 in a Day: 5 Ways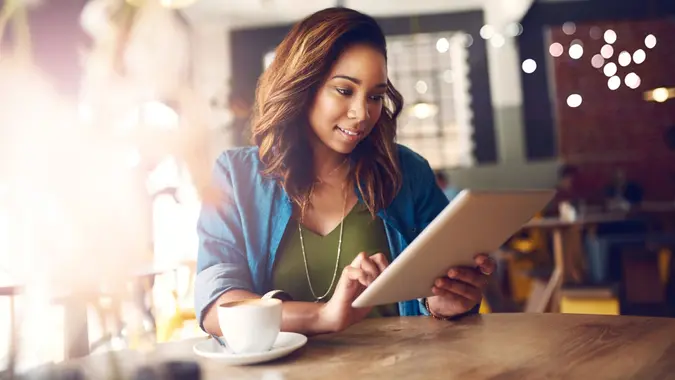 Peopleimages / iStock.com
Making $1,000 per day is a big goal. When you think about it, you're talking about bringing in $365,000 per year if you don't take weekends off. Although the goal is ambitious, it's possible — especially if you're willing to invest the time and energy to grow a hustle into a profitable living.
Ways to Make $1,000 in a Day
The following ideas will help you learn how to make $1,000 or more in a day. However, the key may be to work on several gigs at once, with some passive income hustles to make it possible to earn that amount of money.
1. Start a Blog
A blog or website about your personal experiences, interests or expertise is a good start towards earning $1,000 per day. Growing an audience willing to buy your product or listen to your advice can be valuable. However, it takes time and consistency to build an audience.
Some ways you can leverage your blog toward that $1,000-per-day goal include:
Affiliate Marketing
You could recommend items and sell them as an affiliate. Meaning, you partner with a brand or retailer and receive a commission from the brand on any readers who may purchase the products you recommend.
Selling Ads
Working with Google Adsense can be a profitable way to sell some space on your blog to advertisers. If one of your readers clicks on an ad, you'll get paid a commission.
Influencer
Certain brands may approach you to try their products and recommend them to your audience. In many cases, you could negotiate a fee for the influencer recommendation, as well as receive the item for free to try. The fee you charge could depends on the size of your audience — the larger your reader base, the more money you could ask for.
Make Your Money Work Better for You
2. Create an Online Course
If you're an expert in a particular field, you may be able to sell your know-how to interested individuals. Some online courses that may be popular include how to build a website, how to lose weight or get fit, how to set up as an Amazon Reseller, tips on how to create a popular Etsy store and more.
To create an online course, you'll need some writing skills — or to find someone who can write the course for you. Once the course is ready, you'll need to promote it and sell it on your website or offer it to other popular websites in exchange for a referral fee if they send you a customer.
3. Become a Video Game Streamer
If you enjoy gaming, you may be able to turn it into a profitable side hustle. Top Twitch streamers make millions of dollars per year on subscriptions, sponsors and product sales. You'll need a gaming PC, a solid internet connection and a headset for better audio.
Set up a YouTube or Twitch channel and start playing. It could take some time to build a fan base. You may start with just a handful of viewers, but over time your audience could grow, especially if you interact with them and promote your channel.
4. Start a Dropshipping Business
There are lots of ways to sell products online, but dropshipping could be a good option with a minimal cash investment. You won't have to worry about purchasing or warehousing inventory in the hopes of selling it. Nor do you need to spend time packing and shipping the items, which frees up plenty of time to focus on other ideas to add to your $1,000-per-day pot.
Make Your Money Work Better for You
You'll need to find manufacturers that are willing to work with you. Once you know what you can drop ship, build an ecommerce website and add products. Shopify and WooCommerce provide templates that make it possible to set up a professional-looking product site easily. Once you sell an item, the manufacturer will send the purchase directly to the customer on your behalf.
5. Become an Amazon Reseller
You probably see most homes in your area receiving Amazon packages daily. Why not get into some of the action? As an Amazon Reseller, you could sell a variety of products. And best of all, Amazon handles most of the heavy lifting. 
To get started, you'll need to open an Amazon Reseller account. Once it's set up, you can scan items you find and upload them to the account for listing. If they sell, you'll need to purchase and send them to Amazon to fulfill the order.
When searching for products to sell, consider looking for items that are on sale or clearance that could be popular for Amazon shoppers looking for bargains. Places that could be good sources of products include stores such as Big Lots, Home Goods, Ross and Marshalls. 
Takeaway
Knowing how to make $1,000 in a day is no easy feat, but it's doable. As mentioned, you'll probably need to juggle a few different options while they grow into profitable businesses. Having a mix of passive and not-so-passive business can help you manage the level of work required to hit your goal. Remember to be persistent and put regular time and effort into your ventures — it's the best way to improve your odds of success.
Make Your Money Work Better for You