Homesteading in 2021: How To Live Self-Sufficiently on Your Property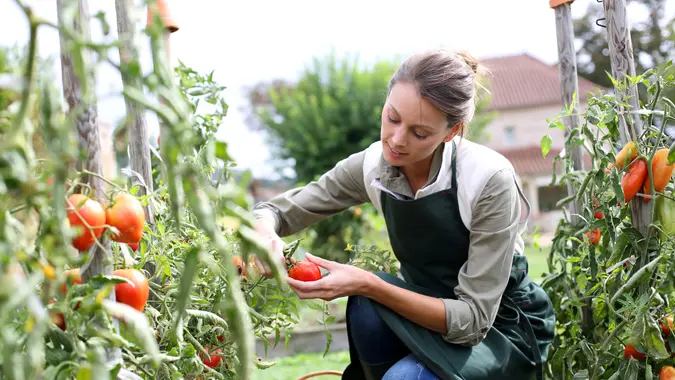 goodluz / Shutterstock.com
If you've ever driven by a house in your neighborhood or one nearby and wondered why there are farm animals roaming around the front yard of a residential home, you may be living near a homesteader.
What Is Homesteading?
People who pursue homesteading are interested in self-sufficiency — ideally, being able to derive food, shelter and possibly work from the land that they own. This lifestyle can be pursued anywhere — in the city, in the woods, on a farm or anywhere in-between.
Beyond self-sufficiency, many people who homestead are in pursuit of better health, an opportunity to help protect the environment and for a way to save money.
The Pandemic Brought on a Renewed Interest in Homesteading

While people were encountering shortages of food and supplies during the COVID-19 pandemic, many started thinking about homesteading seriously. Several reports from local merchants, such as pet and feed supply stores, indicated that sales were up dramatically as people looked to buy chickens, feed and other agricultural supplies.
Make Your Money Work Better for You
What's the Difference Between Homesteaders and Preppers?
Prepping was another lifestyle highlighted by the pandemic, but experts caution that preppers and homesteaders may share overlapping concerns, but there are differences between the two groups. Both care about being self-sufficient, particularly in the face of a crisis like the COVID-19 pandemic, but preppers focus more on having the right gear tucked away in a safe place, and homesteaders tend to focus on day-to-day skill-building that will position them for independent survival.
How To Save Money Homesteading
There are several ways to save money with homesteading, including but not limited to these.
Build a homestead on free or inexpensive land. Certain states, such as Kansas, Nebraska, Iowa, Michigan and Minnesota, are rife with opportunities for homesteaders. Some may come with terms and conditions, and not all of these properties will be listed online — for some, you'll need to call local governments and ask. With some diligence, however, you may be able to find a viable property and even better, some of them offer extended tax benefits.
Grow your own food. The average U.S. household spends $387 per month on groceries. During the pandemic, the cost of food went up by 3.5% — a number 75% higher than the national average. With homegrown food to offer, you could give your neighbors a much better deal on groceries and profit in the process.
Be your own contractor. Invest once in the right supplies, and you have the basics needed to manage your land and repair your home. This can save you significant money while also enabling you to live more independently.
Make Your Money Work Better for You
How To Make Money Homesteading
Homesteading can save your money, but can it also be profitable and put more in your pockets?
Tips for Earning from Homesteading

Sell your food. If you have chickens, then you likely have eggs to sell. If you have bees, you have honey. Your property can be used to produce all kinds of products, from food to flowers and seeds. You can also make canned products, such as homemade jam or jelly, and dehydrate all kinds of fruits and vegetables for sale.
Sell your DIY products. You can make your own household cleaners, essential oil room sprays, candles, soap, skin and body care and more. You can also learn to make blankets, clothing, etc.
Create a dairy share. If you have the land and time to raise a cow or a goat, then you can start a share, meaning that you can sell the cow's or goat's milk to people who commit to buying it from you. This will also give you the ability to make cheese, butter, yogurts and other dairy products.
Contract your services out. From gardening to composting and carpentry, homesteading will teach you a number of skills that other people would gladly pay for, especially in challenging times. That means that even if you have an employer — which may be fairly difficult to juggle with a busy homesteading life — and lose your job, you'll have marketable skills to go sell right away. Remember all those people who paid to have a pandemic shed put in their backyard in the interest of creating a private, interruption-free workspace?
Make Your Money Work Better for You
Good To Know

If you're homesteading, your food should essentially sell itself because of the health benefits alone. Local produce is known to have more nutrients than food that is brought in from a different location. Local honey, which is usually raw, is believed to contain health benefits over store-bought honey. Although unpasteurized products come with some risks and you should be aware of those (and do your part to educate anyone who buys from you), you do have several advantages as a local grower.
Future Outlook for Homesteading
The COVID-19 pandemic has changed a lot about how we live, but it is also changing where we live. According to a recent study, more people changed their geographic location than the prior year, and nearly one-third of them did so because they began working remotely and thus could stay employed from anywhere they wanted to be.
That geographic spread, if it continues, combined with what we all learned in a pandemic — that our basic supplies are never guaranteed — could potentially add up to a long-term shift about how we think about our homes. Many of us have already turned our homes into gyms and schools to survive a global health crisis. We've been gardening more, too. Some of us have purchased chickens. A lot of us crave more space. So it makes sense to wonder whether we'll want even more from our homes and properties in the years to come.
If you're thinking about buying land, perhaps for homesteading, make sure you have a strong grasp on zoning rules, development plans for adjacent properties, deed restrictions, road access, utility connections and financing options for the property you have your eye on. As remote work allows for geographic spread, knowing how to buy land will matter.
Our in-house research team and on-site financial experts work together to create content that's accurate, impartial, and up to date. We fact-check every single statistic, quote and fact using trusted primary resources to make sure the information we provide is correct. You can learn more about GOBankingRates' processes and standards in our editorial policy.
Make Your Money Work Better for You