4 Best Websites To Earn Money Online in 2023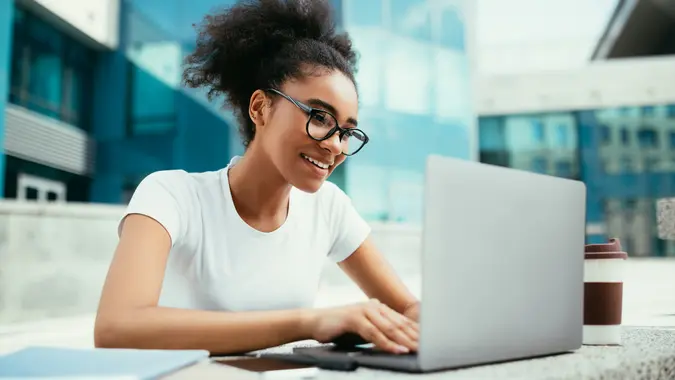 Prostock-Studio / iStock.com
In this dreary economic climate, with inflation sky high and rent taking a big bite out of paychecks, few people would turn down the option to earn extra cash to pad their wallets. Fortunately, the internet makes it incredibly easy to do so. There are tons of online money-making sites out there — you just need to find one that suits your talents and time constraints.
Which Site Is the Best To Earn Money Online?
This list of websites to make money includes several options you can use to earn a quick few bucks. With a little bit of elbow grease, you may even be able to replace your full-time income.
Fiverr: Freelancing
Fat Llama: Renting your things
Gazelle: Selling your old electronics
User Interviews: Sharing your opinions
1. Fiverr
Fiverr is an excellent option for freelancers who want to earn a little extra money on the side. You can sell pretty much any skill on Fiverr if it's legal and fits into one of its 200 different sales categories. Some of the most popular services include digital marketing, website development, graphic design and writing.
Fiverr started in 2010, and initial service providers charged a maximum of $5 for their services. Today, its business model is quite different. The minimum charge for services is $5, and some freelancers even rake in $10,000 for a single job.
Make Your Money Work Better for You
How To Get Started With Fiverr
Getting started with Fiverr is as simple as setting up an account and listing your services on the site. While sign-up is quick, you'll need to devote some time crafting a description of your services, known as your "gig." Every gig starts with "I will…", allowing you to further identify your service.
You can tier your services across three different levels, allowing you to charge more when you include additional benefits. You must also add at least one picture, preferably a previous example of your work. Adding a video can help you explain your offerings in greater depth and can be helpful for shoppers who want a quick rundown of your service.
Once you publish your gig and Fiverr accepts it, you can sit back and wait for orders to roll in.
Pros
Huge variety of talents you can offer on Fiverr
Set your own prices for gigs
No maximum on the amount you can earn
Cons
Fiverr keeps 20% of your earnings as a commission
May take time to attract clients, especially if you're new to the platform
2. Fat Llama
Do you have a few expensive items lying around your house that you don't use? Instead of letting them accumulate dust, rent them to people who need them. Fat Llama's platform allows you to rent various assets, including drones, e-bikes, guitars, camera lenses and vehicles. You can even rent your Great Aunt Linda's sewing machine!
Make Your Money Work Better for You
How To Get Started With Fat Llama
To get started, you'll need to set up an account and create your rental listing, which should include pictures of your property. You can set your prices, but it's a good idea to check on market rental rates in your area to stay competitive. As people come across your listing, they'll send you a request to rent if they're interested.
Remember that you'll need to schedule a meeting with the renter to hand over your property. It's best to meet in a public place to ensure your and your renter's safety. Fat Llama provides an Owner Guarantee of up to $30,000 if a renter damages or fails to return your asset — but it's probably still best not to rent out anything too precious to risk it being lost or damaged.
Pros
No work involved other than posting your item and meeting the renter
Easy way to earn quick cash
Earn a financial return on items you rarely use
Renters are verified and items are covered
Cons
Possibility that no one will need your stuff
Items might end up damaged or lost
3. Gazelle
Most cell phone manufacturers, like Apple and Samsung, regularly update their products annually. While you may keep the phone you use for a year or two, upgrading to the newest version can be attractive, especially if it has lots of nifty new features. However, after upgrading, there's little use for the old one, which may end up in your drawer or, even worse — a trash can.
Make Your Money Work Better for You
Rather than letting your old cell phone sit around, sell it to Gazelle. Gazelle purchases various smartphones, including iPhones and Samsung and Google phones. It will also buy your old Macbook or iPad.
How To Get Started With Gazelle
To start the process, visit Gazelle's website and answer a few questions about your device and its condition. Gazelle will provide you with an offer to buy it from you. If you accept, it will send you a free prepaid shipping label you can use to mail your goods.
Once Gazelle receives your device, it may reduce your offer price if its condition doesn't meet expectations. However, you can decline the new offer if you disagree with it, and Gazelle will return the item to you free of charge. And if the device is in better-than-expected condition, Gazelle says it will increase your offer.
The payment process is quick — once your item is received, Gazelle will mail you a check or Amazon gift card or reimburse you via PayPal, sometimes on the same day.
Make Your Money Work Better for You
Pros
Rapid way to earn some extra cash
Environmentally-friendly way to get rid of old electronics
Cons
Gazelle may reduce your offer if your device's condition isn't up to par
Doesn't provide means of steady income
4. User Interviews
User Interviews is a market research platform that connects individuals with companies, universities and other entities that need their insights. If you qualify for a study and provide your opinions, you'll receive compensation — sometimes as much as $300 for a short, one-hour interview or online survey. According to User Interviews, the average study pays $65.
How To Get Started With User Interviews
To get started, sign up for an account and answer a few questions. After completing your profile, you can apply for available studies or wait for a study offer to arrive in your inbox. If you accept and complete the study, you'll receive compensation through cash or gift cards.
Payments can take up to ten days to arrive, but sometimes participants receive compensation within a day or two of completing their study. 
Make Your Money Work Better for You
Pros
Earn a nice sum of money for little effort
Share your opinions with people who want to hear them
Quick payment process
Cons
No guarantee that a researcher will accept your study application, even if you fit their criteria
Final Take
There are many ways to make money online, whether you need a few bucks for your upcoming vacation or want to build a full-time income to replace your day job. Try out a few of our suggestions and start earning cash today. You'll be glad you did!
FAQ
How can I make $100 a day online?

If you're looking for a consistent $100 daily income, it's best to sign up with a few different websites that provide compensation for services. For instance, you might list a few gigs on Fiverr, rent items on Fat Llama and create a profile on User Interviews for market research studies.
It may take a little time to establish a good reputation on these sites, but once you do, you'll likely see a steady stream of clients.

What is the best website to earn money online?

If you have a marketable skill, like writing, graphic design or website development, Fiverr is a good choice – you can use it to connect with clients and build your reputation as a freelancer. If you don't want to work as a freelancer but have things other people might want to rent, Fat Llama might be best for you.
All online money-making sites have different features and the right site for you depends on your availability and skillset. Some require work from you, while others involve selling or renting things you own. Choosing a website comes down to what you have to offer and how much time you're willing to spend.

What is the fastest way to make $100 online?

Reselling items you already own is the quickest way to earn $100. For instance, Gazelle will compensate you for electronics you don't need, like old smartphones or iPads, within a few days.
Make Your Money Work Better for You
Information is accurate as of May 31, 2023.