How I Made Money off My 'Junk'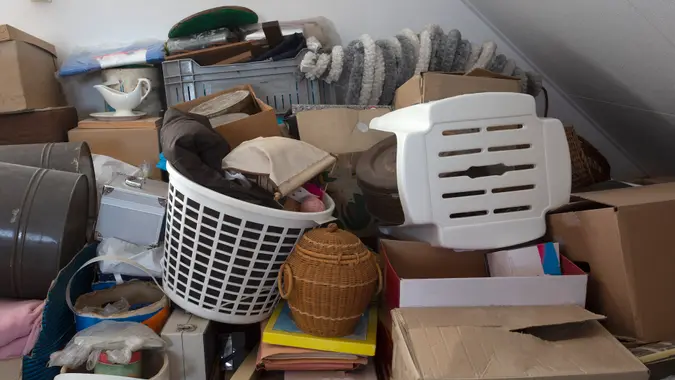 cerro_photography / Getty Images/iStockphoto
It is said that one man's trash is another man's treasure, but when either trash or treasure can fetch top dollar in places such as yard sales or online marketplaces, there really seems to be no difference between the two. If you are looking to sell your stuff, or what you lovingly refer to as "junk", it may be a more lucrative endeavor than you anticipated.
When wondering the best way to buy and sell your junk sometimes it is good to see how others have done so successfully and follow their lead. Christine Lee is an artist and filmographer who is based out of New York City and Paris and is often moving between the two locations. Before each move, Lee often sells off her items like furniture, books, kitchen appliances, video games and more.
Sell Items Online
"I tend to sublet my place in Brooklyn for several months of the year," Lee said, "and sometimes the people staying want to bring some of their own stuff, so to make space I'll sell some items. I used to store them, but that seemed like a waste of money so I decided just to make some money instead. I listed my desk, kitchen table and dresser on both Craigslist and Facebook Marketplace."
Craigslist: A website where you can find advertisements for not only items for sale but also jobs, housing, services, community service, gigs and discussion forums.
Facebook Marketplace: The social media platform has a designated place to buy and sell items. You can set your own listing price and either ship the item or have it picked up.
Make Your Money Work Better for You
Sell Items Locally
Local selling can be far more than just selling your junk car from your front lawn — it can be a way to repurpose the things from around your house you no longer need or use right in your own neighborhood. Lee also recommends flipping some items for profit, which is another way to turn your junk into gold.
"I painted an old chair a bright shade of yellow and added polka dots for fun. It was a wooden chair that was still in good shape but was a little dull and scuffed up. I sold it to a woman on Nextdoor for more than I even originally paid for it. She got it for her daughter as a gift and I liked that a little sprucing up got it a good home. Nextdoor is handy but I've also had good luck with reselling things like clothing, especially vintage pieces, or my old bike at consignment shops."
Nextdoor app: A hyperlocal networking app used for many purposes, such as getting local tips or buying and selling items.
Consignment shops: These stores offer space for you to sell your items, and you get paid a percentage off of the fixed price once the items sell.
Final Take To GO 
Lee's examples of how she sold her "junk" are just some of the avenues you can explore if you are looking to unload some of your stuff and make some quick cash on the side. No matter if you are looking to make some money for a vacation you're saving for or just want to pay off a credit card, selling junk online is so much better than just throwing it to the curb. 
Make Your Money Work Better for You
FAQ
Here are answers to frequently asked questions about making money by selling your junk.
How can I sell my junk fast?

A fast way for you to sell your junk is by listing it in places such as Craigslist, Facebook Marketplace and Nextdoor or even taking your stuff into a consignment store or pawn shop.
If you have a lot to sell, you could have a yard sale.

How does Cash for Clunkers work?

Cash for Clunkers was a U.S. government program that provided financial incentives or cash to car owners when they traded in their old vehicles. They would essentially buy your car, as these cars were deemed "clunkers," meaning they were less fuel-efficient. Another intention of the program was for people to then buy more fuel-efficient vehicles.
The program failed, however, and is no longer available.

What is a junk car?

A junk car is a vehicle that is old, damaged, not fuel efficient and lacks useful value, which typically means it isn't worth the cost of the repairs it would take to get it back in shape. Junk cars may include vehicles that are severely wrecked from an accident, flood damaged, have engine issues or are otherwise without any resale value.
Make Your Money Work Better for You