What's Your Net Worth? 25% of Americans Say Theirs Is $0 (or Less)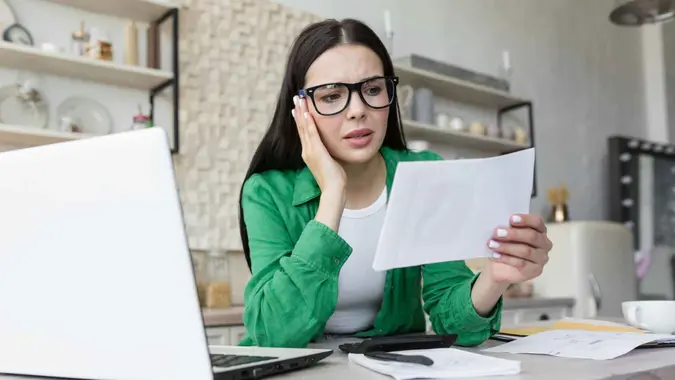 Liubomyr Vorona / iStock.com
With low levels of savings and high levels of debt, many Americans now have a low — or even negative — net worth.
A recent Clever Real Estate survey asked Americans the approximate total value of their savings, investments and assets, minus their debt, and about half of Americans (52%) report their net worth is less than $30,000. Even more alarming, 25% of Americans said their net worth is $0 or negative — meaning they owe more in debt than the value of their assets.
Here's a closer look at why a quarter of Americans have a net worth of $0 or less.
Inflation Is Taking a Toll on Net Worths
Americans' balance sheets are suffering as inflation remains high.
"Even though there's been progress on inflation, prices are still much higher than they were a few years ago," said Matt Brannon, data writer at Clever Real Estate. "In the last three years, costs have increased by 18% — more than double the increase of the previous five years. In other words, we've seen about 10 years' worth of price increases in just three years. As a result, peoples' budgets are coming up short in 2023."
To cover expenses, many Americans are relying on credit cards, and some inevitably fall behind on payments.
"About 39% of Americans in our survey said they went deeper into debt this year, which explains why so many have a net worth of $0 or less," Brannon said.
Make Your Money Work Better for You
Boomers Are Most Likely To Have a Net Worth of $0 or Less
The Clever survey found that 31% of boomers have a net worth of $0 or less — a higher percentage than any other generation. To compare, 24% of Gen Z, 23% of millennials and 24% of Gen X report having a net worth of $0 or less.
"We did not expect boomers to be struggling this much in terms of net worth — but there is an explanation for why," Brannon said. "We define boomers as being born between 1946 to 1964, so roughly ages 59 to 77 today. The current median retirement age is 62, so many of them are retired, meaning — unlike younger generations — their options for increasing their income are much more limited. And about 48% of U.S. retirees believe they'll outlive their current savings. Plus, the baby boomer generation has a very high wealth gap — they are some of the richest Americans, but other boomers are some of the poorest Americans."
As an illustration of this wealth gap, the survey found that boomers are also the most likely generation to have a net worth of $100,000 or higher, with 41% falling into this pool.
Millennials Are Least Likely To Have a Net Worth of $0 or Less
Millennials often have a bad reputation when it comes to their financial standing, but they are the generation that's least likely to have a negative net worth.
"To be honest, this was sort of puzzling to me since we tend to associate millennials with student debt and not having big assets like a house," Brannon said. "My theory is that millennials (ages 27 to 42) actually have a decent amount of options for increasing their income and savings. Although many have student debt, their degrees have allowed them to get higher-paying jobs.
Make Your Money Work Better for You
"Those same jobs often come with 401(k) plans or other benefits that encourage them to save, and some of them are taking advantage," he continued. "Others are also embracing freelance work, part-time work, gig work and all manner of side hustles. Lastly, we found that 31% of millennials still receive financial support from their parents, which can be a big help."
More From GOBankingRates