Pharrell Williams' Net Worth From 'The Voice,' 'Happy' and More
Learn the secret to Pharrell Williams' $105 million net worth.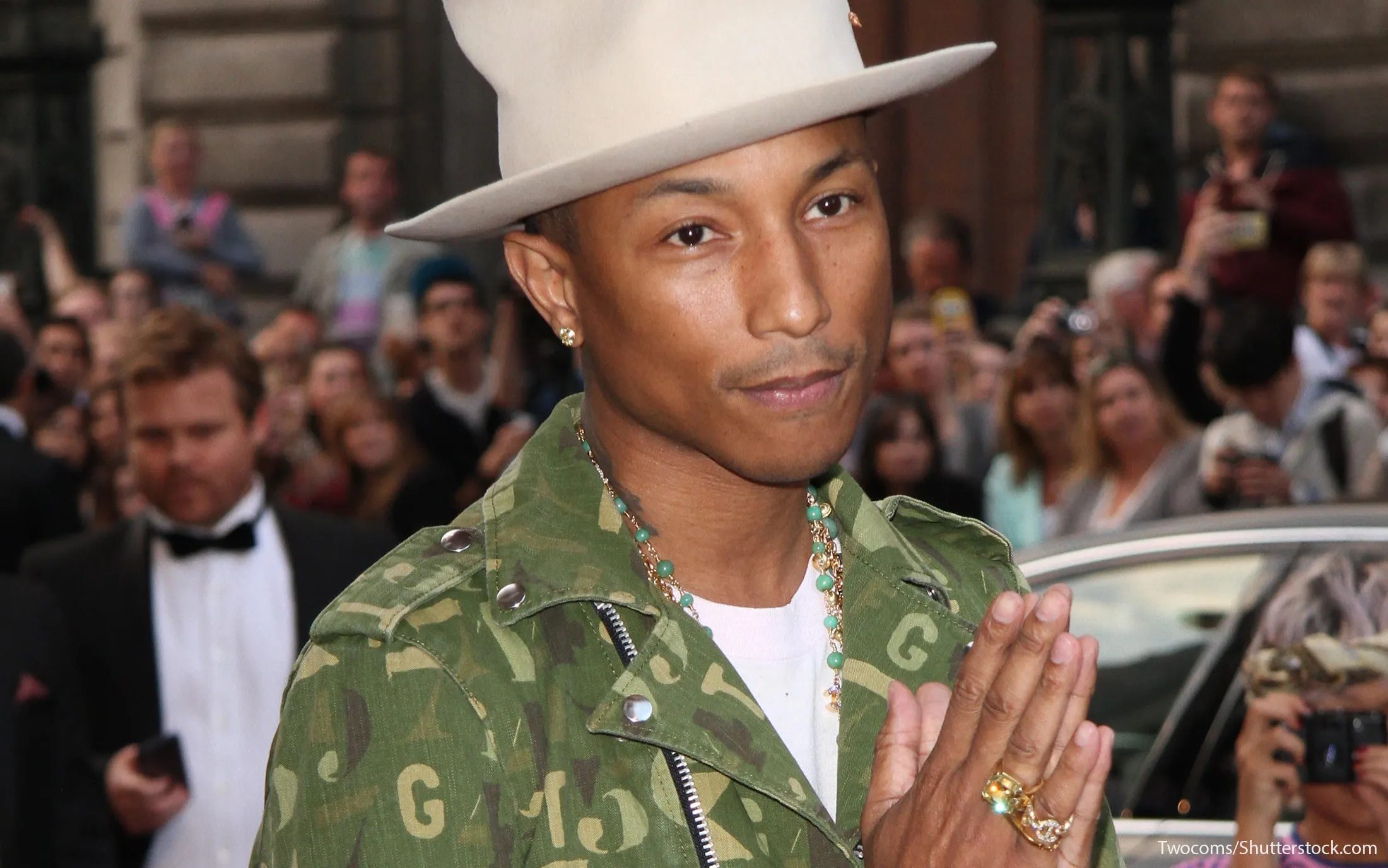 Pharrell Williams is an award-winning singer, songwriter, producer and fashion icon. Williams also has his hands in numerous business ventures and appears on TV shows, like the "The Voice." Here's a look at Pharrell Williams' net worth and lucrative career.
Related: 'The Voice' Coaches Showdown: Blake Shelton Net Worth vs. Christina Aguilera Net Worth and More
Pharrell Williams Net Worth: $105 Million
Pharrell Williams is ranked No. 78 on Forbes' list of the world's highest-paid celebrities for 2015. He reportedly earned $32 million in 2015 alone and, according to Celebrity Net Worth, is currently worth an impressive $105 million.
Pharrell Williams' Music and Biggest Hits
Much of Pharrell Williams' income stems from his musical achievements. The artist made his debut on Forbes' richest celebrity list in 2014, which is also the year his hit song "Happy" dominated the airwaves. While the song was released on the "Despicable Me 2" soundtrack, it didn't go viral until Williams released a 24-hour video loop of the track months later.
By the summer of 2015, "Happy" had sold more than 1.81 million copies, and Official Charts had crowned it the biggest single of the millennium. The song also made history by dominating six music categories on the Billboard charts, including Adult Pop, Rhythmic Songs and Mainstream R&B/Hip-Hop.
Make Your Money Work Better for You
Crossover appeal has been a key element of Williams' success. The artist has collaborated on such hits as Gotye's "Somebody That I Used to Know," Green Day's "Boulevard of Broken Dreams" and Boyz II Men's "I'll Make Love to You," among others.
Along with increasing Williams' fame, these cooperative endeavors helped add to the artist's wealth. Co-written by Williams, Robin Thicke's "Blurred Lines" sold more than 14 million copies and earned upwards of $16.6 million. According to Celebrity Net Worth, Williams' share of the profits was more than $5 million.
Related: Jay Z's TIDAL Fires COO and CFO, Sued Over Royalties: Is the Spotify Rival Doomed?
A producer as well as a songwriter, Williams is also known for helping create hits such as Kelis' "Milkshake," Gwen Stefani's "Hollaback Girl" and Daft Punk's "Get Lucky," all of which topped the charts. In light of these successes, it's no surprise that Williams was named Billboard's Producer of the Decade in 2010.
He also received two of his 11 Grammy Awards for being Producer of the Year. According to his NBC website bio, Williams' productions have sold more than 100 million copies.
Make Your Money Work Better for You
Pharrell Williams' 'Happy' Music Video
Pharrell Williams on 'The Voice'
Pharrell Williams' on-camera work extends far beyond his music video appearances. In fact, much of the artist's wealth stems from his role on "The Voice," an Emmy-winning NBC reality show about competing aspiring musicians.
Williams replaced CeeLo Green as a coach in 2014. However, according to a recent TV.com article, the artist will not be reprising his role as coach for the show's 11th season.
See: 7 Highest-Earning TV Series Like The Voice, Shark Tank and Celebrity Apprentice
While Variety reports that "The Voice" drew an average of 12.6 million viewers last season, it's unknown exactly how much the coaches are paid. However, the compensation must be attractive to keep the show's star-studded panel — which includes Christina Aguilera, Adam Levine and Blake Shelton.
Williams' appearances on "The Voice" isn't the only airtime the artist enjoys. In fact, he created i am OTHER, an umbrella company for a broad range of entertainment ventures, including music, film, television and multimedia. The company has its own YouTube channel and has earned the support of more than a million subscribers. Williams was also a producer of the movie "Dope," which premiered on more than 2,000 screens last year. Additionally, Williams' resume includes the creation of the internet talk show "ARTST TLK."
Make Your Money Work Better for You
Pharell Williams' Fashion 'Cents'

Williams isn't just a success in the entertainment arena; the artist also uses his fashion-forward style to increase his net worth. His Billionaire Boys Club and Icecream apparel brands boast stores in New York, Tokyo and London. Additionally, the artist's creativity has helped foster collaborations with other fashion powerhouses.
In recent years, Williams designed accessories and jewelry for Louis Vuitton and created shirts for Uniqlo. Williams also has an eco-friendly textile company called Bionic Yarn, which creates yarn from recycled plastics.
Williams also enjoys endorsement and collaboration deals with Timberland and Adidas.
How Pharrell Williams Spends His Millions
Pharrell Williams isn't one to dominate the headlines for extravagant or excessive spending. However, that doesn't mean the artist lives like a pauper. At one point, he reportedly owned an 18-carat solid gold Blackberry along with a $67,000 Hermes manbag.
Plus, Williams shells out for everyday expenses, such as transportation and shelter. His fleet of cars has, at various times, included a Ferrari Enzo, a Rolls-Royce Phantom and a Mercedes-Benz McLaren SLR, according to Complex. Williams' house in Los Angeles cost $7.1 million and reportedly features stunning views.
Make Your Money Work Better for You
Of course, Williams also spends money on his beautiful wife, model and designer Helen Lasichanh. In 2013, the successful couple exchanged vows at the Kampong National Tropical Botanical Gardens near Miami, Fla., before sailing off on a luxury yacht that rents for $19,000 a day, according to The Daily Mail. The couple was rumored to have wed in a secret French ceremony prior to the Florida celebration.
Although Williams clearly enjoys the occasional luxury, the artist is also known for using his wealth to benefit others. In addition to creating a non-profit organization called From One Hand To AnOTHER, Williams has funded community programs and helped build a $35 million after-school resource center in his hometown of Virginia Beach.