Star Wars: The Last Jedi' Cast: Mark Hamill Net Worth, Daisy Ridley Net Worth and More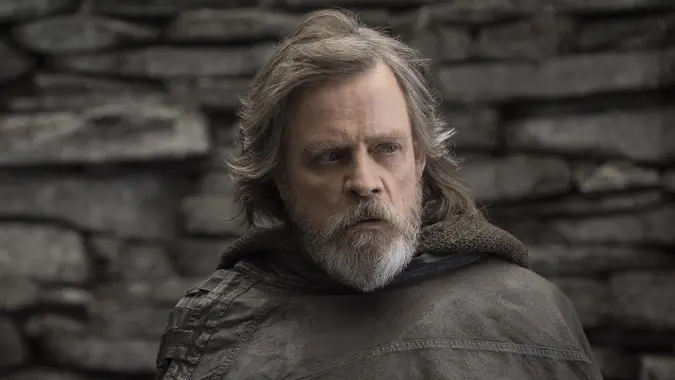 John Wilson / Lucasfilm Ltd.
Dec. 15 can't come soon enough for Star Wars fans. That's when Finn, Rey and the rest of the Rebellion battle Kylo Ren, his Stormtroopers and the Dark Side of the Force in the highly anticipated movie "The Last Jedi." The actors who play those characters also have plenty to celebrate: The Force is with their net worths and bankability in Hollywood.
"Star Wars" fans have been patiently waiting for this eighth episode since "The Force Awakens" smashed box office records and raked in worldwide box office earnings of $2.07 billion. With the nucleus of the cast returning, Variety expects "The Last Jedi" to fill the shoes of its predecessor and bring in $200 million on opening weekend alone.
Read on to learn about the "Star Wars: Episode VIII" cast, their careers, net worths and future projects as the "Star Wars" saga continues.
Daisy Ridley Net Worth: $2 Million
When she made Forbes' 30 Under 30 list during the run-up to the release of "The Force Awakens," Daisy Ridley was a newcomer in the truest sense. The then-25-year-old British actress had a resume that only consisted of small roles on British television.
That would all change when she was cast as Rey in the first installment of the most recent "Star Wars" series. At the time, Variety estimated that Ridley was likely paid in the low six figures for playing the part of the Rebellion's newest heroine. Although it was likely a big check for her at the time, it was a pittance compared with the eight-figure hauls taken in by series veterans like Harrison Ford. According to Variety, seniority-based pay is the industry norm — Ridley is almost certain to earn much more for returning as Rey in "The Last Jedi," thanks to not just a significantly bigger salary, but also lucrative back-end payments based on box office earnings and her previous award-winning performance.
Make Your Money Work Better for You
Needless to say, the exposure has been good for Ridley's career. "The Last Jedi" is just one of seven projects she worked on in 2017, which include voiceover work for TV series and video games, as well as four movies. She also has four films due out between 2018 and 2019, including another "Star Wars" sequel.
Go Rogue: Star Wars 'Rogue One' Cast: Felicity Jones Net Worth and More
Adam Driver Net Worth: $2 Million
When "The Force Awakens" premiered in 2015, Variety reported that Adam Driver was likely paid more than Ridley for his role of arch-villain Kylo Ren. He probably also earned six figures, but a higher amount. That's because Driver was no newcomer. In 2012, he played Samuel Beckwith in "Lincoln," which won two Academy Awards and picked up 10 other nominations. Taking in more than $275 million at the worldwide box office, "Lincoln" was as commercially successful as it was critically acclaimed. Driver also found success on the small screen with a starring role in "Girls," the HBO series that took home two Primetime Emmys and two Golden Globes. Even still, a starring role in a record-smashing "Star Wars" movie is undoubtedly the jewel in Driver's cinematic crown.
Variety predicted that like Ridley, Driver will also score a much bigger payday for his return role in "The Last Jedi," and will also probably enjoy back-end bonuses if the movie does well, which it's almost sure to do.
Also like Ridley, Driver has been busy. He was in four movies in 2017 and also did voice work for a TV series. He has three movies due out in 2018. Unlike Ridley, 2019's "Star Wars: Episode IX" does not appear on Adam Driver's IMDB page.
Billie Lourd Net Worth: $20 Million
Like Daisy Ridley, Billie Lourd was also a relative unknown when she was cast in "The Force Awakens." She played Lieutenant Connix, a much smaller role that drew much less exposure — but Billie Lourd is famous for another reason. Her mother is the late Carrie Fisher, who passed away in 2016.
Make Your Money Work Better for You
Lourd is returning as Lieutenant Connix in "The Last Jedi," but this time, she's bringing a wealth of experience. She starred in 23 episodes of the Fox comedy "Scream Queens" between 2015 and 2016. A year later, she appeared in 11 episodes of "American Horror Story."
Mark Hamill Net Worth: $12 Million
With the exception of maybe R2D2, no "Star Wars" character is more iconic than Luke Skywalker. Mark Hamill first took on the part in the original film in 1977, and it remains the role most closely associated with Hamill, even though he was one of the most experienced actors on the cast of the first film. By the time "A New Hope" debuted, Hamill already had more than two dozen credits to his name, including "General Hospital," "The Bill Cosby Show" and "The Partridge Family." He went on to rack up a staggering number of credits — more than 300 in total, making him one of the most prolific actors in movie history — but for fans of the "Star Wars" movies, he will always be known as the son of Darth Vader.
Variety estimates he didn't earn nearly as much as Harrison Ford for agreeing to return to "The Force Awakens," but he certainly didn't go hungry, either. It is believed that he pulled in a salary in the low seven figures. Hamill has already played a whopping 17 roles in 2017 alone — not counting "The Last Jedi," and he has three movies due out between 2018 and 2019.
Shocking: 15 Celebrities With Surprisingly Small Fortunes
Carrie Fisher Net Worth: $25 Million
Carrie Fisher played key roles in two genre-defining movies. "When Harry Met Sally" is arguably the greatest romantic comedy in history, and it would be difficult to argue that the same couldn't be said about "Star Wars" for science fiction. Born into Hollywood royalty, Carrie Fisher was the daughter of actress Debbie Reynolds and singer Eddie Fisher. When she was 19, she appeared in "Shampoo" with Warren Beatty, Goldie Hawn and Lee Grant. Two years later in 1977, she landed what would become the most iconic role of her long career — the part of Princess Leia in "Star Wars."
Make Your Money Work Better for You
She went on to rack up 88 credits, which included not only recurring roles in "The Empire Strikes Back" and "Return of the Jedi" — the latter of which included a metal bikini that made nerds swoon for decades — but also hits like "The Blues Brothers," "The Man With One Red Shoe," "Austin Powers: International Man of Mystery" and a variety of TV shows and movies including "Frasier" and "30 Rock."
She died as a three-time Emmy-nominated actress, an author, a stage performer and a mental-health advocate. She will appear posthumously in two movies: "The Last Jedi" and "Wonderwell." When adjusted for inflation, her films earned nearly $4.86 billion at the domestic box office alone. At the time of her death, Carrie Fisher's net worth was estimated to be $25 million.
John Boyega Net Worth: $2 Million
Like co-star Daisy Ridley, John Boyega was a relative newcomer when he landed the role of Finn, a Stormtrooper with a heart who went AWOL from the Empire and joined the Rebellion in "The Force Awakens." He had appeared in a few TV movies, miniseries and shows, including the British version of "Law and Order," but "The Force Awakens" was certainly his big break. He, like Ridley, was likely paid in the low six figures for his initial role and, also like Ridley, is almost certain to bring home a much heftier check for "The Last Jedi," along with back-end bonuses.
Since he first played Finn, the "Star Wars" franchise has continued to give, with Boyega cleaning up with voiceover work for "Star Wars" video games, "Star Wars" TV movies, "Star Wars" miniseries, "The Last Jedi" and a role in "Star Wars: Episode IX" due out in 2019.
Make Your Money Work Better for You
Up Next: Celebrate 'Star Wars' Release With Sales, Deals and Freebies