Ayanna Pressley's Journey From College Dropout to Congresswoman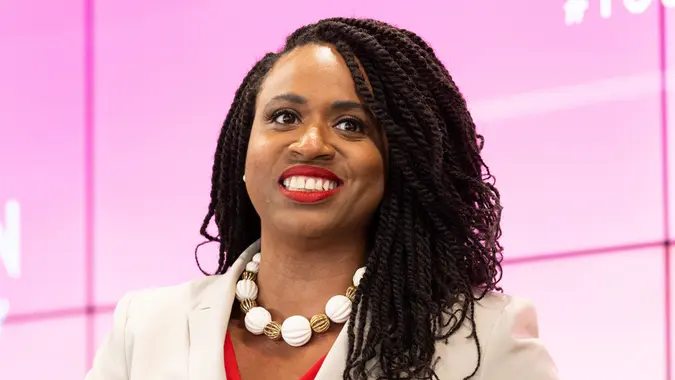 Michael Brochstein/SOPA Images / Shutterstock.com
Rep. Ayanna Pressley, along with other progressive congresswomen, is the target of recent critical tweets from President Trump.
In 2018, she was the first woman of color to be elected to Congress from Massachusetts. 
Rep. Pressley is up for re-election in 2020.
Democrat Ayanna Pressley of Massachusetts is one of four young, diverse congresswomen who have been at odds with President Donald Trump — and even more moderate House Democrats, such as Speaker Nancy Pelosi. But tensions escalated as the president turned to Twitter on June 14 to chastise the group of progressive women of color known collectively as "The Squad," which includes Pressley as well as Reps. Alexandria Ocasio-Cortez of New York, Ilhan Omar of Minnesota and Rashida Tlaib of Michigan. 
THIS is what racism looks like. WE are what democracy looks like. And we're not going anywhere. Except back to DC to fight for the families you marginalize and vilify everyday.

pic.twitter.com/vYzoxCgN0X

— Ayanna Pressley (@AyannaPressley)

July 14, 2019
President Trump suggested that the congresswomen should "go back home" to countries from which they came fix their "corrupt," "inept" governments. All four representatives are American citizens and three of the four were born in the United States. Rep. Pressley was born in Cincinnati, Ohio.
In response, the House passed H. Res. 489, a resolution to officially condemn the president's tweets as racist. The measure passed with a 240-187 majority, but it was faced with almost complete opposition from the GOP. And as remarkable as the resolution may be, it doesn't carry any legal repercussions for the president.
Make Your Money Work Better for You
This serves as a tangible example of the contention that exists between the Squad and the president — one that is now quite literally written into the history of America.
Pressley is the first woman of color to be elected to Congress from Massachusetts. Since her election in 2018, the congresswoman has sponsored 17 pieces of legislation and co-sponsored another 262. Standing behind her campaign slogan of "Change Can't Wait," the freshman representative of Massachusetts' 7th District is up for re-election in 2020. GOBankingRates analyzed the political career and finances of Ayanna Pressley, from Boston City councilwoman to Massachusetts congresswoman.
Birthdate: Feb. 3, 1974Net worth: -$764,999 to $389,998Primary sources of income: U.S. congressional salaryCareer highlights: First woman of color to be elected to Congress from Massachusetts
Ayanna Pressley's Net Worth: -$764,999 to $389,998
To understand Pressley's net worth, you need a bit of context. Much of the assets in her congressional financial disclosure report, which was signed on June 14 of this year, are owned by Pressley's spouse, Colin Harris. For example, Harris owns their Blake Street home in Boston, and the mortgage for that home is under his name, as well. Just because the assets are in his name, though, doesn't mean that they're not jointly held. Harris also owes between $10,000 to $15,000 to the IRS, which is being paid back in the form of a repayment plan.
When you combine the couple's finances accounting for every asset and liability, their net worth could range anywhere from -$764,999 to $389,998. It's unknown how much equity they have in their property. Another number that's difficult to pin down: the worth of the couple's city pension plans. They each have a plan with an undetermined value — but a government pension is a pretty sweet asset.
Make Your Money Work Better for You
Although it's impossible to nail down the exact net worth of Pressley based on her financial disclosure report, you can see that Pressley's husband and she are making some smart money moves. The real estate they purchased isn't just a residence; they converted it into a two-family building, so they could be earning passive income on their rental property.
Compare: Check Out How Much Some of President Trump's Luxe Homes Are Worth
Ayanna Pressley's Political Career
Pressley may be a freshman congresswoman, but she's not new to the world of politics. Before she represented the 7th District of Massachusetts in Congress, Ayanna Pressley worked as a senior aide to former Rep. Joseph P. Kennedy II, D-Mass., and a political director for former Secretary of State John Kerry while he was serving as Senator for the state of Massachusetts. 
According to her House of Representatives bio, Pressley's values and beliefs were shaped at a young age. She was raised primarily by her mother, Sandra Pressley, who was a tenants' rights organizer. Born in Cincinnati and raised in Chicago, Pressley stayed in the Midwest until she moved to Boston in 1992 to attend Boston University. She dropped out of college after a few years of enrollment to support her mother, but stayed in the area to launch her career in politics.
Make Your Money Work Better for You
In 2009, Pressley ran for Boston City Council and won, becoming the first woman of color to ever serve on the Council. It wouldn't be the first barrier she broke, however: In 2018, Pressley challenged Democratic incumbent Rep. Michael Capuano and won, becoming the first black congresswoman to serve the state of Massachusetts. She did so with the help of small and large contributors.
Ayanna Pressley's Campaign Funds
Pressley raised nearly $1.5 million for the 2018 election, according to the Center for Responsive Politics. Small contributions under $200 accounted for 20% of that amount; large contributions amounted to over $1 million; and 8% of her campaign finances came from PAC contributions.
Now, Pressley looks ahead to 2020: The congresswoman has raised $381,113 for her re-election campaign, according to the same source.
Keep reading to learn about California senator Kamala Harris' net worth.
More on Politicians