Former Google CEO Tells AOC That Billionaires Are No 'Policy Failure'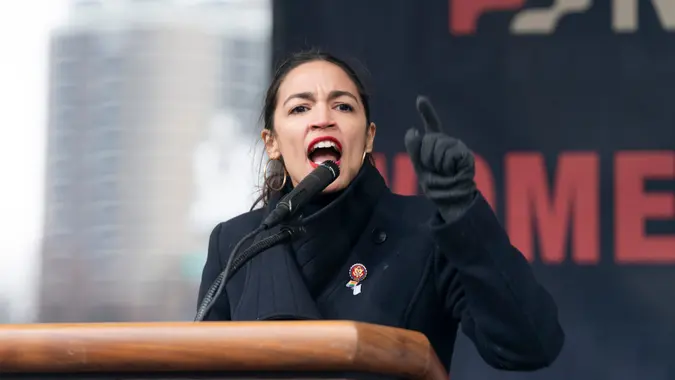 lev radin / Shutterstock.com
Back in 2019, Representative Alexandra Ocasio-Cortez of New York's 14th Congressional district made headlines by stating that she feels a society that allows the existence of billionaires is "immoral" and that "every billionaire is a policy failure."
The 1%: These 47 Billionaires Got Richer During The Pandemic
"I'm not saying that Bill Gates or Warren Buffett are immoral, but a system that allows billionaires to exist when there are parts of Alabama where people are still getting ringworm because they don't have access to public health is wrong," Ocasio-Cortez said during a 2019 event in honor of Martin Luther King Jr.
Private Solutions: Global Catastrophes Jeff Bezos Could Fix and Still Be the Richest Man in the World
This rubbed billionaire Eric Schmidt, former Google (NASDAQ:GOOGL) CEO from 2001-2011, the wrong way. Worth over $17 billion, according to Forbes, Schmidt told Time magazine editor, Eben Shapiro, who asked his thoughts on Ocasio-Cortez's comments, "We would probably all be better off spending more time understanding the contributions made by specific individuals and not making generalizations about anyone."
Basic Income: Could This Out-There Idea Get America Out of the COVID Crisis?
When the Time editor pressed Schmidt on whether his philanthropic efforts could really be said to be free of personal gain, Schmidt replied somewhat defensively, "What have I done in my career? I basically networked the world and got information in everyone's hands. I defy you to argue against making the average person smarter. That's presumably a nonelitist strategy, right?"
Make Your Money Work Better for You
Enrich Yourself: Billionaires Use These Investing Strategies
Schmidt co-founded Schmidt Futures with his wife, Wendy, in 2017. Their website states that Schmidt Futures "finds exceptional people and helps them do more for others together while promoting innovative approaches to problem solving across disciplines." Then, in November, 2020 the organization launched a program called Rise, which supports teens in collaboration with the Rhodes Trust (home to the Rhodes Scholarship).
Sneak Peek: The 16 Craziest Things These Billionaires Spend Their Money On
Ocasio-Cortez is unlikely to change her opinion of billionaires no matter how philanthropic their efforts. In January she told Ta-Nehisi Coates at an event, "No one ever makes a billion dollars. You take a billion dollars."
More From GOBankingRates