John McCain Donated Over $10M to Charity From Book Sales, Campaign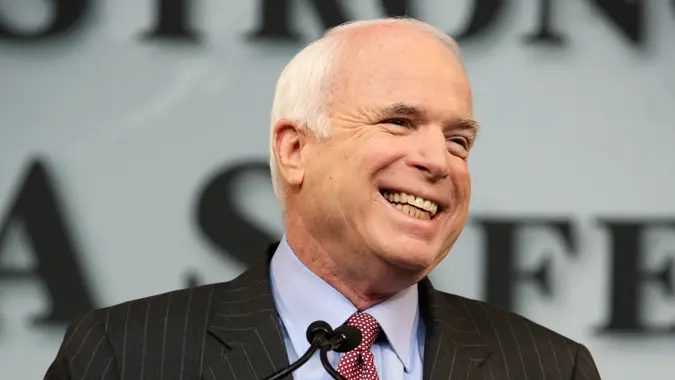 Evan Meyer / Shutterstock.com
The late Sen. John McCain garnered a reputation in American politics as a maverick and venerable statesman who consistently crossed party lines.
Much ado has been made about the political legacy Sen. McCain leaves behind, but as much as his political and military service tout his list of achievements, his quiet philanthropic efforts and the words he leaves behind in seven books also contribute to how he will be remembered.
Click to read about 14 billionaires who are also veterans.
Senator John McCain has died. We spoke to him earlier this year, upon the publication of his book, "The Restless Wave."

https://t.co/BPmcBHybEE

— New York Times Books (@nytimesbooks)

August 27, 2018
The McCains quietly sit on a rumored fortune — over $300 million, according to Celebrity Net Worth. But behind their massive real estate collection, auto portfolio and private wealth, charitable giving is a cornerstone of the family's financial habits.
McCain's Charitable Donations: Over $10 Million
McCain collected $174,000 annually as a senator, but his charitable contributions far outweighed his salary. Nearly $9 million in unused donations from his 2008 presidential bid was transferred to charity. The family routinely donated to national nonprofits and local chapters. McCain donated $1.7 million of earnings from his 2007 book sales to charity.
Make Your Money Work Better for You
Check Out: The 5 Highest- and Lowest-Paying Jobs in Government
Proponents of literacy and learning, the majority of the family's contributions were earmarked for education. The schools attended by McCain's children were the prime beneficiaries over the years, in addition to the Arizona State University Foundation and the family's McCain Institute Foundation.
John McCain's Best-Selling Books
McCain was able to donate nearly $2 million of earnings from his 2007 book sales. McCain's literary legacy includes the following books, several of which are best-sellers:
"The Restless Wave: Good Times, Just Causes, Great Fights, and Other Appreciations"
"Faith of my Fathers: A Family Memoir"
"Why Courage Matters: The Way to a Braver Life"
"Character is Destiny: Inspiring Stories We Should All Remember"
"Worth the Fighting For: A Memoir"
"Hard Call: Great Decisions and the Extraordinary People Who Made Them"
"13 Soldiers: A Personal History of Americans at War"
Here are tweets about John McCain as an author:
For a while, John McCain and Mark Salter planned to call their book "It's Always Darkest Before It's Completely Black." But McCain pulled back—it was too much. "McCain never abandons all hope," Salter said. "It's not the country. It's just this jackass."

https://t.co/umRqChQpff

— The New Yorker (@NewYorker)

August 19, 2018
See: Warren Buffett and 14 Other Celebs Who Donate Millions to Charity
Make Your Money Work Better for You
John McCain's Career and History
Born John Sidney McCain III on Aug. 29, 1936 at the Coco Solo Naval Air Station in the Panama Canal Zone, McCain was born into a family with a rich military history.
After a decorated Naval career and enduring torturous conditions as a prisoner of war for five and half years during the Vietnam War, McCain continued his service to his country. His political career began in 1983 when he won a seat in the House of Representatives in Arizona.
McCain's political career included two terms in the House of Representatives, six terms in the Senate and two unsuccessful presidential bids, the first in 1999 and the second in 2008.
He lost his battle with glioblastoma, a brain cancer, on Aug. 25, 2018, just days shy of his 82nd birthday. McCain is survived by his wife Cindy, seven children and five grandchildren.
ICYMI: John McCain looks back on his life at the end of his book, "The Restless Wave"

#MTP

McCain: "I made a small place for myself in the story of America and the history of my times." pic.twitter.com/iNliPVq6Um— Meet the Press (@MeetThePress) August 27, 2018
Click to keep reading about Bush, Trump and more of the wealthiest presidential families.
More on Politicians and Net Worth